Pinterest is often misinterpreted as a usual social media platform, which is not so. Pinterest is more of a Visual Search Engine. Now, chances are if you do run a blog, you might have come across the potential of Pinterest and how it can be a wonderful source to increase the hits on your blog. But like any other platform, it also comes with its own set of algorithms.
Using Pinterest to promote the blog is different from what a regular Pinterest user does! For making it big on Pinterest either you can do every little mistake and learn from it (which can take years though), or you can do the smart thing and avoid all these mistakes in the first place.
So, these are the 13 Fatal Pinterest Marketing Mistakes to Avoid while trying to make the most of it.
1. Not Properly Setting up your Pinterest Profile
First impression is the last impression. How many times we have heard this saying? And yet we tend not to follow it. Your profile is the first thing a user will visit after liking your content and so it should be the best it can be.
The information regarding you, your product and services should be easily accessible and the links should be in working condition. A perfect profile picture which shows the side you want to show your potential client is a must. Claiming of your website should be done and the rich pins should be used.
2. Not having a Call to Action
One of the major points to notice here is the use of 'call to action', that is, the link that can force a user to go to your website or blog. It is generally used to tempt a person to get a discount or freebie. Once on your website, chances are that your engaging content will take over from there.
3. Not optimizing your pin potential
For getting the best of visibility on Pinterest, you got to top the search algorithm and the best way to do it is to optimize your pins correctly. Now some of the ways to optimize your pins include using long-tail keywords in titles and descriptions. Having clickable and catchy titles also ensure this.
Pin design templates and the pin dimensions (mostly 2 to 1 ratio) should be done in the best possible way. The pins should also be added at the best time and at the right boards.
4. Not creating fresh pins
One thing where most people go wrong is not creating fresh pins. Usage of fresh pins can create a whole lot of difference. The color schemes can be kept constant with your brand and the fonts can be switched with different words position. In the long run, you can actually see the type of pins that gather more attention.
5. Not Being Consistent
To be at the top of anything, you have to be willing to give it your time and effort. Same is the case with Pinterest. Pinterest rewards consistency and generally promote the content of those who make themselves valuable to the user.
Pinterest's way of tracking the valuable content is the number of re-pins, re-shares, and a growing audience.
6. Not focusing on quality
Quality should always be the first thing on your mind followed by quantity. But if one tries to increase numbers and ignores the quality of the pins, it all comes down to nothing. You should make your content unique and of a certain type. Don't let your pins get mixed with the spam on this social network.
7. Not using enough Hashtags
If one has to describe the rise of social media in one word, maybe Hashtags would sum it up. Such has been the impact of these that no social media platform is free of them including Pinterest. Proper use of a hashtag in a pin leads to more attention. Though, a hashtag should always be related to the pin and its description. Use of relevant Hashtags will supercharge your business reach. Make sure to use at least 4-5 (more if possible), every time you create a fresh pin.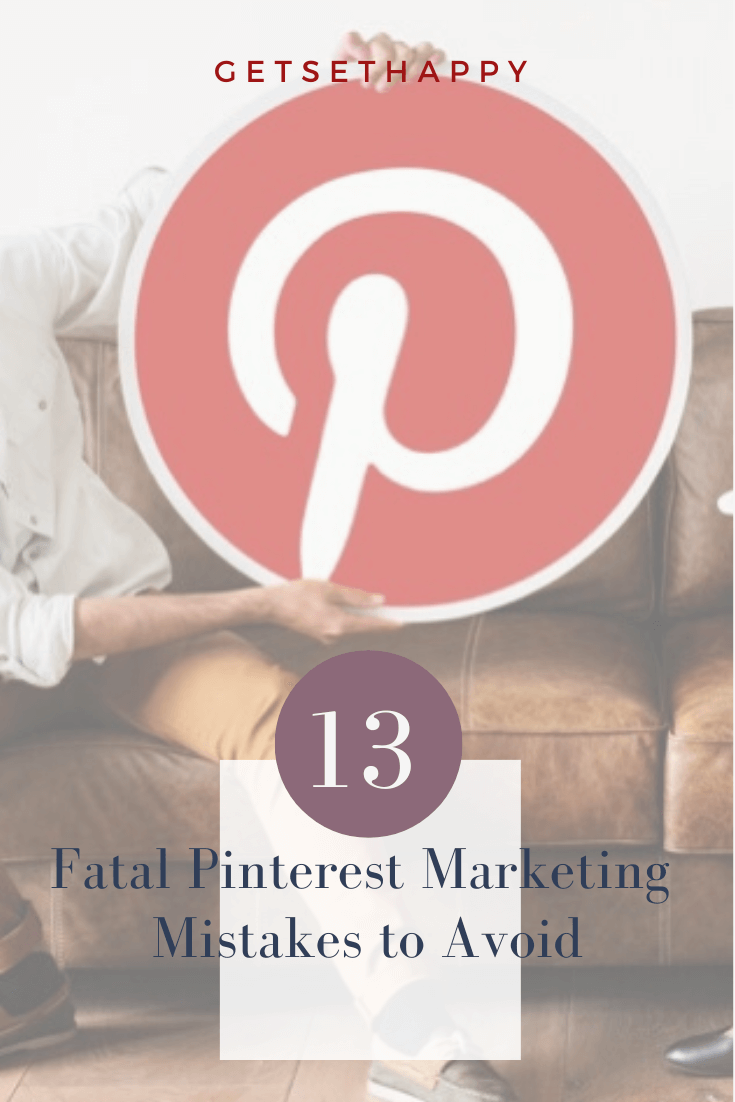 8. Not tracking the right metrics
While generally the way to analyze a Pinterest page is through monthly visits, but it can be overrated at times. This only shows how many people visit the page but if the click results are low, then that number is of no value. So, try to focus on getting more clicks on your website as they are the ones that lead to action.
9. Using links in your descriptions
If you use the links in your description (or shortened links), then you must know that this is the thing that is getting on your way to make it big on Pinterest. The thing with usage of links in descriptions is that Pinterest thinks of it as spam and thus your pins don't get the desired views.
10. Not joining Tribes/Group Boards
Tribes (if you are using Tailwind) or Group Boards are one can imagine as communities where the sharing of best and latest pins takes place. The usage of tribes has increased since the introduction of Tailwind. Though, this topic is generally left to the choice of the creator. But if you are not Tailwind (like me), Pinterest has group boards for you. Group Boards are usually followed by thousands of followers, which eventually help your posts to those followers, thus increasing traffic to your posts. To find the most relevant group boards for your niche, Go to Pingroupie and search with your keywords. Once you have found the appropriate groups you can request the owner of the group board for joining as a collaborator.
11. Not Using vertical pins
Vertical pins can be effective if used properly but the times for their usage will come less. So, try not to be that creator whose pins don't come on the screen fully. This change may have occurred due to the rise in mobile phones, but as is often the case, it is better to say no to giraffe pins.
12. Not using different pin types
The thing with Pinterest is that it gives you total freedom and has many different options for the pins that can be used. Examples of some of the pins are blog post pins, product pins, list growth pins, etc. These can be used accordingly.
13. Not creating for mobiles
With the increase of people using the internet on mobiles, the creators have also started to make them their primary target. With four out of five people using Pinterest on mobile phones, the pins should be made so that it can be accommodating on the mobile screen.
Pinterest can be overwhelming and time-consuming. There are so many ways to go about Pinterest, but these mistakes are common among them. But if done right, it can give a great value to you. If you really want to make best out of it, consider these 13 Fatal Pinterest Marketing Mistakes to Avoid.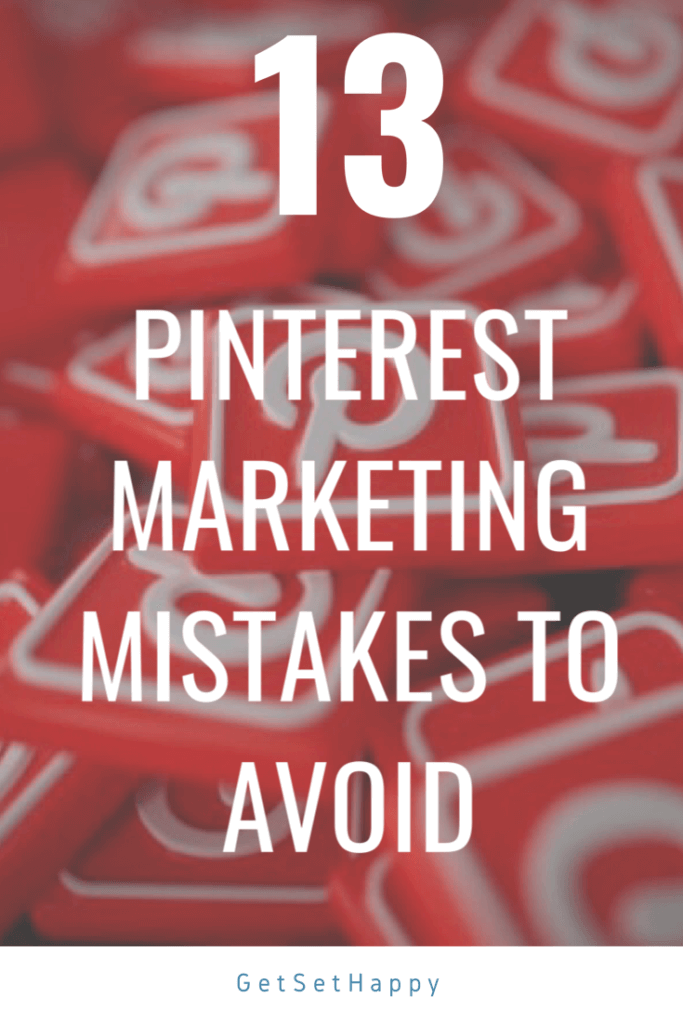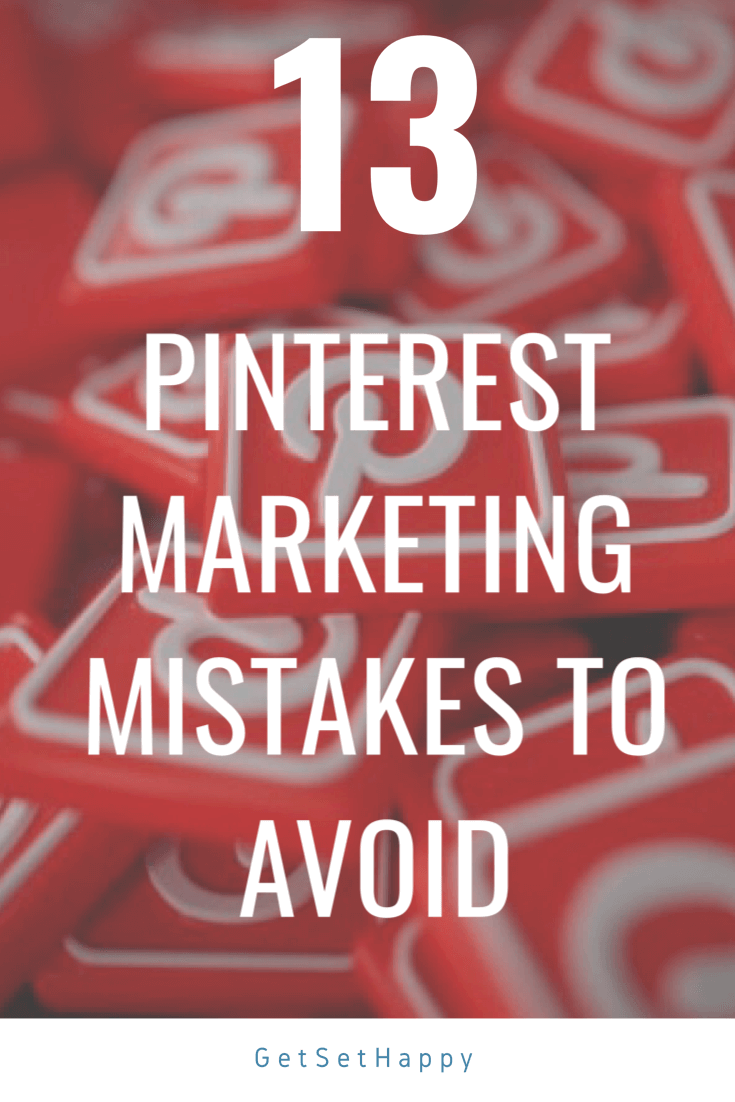 Call To Action
Want to make best of Pinterest for your business? I have a book for you Pin It! Drive Massive Traffic and leads to your business website. This little book is perfect for bloggers and aspiring entrepreneurs that want to increase their blog traffic using a free tool called Pinterest. This book will help you to optimize your Pinterest account, so that your business website generates Traffic and Leads. It is perfect for bloggers and aspiring entrepreneurs that want to increase their blog traffic using a free tool called Pinterest.