Diwali – most celebrated and favourite Indian festival is around the corner. Gift distribution has also started – To your friends – To your relative – to the colleagues. But have you thought of the gift for your special ones? – Your Wife, Girlfriend, daughter or Mom. This special woman deserves a special gift from you on this auspicious occasion. How about a mesmerizing diamond ring? Women love diamonds, give a diamond ring, she'll fall in love with. However, finding the most beautiful and elegant yet affordable rings isn't easy. Here are 5 most Trendy Diamond Ring Designs for Your loved one this Diwali:
Unique Diwali Festival Gifts for Loved Ones
1. Swerve Fern Ring
This sophisticated piece of diamond is ideal for a woman with taste, class, organization, and style. Gift the queen of your life this stunning Swerve Fern diamond ring. I bet, she'll appreciate your fine taste. Whether she is working or rules the home, this dazzling ring is just the right fit for everyday use for her.
2. A Solitaire Stud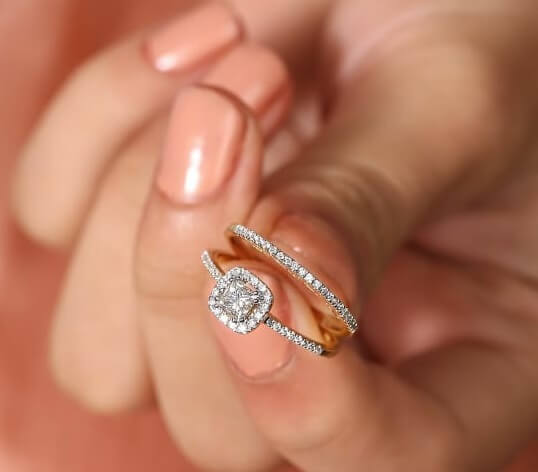 Trust me, this solitaire studded Trendy Diamond Ring Design will leave her without words; neither do you need to say anything to express your feelings. This ring will speak by itself, all those unspoken words for you. Add a touch of glam to her everyday attire with this elegantly designed diamond ring and let her flaunt her own style in front of the world.
3. Classy and Ravishing Orbit Leaf Ring
Now isn't this something really stunning? This Orbit Leaf Diamond Ring gives a royal look to the one who wears it. Studded with diamonds and precision stones, this ring can melt away her heart. So, if you want to say sorry to her or impress her and make her realize that your choice is unmatched, go for this one. This royal and elegant piece matched with an ethnic dress will be an eye-catcher in every party she lands. This could be a perfect Diwali gift for a wife.
4. Leaf Shaped Diamond Ring
This tiny leaf-shaped diamond ring shines more than its size. If you are ready to commit, this beautiful ring can behold your commitment and trust for her. Let her fall in love with you all over again. This could be the best ever Diwali Gift for Women. This stylish diamond ring is also great for your little princess – your daughter or younger sister.
5. Three Layered Diamond Ring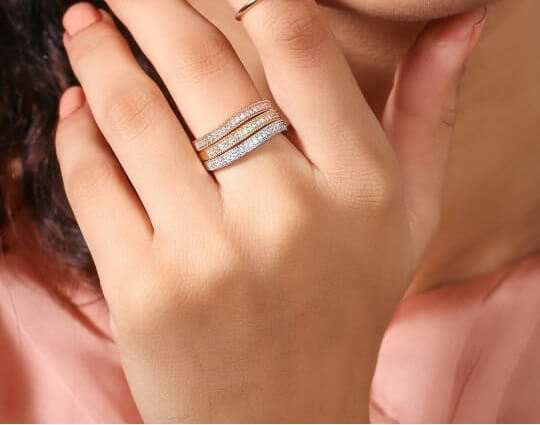 The three layers in this ring are the symbol of Trust, Commitment and Love. Tell her that she is the most important person in your life and you trust her, are committed to her, and love her the most. Personally, I find this one the best as you don't really need an occasion to wear it. At the same time, it still looks classy when you wear it to a party. This pretty ring will add up to her real beauty
Bottom Line
Someone has said right, "Diamonds are women's best friends"; nothing else could make a woman happier than diamond jewelry. Gift her some delicate diamond ring as per your budget and then see the appreciative smirk on her face. If you already know the likings of your loved one, things are easy, but it at all you aren't sure; take her along or buy diamond rings online to choose for herself.
For all the effort she puts in to make your life easier and better, doesn't she deserve a unique Diwali gift? Of course, she does. She is the reason why your life is worth rejoicing and no festival is complete without her existence.
If you are exploring the best Diwali gift options for her, these 5 most Trendy Diamond Ring Designs for Your loved one are just the right choices. So, loosen up your wallet and surprise her with uniquely designed, mesmerizing Trendy Diamond Ring Designs – the Most Precious Diwali Jewelry gift ideas for women. It's time to make her feel special by gifting her something she really deserves.
Do not delay anymore and choose the best Diwali Gift for Women. Have a safe and eco-friendly Diwali with lots of love and fun.
You may also Like to Read – 12 Sustainable Holiday Gift Ideas for Everyone on your List