Everything can be taken from a man but one thing; the last of the human freedoms – to choose one's attitude in any given set of circumstances, to choose one way.

-Victor E. Frankl
Dr Victor E. Frankl was a renowned psychologist and an author of the best-selling book "Man's Search for Meaning". He was held captive during World War II and along with other prisoners, he was tortured brutally, physically, and emotionally. The prisoners' family and friends were dying in front of them which led them to believe that they too will die soon. This mindset of prisoners made them emotionally disturbed which ultimately led to the deaths of many!
Dr Frankl was held captive for about three years in prison, about which he wrote a book "Man's Search for Meaning". Millions of copies were sold of his book and his work was also translated in several languages.
Victor has explained his experiences of him being held captive along with his family and how all of his family died right in front of him. The book is an epitome for those who face challenges and difficulties at every step of their lives. It explains how a man managed to survive every problem, every challenge that came his way.
In the Similar Situation, we are in!
There's one similarity in those times of war and our current situation – we are held captive except we are in our comfort zones. Also, it is the virus we are fighting against, not any country, we are fighting it together.
Dr Frankl had one friend in prison who told him about the dream he saw at the end of February.
There was a voice in his dream which told him to ask any question he wanted to. Evidently, the prisoner asked when he would get freed, to which he got a reply – March 30th. The man eagerly started to wait for that particular date. However, when the end to the month of March was near, he began to realize that he won't be freed after all. He knew that his dream won't fulfil. He had lost all his hope in getting free from the torture cells altogether.
On March 29th, the man (Victor's friend) fell sick and on 30th March, he died. To others, it seemed that he had died of illness. However, Victor believed that his friend died because he had lost all his hope in life and he did not have any long terminal goal to live for.
Even though it was freedom on a higher level, free from the fake realities of the cruel world. He was finally somewhere he could find inner peace. However, that was not what he had wished for. He wanted to live a 'normal life' out of the torture cells. Death is not the kind of freedom anyone hopes for!
This came out as the biggest lesson from Dr Victor Frankl – We do not die because of challenges, betrayals, or problems. We die when we lose hope.
This lesson is valid in the present time as well. It is true that the lockdown date keeps on extending given the current situation at hand. We keep on making estimations that it might extend for another month or two or even, three. However, it is not necessary that we have to be at home to be alive. We have to have hope to be alive – to see the world post lockdown.
When we lose hope, our immune system gets weak, which, further makes us prone to any trivial disease and it may result in our deaths.
Maximum deaths in torture cells wee around the time of Christmas and New Year. At this time of the year, prisoners were hoping to get freed but as they lose hope, they lost their lives.
Victor says that we must have a dream to be alive or a long-terminal goal which will help us to get through the problem of today.
We also need to hang on to hope.

Hope that we will fight through this pandemic.
The belief that we can fight for ourselves, our family, our country.
We must realize that our mind is the most powerful weapon and it is in our hands how we mould it, shape it, and train it to think it.
Whenever we encounter a problem, it depends on us to perceive it as positive or negative. The meaning we assign to a problem is what makes the problem easy/difficult.
For example, as of now… we are in front of the news channel 24×7. We are trying to keep a track of the number of people died, serious cases, recovered, and whether the city we live in is in the red zone or not.
All of the negative news makes us mentally weak, which in turn, weakens our immune system and thus, makes us prone to illness.
How did Victor survive through all those tortures?
It was primarily because of hope. He had hoped for a better tomorrow and had even bigger dreams and goals to accomplish.
Victor was a living example of if you have dreams and goals to live for, you somehow gain the strength to fight against every challenge that will come your way.
Victor made us believe that there is always a greater meaning to whatever happens in our lives. It all depends on how we perceive the situation.
For example, you step out of your house to find that the tyre of your car has a puncture. Naturally, we will think of every negative reason and outcome possible. What if we think of it in a positive way like, the tyre could have punctured in the middle of nowhere or the tyre might have blasted had you been going on in full speed. If we perceive a problem positively, it won't be a problem anymore, it would turn into a blessing in disguise. I guess it is safe to say – jo hota hai ache ke liye hi hota hai!
Likewise, we are thinking negatively about this lockdown. We tend to think of the losses we are going to face, fall of economy, loss of studies, and whatnot. We have been into negativity to an extent that we have ignored all the positive aspects of the lockdown.
Here we have the brighter side of Pandemic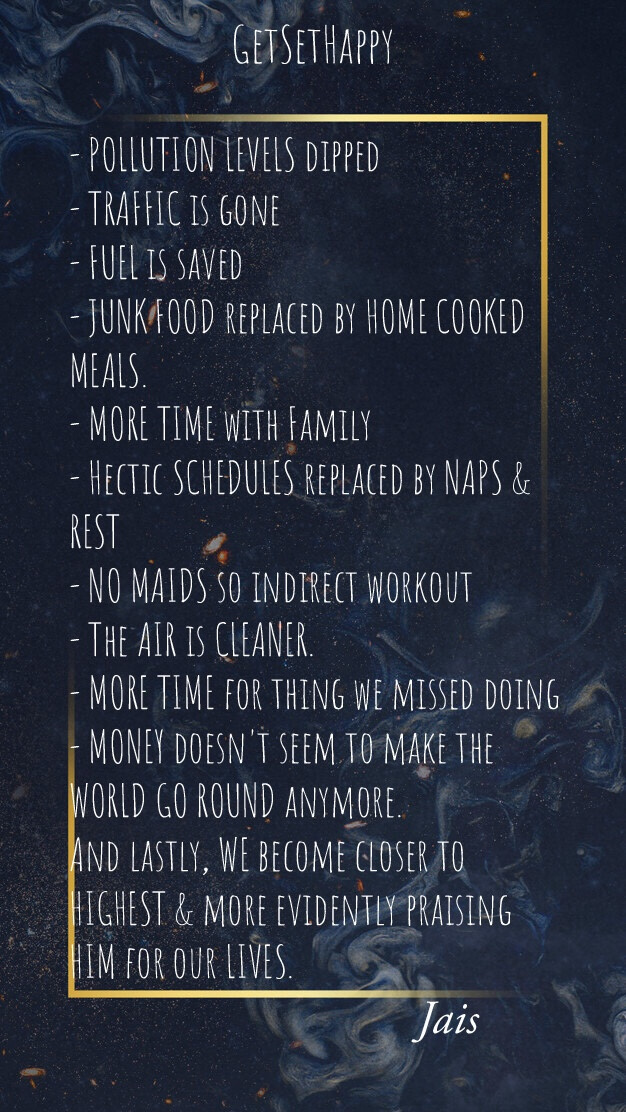 We are spending time with our families. Personally, I don't remember when was the last time I spent this much time with my family and I believe it's the same with everyone.
People are inculcating better lifestyle habits like reading. There are people who never used to read but now, they are! Those who did have a reading habit, it is the best time for them to catch up with their 'To Read Lists'.
Cleanliness is now a priority and not mere duty. We have started to keep our surroundings clean to prevent our family from coronavirus. Not only our surroundings but also self-hygiene is also a priority for everyone.
We are maintaining social distancing which, I think we should practice despite the lockdown as well.
If we observe with a keen eye, our sky is clearer than ever before. Water is cleaner. In fact, all the water bodies are clearer than ever before.
It is almost like that nature has hit the reset and now, is healing itself. And trust me, this would definitely turn into our own benefit.
With this much time in hand, we are developing new habits. Discovering our Newfound interests and hobbies and no time could be better than this.
Also, this pandemic made us realize the value of the busy lives we were heading. It made us miss the day we all used to hate – Monday! Post lockdown, every student will be more than happy to attend classes. Employees won't ask for Work From Home often like before. And we would surely miss this time in our lives.
Why not live through it happily and make it productive rather than regretting it later?
Till the time you have a negative meaning to a problem, you will never be able to see the flip side of it.
Every problem comes with an opportunity. This time is a great opportunity to do what we want to do, but couldn't find time to do because of the churning routine.
It is the power of the decision of choosing our attitude which can't be taken away from us.
Wrapping Up on Positive side of the Pandemic
I shall remind you that the world has dealt with more severe problems than COVID-19. We have seen thousands and millions of people losing their lives during such times.
Before, we had no means to deal with a global emergency because of lack of
Awareness
Information
Resources
If we take another positive aspect of COVID-19, it is the best time to deal with such a pandemic. We have awareness (more than necessary), information reaches fast to us, and plenty of resources to deal with a global pandemic.
Better time is yet to come. Hang in there, world!
Cheers To the Light! To the Brighter Side of Lockdown
Featured Image Source – Pixabay