The holiday season is a time of joy, warmth, and creativity. It's the perfect opportunity to infuse your home with the festive spirit, and what better way to do that than by indulging in some delightful and budget-friendly DIY Christmas decor projects? We've curated 27 wonderful ideas that will not only transform your living space but also provide you with endless hours of creative enjoyment. Let's explore these DIY home decor inspirations in greater detail, so you can truly immerse yourself in the magic of Christmas.
27 DIY Home Decor Ideas to Spruce Up Your Space for Christmas
1. Personalized Ornaments:
Start your Christmas crafting by creating personalized ornaments for your tree. You can use plain baubles and adorn them with names, special messages, or even memorable dates. Get creative with glitter, paint, or markers to make each ornament unique and meaningful.
2. Handmade Wreaths:
Wreaths are a classic Christmas decoration, and making your own adds a personal touch. Gather pinecones, holly, and berries to craft a wreath that reflects the natural beauty of the season. You can even use recycled materials like old book pages or burlap for a rustic charm.
3. Mason Jar Luminaries:
Mason jars are incredibly versatile. Turn them into charming luminaries by filling them with fairy lights, candles, or even scented potpourri. Decorate the jars with ribbons, paint, or glitter, and watch as they cast a warm and inviting glow throughout your home.
4. DIY Advent Calendar:
Count down the days to Christmas with a homemade advent calendar. You can use small boxes, envelopes, or even socks to create pockets for treats or heartfelt notes. This delightful tradition will add excitement to each day leading up to the holiday.
5. Cinnamon Stick Candles:
Infuse your home with the cozy scent of cinnamon by wrapping cinnamon sticks around plain candles. Secure them with twine or ribbons, and when you light the candles, the aroma will create a warm and comforting atmosphere.
6. Paper Snowflakes:
Channel your inner child by cutting out intricate snowflake patterns from white paper. Hang them from your ceiling or windows using transparent thread to create a mesmerizing winter wonderland indoors.
7. Pinecone Centerpieces:
Nature-inspired decor is timeless. Gather pinecones and arrange them in a decorative bowl or tray. Add a touch of sparkle with glitter or metallic spray paint for a centerpiece that effortlessly blends rustic charm with elegance.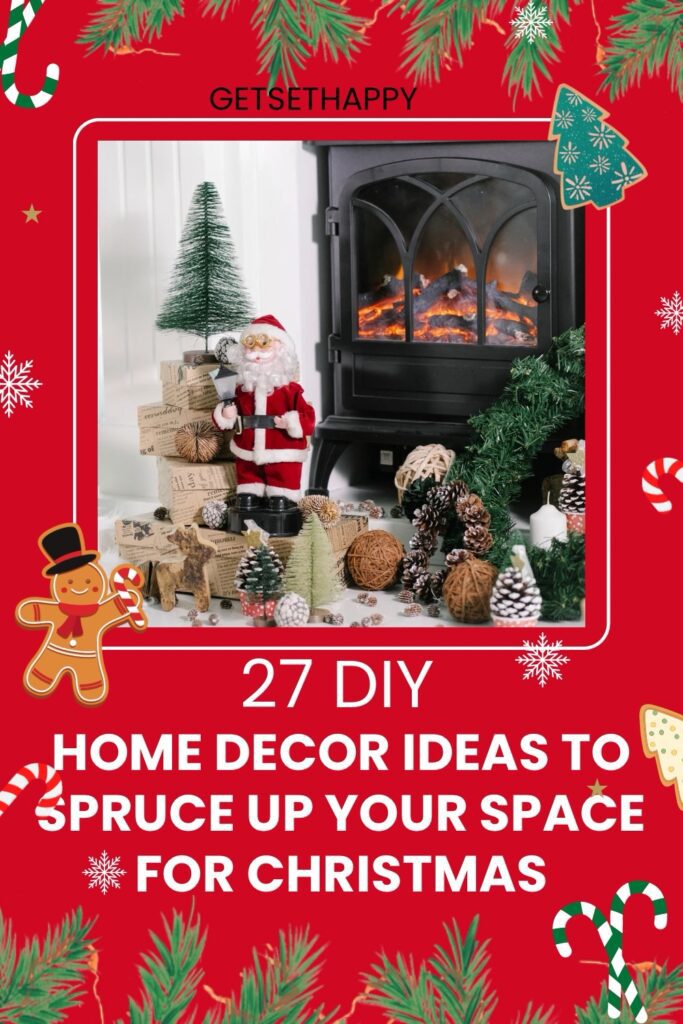 8. Festive Pillow Covers:
Give your living space a quick and festive makeover by sewing or gluing holiday-themed pillow covers. Whether it's Santa Claus, reindeer, or snowflakes, these covers will add a pop of Christmas cheer to your sofas and chairs.
9. Homemade Garland:
Embrace the beauty of simplicity by creating your own garland. String together popcorn, cranberries, or dried citrus slices to craft a natural and colorful decoration. Drape the garland over your mantel or tree for a touch of organic elegance.
10. DIY Stockings:
Make your Christmas morning even more special by sewing personalized stockings for each family member. Use different fabrics, colors, and embellishments to create stockings that reflect everyone's unique personality. Hang them by the fireplace or staircase for a traditional and heartwarming touch.
11. Santa Hat Chair Covers:
Add a playful twist to your dining area by crafting Santa hat chair covers. Use red fabric and fluffy cotton balls to create these adorable covers. They're not only festive but also incredibly inviting, making your guests feel like they're dining in Santa's workshop.
12. Holiday Terrariums:
Bring a touch of nature indoors by assembling small terrariums. Use miniature Christmas trees, figurines, and fake snow to create enchanting winter scenes. These terrariums can be placed on tabletops or shelves, adding a whimsical touch to any room.
13. Repurposed Gift Wrap:
Get creative with leftover gift wrap by turning it into beautiful decorations. Craft paper bows, ornaments, or even framed artwork. This eco-friendly approach not only adds a unique flair to your decor but also contributes to reducing waste during the holiday season.
14. Scented Potpourri:
Fill your home with the delightful aroma of Christmas by simmering a potpourri on your stove. Combine citrus slices, cinnamon sticks, cloves, and a splash of vanilla extract in a pot of water. Let it simmer on low heat, and your home will be infused with the scents of the season.
15. Felt Mistletoe:
Hang a felt mistletoe ornament in doorways to add a touch of romance and tradition to your home. Crafted from green felt and red ribbon, this charming decoration invites loved ones to share a special kiss beneath its boughs, spreading holiday cheer and love.
16. Rustic Wooden Signs:
Create rustic wooden signs featuring festive messages or quotes. You can use reclaimed wood pieces and paint or stencil your chosen designs. These signs make excellent wall decor, adding a cozy and personalized touch to your space.
17. Wine Cork Ornaments:
If you enjoy a glass of wine, save the corks and transform them into adorable ornaments. Add googly eyes, ribbons, and other small accessories to turn simple corks into charming characters. These ornaments are perfect for adding a touch of whimsy to your Christmas tree.
18. DIY Snow Globes:
Create your own snow globes using mason jars, water, glitter, and small figurines. Seal the jars tightly and give them a gentle shake to watch the snowfall around the festive scenes inside. These snow globes make delightful decorations and can be customized to match your holiday theme.
You may also like to read Top 6 places to visit during Christmas Holidays
19. Festive Door Mat:
Welcome guests with a custom-made holiday doormat. Use stencils and outdoor paint to add cheerful messages or Christmas-themed designs to a plain doormat. This simple yet effective DIY project sets the tone for festive gatherings right from the entrance.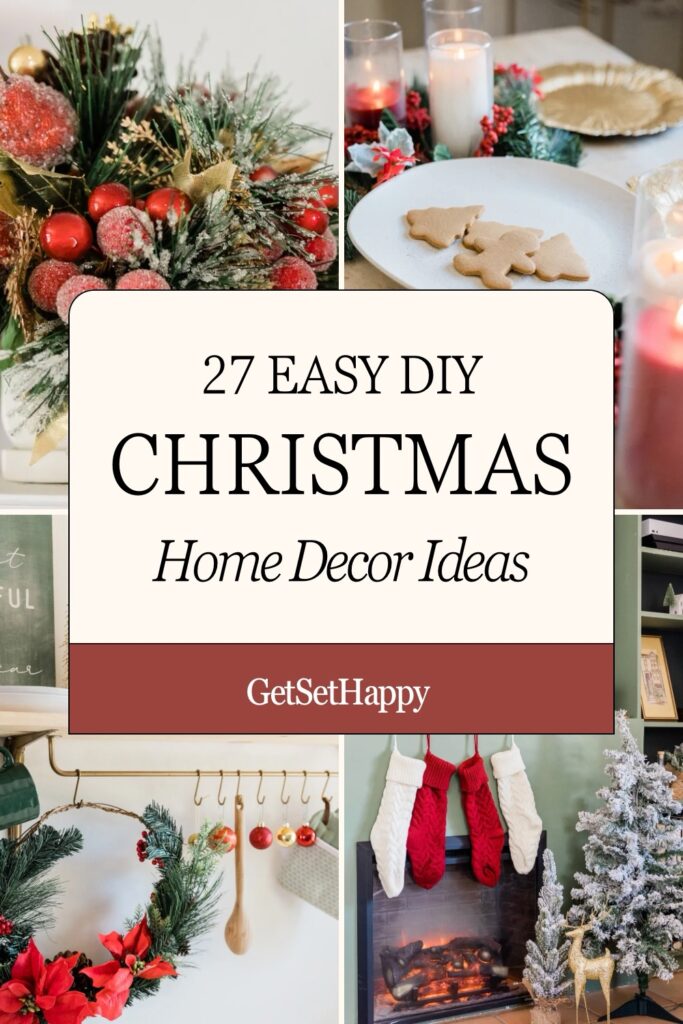 20. Holiday Wall Art:
Let your creativity shine by designing your own Christmas-themed wall art. Use canvas, paint, and your imagination to create unique pieces of art that reflect the holiday spirit. Whether it's a snow-covered landscape or a whimsical winter scene, your artwork will become a focal point of your decor.
21. Candy Cane Vases:
Add a festive touch to your floral arrangements by adorning vases with candy canes. Secure them with ribbons or twine, and place vibrant poinsettias or other seasonal flowers inside. These charming vases bring a pop of color and holiday cheer to any room.
22. Felt Christmas Tree:
Create a felt Christmas tree on a wall or door for a fun and interactive decoration, especially if you have little ones at home. Cut out various felt ornaments and attach Velcro to both the tree and the ornaments. Children can rearrange the ornaments as they please, adding a playful element to your decor.
23. Cookie Cutter Ornaments:
Repurpose cookie cutters into delightful ornaments by tracing shapes onto colorful felt or cardstock. Add embellishments such as sequins, buttons, or beads, and hang these charming creations on your tree or around the house. They bring a touch of nostalgia and handmade charm to your Christmas decor.
24. DIY Snowflakes Window Clings:
Add a touch of winter magic to your windows by creating your own snowflake window clings. Use puffy paint to draw intricate snowflake patterns directly onto your windows. These clings are easy to make, and they can be removed without leaving any residue, allowing you to enjoy the snowy designs throughout the holiday season.
25. Gingerbread House Display:
Construct a gingerbread house from scratch or purchase a pre-made kit. Use it as a delightful centerpiece for your dining or coffee table. Surround the gingerbread house with faux snow, miniature figurines, and twinkling lights to create a whimsical holiday tableau that captures the spirit of the season.
26. Holiday Sock Garland:
Add a touch of coziness to your home with a holiday sock garland. String mismatched holiday socks along a string of fairy lights to create a charming and whimsical decoration. This DIY garland is not only festive but also practical, as the socks can be easily retrieved for a warm and snuggly treat.
27. Festive Book Display:
Create a unique display using your favorite holiday-themed books. Stack them together and tie them with a festive ribbon. Place the stack on your coffee table or sideboard, turning it into a decorative and functional holiday accent. Your guests will appreciate the thoughtfulness of your literary decor.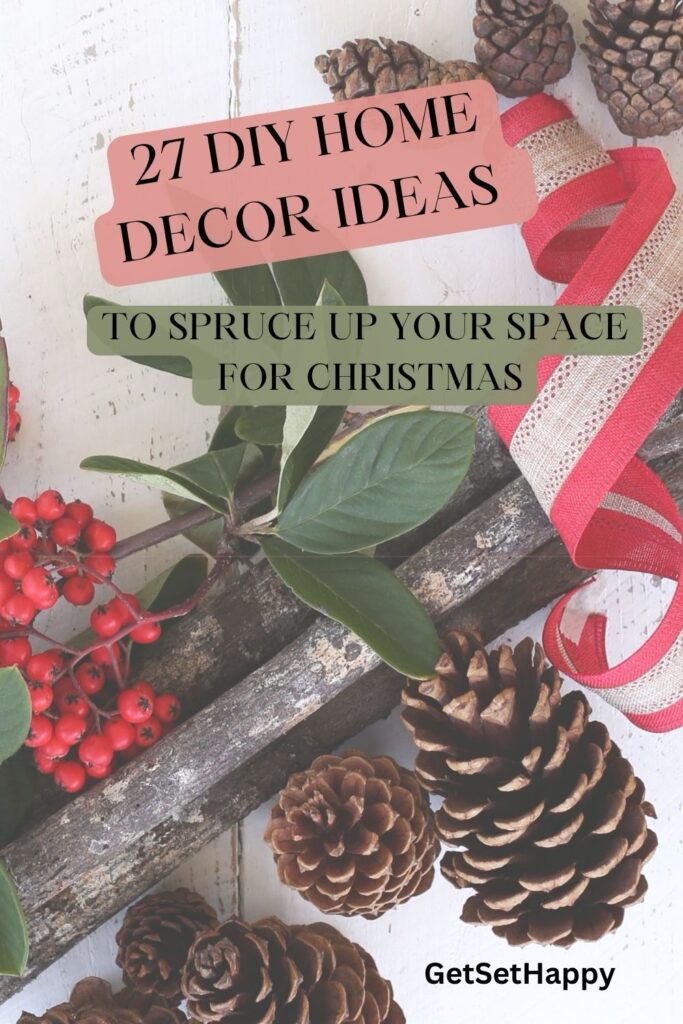 Wrapping Up on DIY Home Decor Ideas to Spruce Up Your Space for Christmas
With these creative and easy-to-make DIY home decor ideas, you can infuse your space with the magic of Christmas while expressing your unique style and personality. Gather your family and friends, put on your favorite holiday tunes, and enjoy the process of crafting these delightful decorations. By adding a personal touch to your home, you'll create cherished memories and a warm, inviting atmosphere for everyone to enjoy. Happy crafting, and may your holiday season be filled with love, laughter, and creative inspiration!
Featured Image by Freepik