Did you know that 68 percent of time spent in the home is spent between the kitchen and the living room in the United States of America? Your living room should be the most comfortable and cozy part of your home, and a big part of taking the living room to its full potential is getting the best furniture.
Having furniture that looks nice is great, but getting great-looking furniture that is both comfortable and functional is a game-changer for your home decor. You'll love the look of your new living room each time that you walk in and see your stylish, new furniture.
The good news is that you've found a great guide that will make finding the right home decor a walk in the park. Keep reading this article to learn more about how to purchase the right furniture today!
How to Choose the Best Furniture for Your Living Room?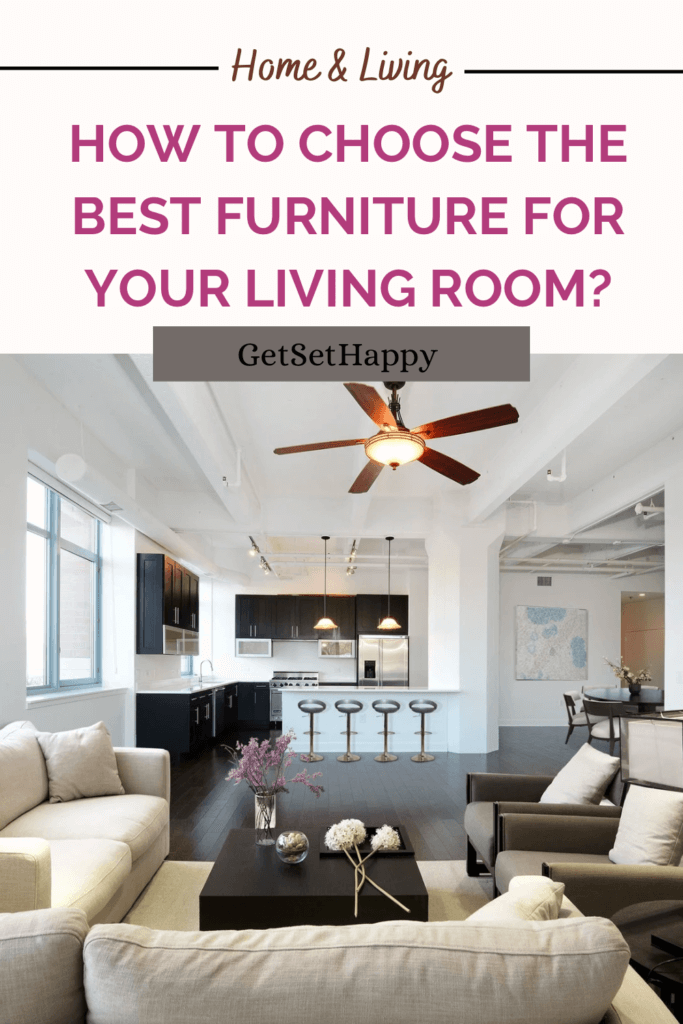 Discover the Space That You're Working With
A big factor that you need to consider when it comes to the interior design of your home is the amount of space that you have to work with. Looking at furniture arrangements on Pinterest is great, but it might not be realistic with the amount of space available in your living room.
Putting a sofa or couch against the wall is a great way to keep comfortable seating without using more space than necessary. If you love the look of modern coffee tables then you'll want to use this interior design tip as it will allow you more room for tables.
Another key thing to consider is the size of your home's doorways. Deciding to buy furniture is great, but you need to make sure that you can get the furniture into the living room. This is especially important when it comes to new couches since they're often large and bulky.
Consider Comfort and Appearance
Appearance is great when it comes to home decor, but you should put more weight on the comfort side of things. Many families spend a great deal of time in the living room, so you need to ensure that you purchase furniture that is comfortable to relax on.
A great rule of thumb is to picture the new furniture that you want in someone else's home. If you walked in the door and saw it arranged in their living room how would it make you feel? If you'd feel jealous or happy then it's a sign that you should consider getting that furniture for your own home.
You also need to try sitting on the chairs and couches to make sure that they're comfortable. Buying a couch that you can't stand sitting or laying on for more than an hour is a sign that you don't need the couch.
Determine the Purpose of Your Living Room
The living room is a versatile room that can cover a lot of tasks and needs. You need to take some time to decide what you want the purpose of your living room to be. Some people like using their living room as a movie theater in their home, while others use it as a decorative area that doesn't see a ton of use.
In general, you'll find two options for the best furniture when it comes to your living room. You'll find furniture that looks amazing and provides zero functionality or you'll find furniture that doesn't look as nice but that is quite comfortable and durable. Homes with kids are best-suited to go with the latter option, especially if you plan on spending a lot of time in the living room as they grow up.
Find the Right Colors
It's also a good idea to try to find furniture that matches the color and overall aesthetic of your home's living room. Take a look around your living room at the colorsof the walls, flooring, rugs, and fan. You can use the colors of these items to start shopping for the best furniture for the interior design look that you're aiming for.
You need to make sure that the colors that you're using in your living room work in harmony with each other. Colors also have an effect on the psychological side of things, so keep that in mind when you're looking at different colors. Green is a great color if you're looking for a stress-free environment.
Shop for Quality
Quality is a big thing to put value in when you're looking to buy furniture and home decor. Odds are that you'll keep the furniture that you buy for years or even decades. It's a good rule of thumb to shop for the best furniture that will last as long as you want to keep it.
Furniture isn't cheap, but you're better off paying more for quality furniture rather than getting something for cheap that you'll need to replace in a few years. Avoid getting cheap coffee tables that use glass as they're much more likely to break over time.
Keep Weight in Mind
You never know when you'll decide to shake things up and rearrange the setup of your home decor. Getting heavy furniture that is bulky is going to make redecorating or rearranging things a much taller task. Many people make the mistake of discounting the weight of their best furniture until it comes time to move it.
Don't make the mistake of thinking that heavy furniture equals the best furniture. You'll find many couches that weigh a ton but that won't pass the test of time. Avoid getting heavy sofas and chairs for the perfect living room setup.
Buy the Best Furniture for Your Living Room Today
Finding the best furniture for your home can feel like a never-ending quest at times, but knowing what to look for will spare you a lot of time and frustration. Always keep and size in mind when you head out to buy furniture as these factors make it difficult to move the furniture and redecorate. You should also decide whether comfort or appearance is more important for your home decor.
Make sure you stop by and check out the rest of our blog posts if you're into gaining new knowledge on a range of topics!
Featured Image by dit26978 on Freepik