Winter is harsh! With the temperature dipping constantly, we need to take great measures to stay warm. In the weather like this, it's easy to become a loner and hibernate inside with a cup of hot coffee and heater around. Unfortunately, we need to keep the blanket aside dress up and get back to the routine. If you are a vintage dressing lover like me, you'll certainly need to make some adjustments to cope up with the chilling temperature without sacrificing on vintage clothing.
So, here are few tips on how to dress vintage in chilling winter:
1. Right undergarments are absolutely the key to staying warm, particularly if they are wearing vintage short sleeves dresses. I usually choose lightweight body warmer and woolen underpants. These are the real lifesaver on cold days. These are warm yet thin enough to wear below-fitted vintage dresses and won't cause any undesired awkwardness.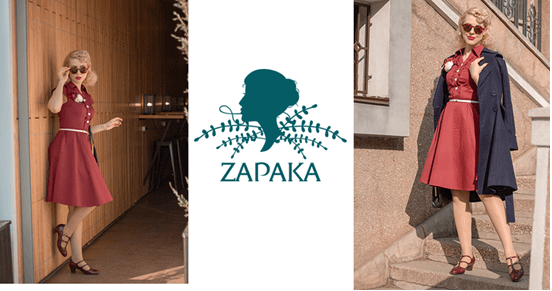 Image source: zapaka.com
2. Another addition that I to make to my winter vintage dressing is the stockings. Stocking are available in plain as well as interesting patterns, which go well with vintage garments. In order to ensure that the body remains warm, I go for hosiery stockings. They keep my legs warm and are the perfect addition to the vintage dress. It also gives a nice stylish and fashionable twist to my dress.
3. Fur stoles are in! It is another perfect attachment that you can club with your dress. Fur stoles are available in both plain and glittery styles. So, if you are heading towards a party in your glamorous vintage costume, adding a classy fur stole with glitters can enhance the attractiveness of your dress. You can choose the plain or checked one for workplace wearing.
4. Winter appropriate shoes that will go with my 1930s-1950s ensembles still feels like a mission impossible. The pretty ones are never warm enough and the warm ones are never pretty enough to pair with vintage styled clothing. I did, however, find what seems like the perfect solution for wearing beautiful shoes and not freezing to death. Sheepskin insoles! You can find them in any size and they will keep your feet toasty!
5. Wearing a cape on top of a coat is an excellent idea. I've been collecting antique and vintage capes for years but a vintage-inspired will also do the trick. Winter gloves and muff are a must! I'm currently considering making one myself, so stay tuned!
Summing Up on Vintage Styled Dressing
Winter is a perfect time to flaunt your vintage-styled dressing. Above mentioned additions can keep you warm in freezing temperature, while you can enjoy wearing vintage styled dresses. At the same time, you can give a twist to your vintage fashion statement with these cozy accessories.
Discover More Fashion Trends