A woman's breasts are tender and delicate. They need to be protected from the strain that is caused by workout activities. A sports bra is indispensable to wear when working out because the movement in the breasts caused by gym activities can lead to tissue damage and sore breasts. Not wearing a properly supporting sports bra can even result in shoulder and back pain and saggy breasts are most likely to happen. Sports bras are essential in every woman's closet irrespective of breast size.
If you're still having sore breasts post-workout then you might want to revisit some of the pointers according to experts that should be kept in mind while buying a sports bra. There could be several reasons why your sports bra does not properly support you. For instance, according to experts, the wrong size is mostly the main reason among many others.
So to successfully make your research about your ideal sports bra, here are some aspects that you must know before buying a sports bra:
● Know the difference between two types of sports bras
When it comes to a sports bra's functionality, it is made to provide two types of support: compression and encapsulation. You must know the difference between the two to choose according to your sports bra needs.
A sports bra that pushes your breasts against your chest to reduce the bouncing problem while working out. They are made of elastane material which makes the breast locked in place together.
Encapsulation sports bras, on the other hand, as the name suggests, are made to encapsulate each breast with an inbuilt separate cup. The encapsulation sports bra is more supportive during a workout due to the separate cup feature.
It is advisable for women with heavy breasts to choose the encapsulation sports bra variant for maximum support.
● Note the fit of strap and band of the sports bra
The straps and band of a sports bra are particularly important for providing the support that it provides. Take a note of the fit of the strap and the band of the sports bra that you are speculating to buy for yourself.
The band should firmly fit in the front below the breasts. In the back, the band must be in level with the front fit. This will ensure the proper support to your breasts. Make sure the band is not rising and making a curved shape in the back, if it does then it's not the right fit for you.
Now coming to the straps, they are essential as much as the band is. The strap should not dig into your skin when you wear a sports bra. The digging straps can cause shoulder pain and bruises. So look for the sports bra in which you can adjust the straps according to what feels comfortable to you.
● Get the right size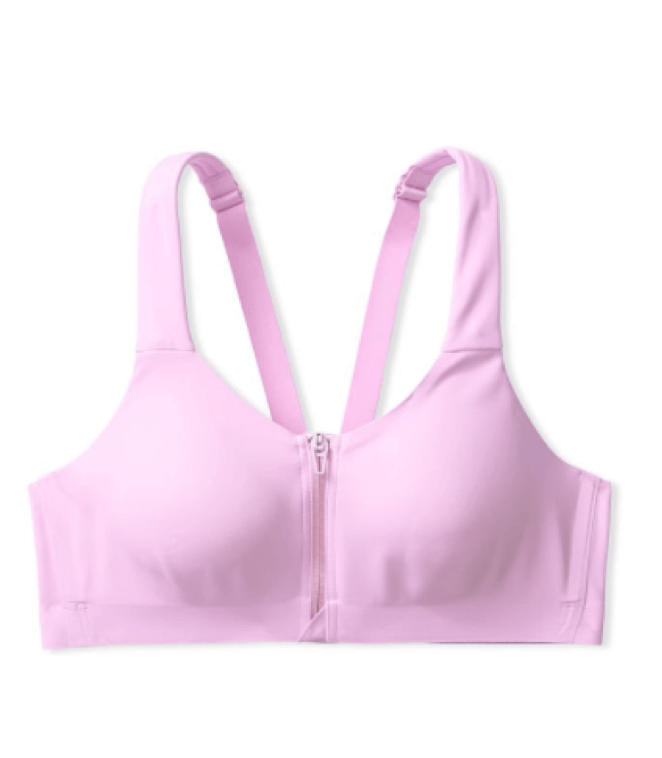 Sports bras are only beneficial and supporting if it is of the right size. Your breasts are ever-changing in shape and size as you go through gaining or losing weight, aging, pregnancy, and many more stages of body changes.
You must check your breast size regularly if you want to get the desired fit of your sports bra. Wearing your right size sports bra not only gives the support that you need but also performs its other functions as well.
Read Also – Get Your Bra Size Before You Order That Bra
● Select feature over fashion
Although it's hard to go beyond a fashionable-looking piece of a sports bra, it is necessary for the well-being of your breasts. Do not sacrifice features over aesthetics. You must always choose the sports bra that has all the features mentioned above.
But you surely would not have to sacrifice much. With the improvements in the different types of sports, there are a bunch of options to choose from which not only fulfill their role as a sports bra but also are fashionable.
Also Read: The Dos And Don'ts Of Buying Lingerie Online
Featured Image: People photo created by rawpixel.com – www.freepik.com