During the warmer months, it's finally time to get back outdoors and enjoy the sunshine. However, if your little one is newly crawling or walking, ensuring your porch is safe is crucial. Even when you're present, an accident can happen in the blink of an eye. Luckily, there are many ways in which you can toddler-proof your porch so you and your family can relax outside without constant worry in the back of your mind. Here are some great ways you can make your porch area safer for your toddler and even for pets too!
1. Remove Potentially Dangerous Items
What do you currently have on your porch? Maybe you have a propane tank for the grill and a few potted plants. These are examples of things you don't want your toddler getting their hands on (or in). A good rule of thumb here is if you don't want your toddler touching it, put it out of arm's reach. Find another location for potted plants and store items like propane, grill tools, insecticide, and garden tools in a locked storage bin, the garage, or backyard shed.
2. Evaluate your Porch Floor
This is not applicable if you have a cement floor. However, for those with wooden floors, take a moment to examine the planks for chipped paint, loose nails, and splinters. It's safe to assume your toddler will be in close contact with your floor, so it's best to make the necessary repairs. This may mean a few board replacements, sanding down splinters, and more. If you choose to repaint, try to find a non-toxic option. Not only is this a great way to keep your toddler safe, but it's good for the health of your porch as well. Consider adding outdoor carpeting or a few area rugs to enhance the protection.
3. Consider Child-Safe Outdoor Furniture
You may already know that even the most unexpected things can give your toddler an "ouchy." If it makes sense, swap out furniture that easily folds or tips over easily with more child-safe options. These should feature rounded, not sharp edges. If your porch has railing, do not place furniture near it! Excitable and curious toddlers may climb on these furniture pieces and over the railing. If you're shopping for a new porch swing, choose a ceiling-mounted one as opposed to a freestanding model. It's even wise to block off your outdoor grill, as it could pose as a danger to your toddler. If you have a firehouse on your porch, be sure to add a barrier to keep your children safe.
4. Block the Stairs
Falls down the stairs are easily prevented when the right precautions are in place. Just as you would indoors, block your porch's stairs if there are any. You can use your baby gate if it's large enough for the space or even install a latching safety gate for a more permanent solution.
5. Install A Retractable Screen Door
When you want to enjoy some time out on the back porch, it might be difficult if you don't have a screen door. Installing a retractable screen door will allow you to enjoy the warm breeze and let fresh air in your home when you aren't on the porch. These are designed with latches, so your toddler won't be able to escape out of the screen door. These are also wonderful for pet owners too, as pesky dogs and cats can easily slip out of open doors. Most retractable screen door fit standard doorways, so installation should not pose any large issues.
6. Protect Outlets
Don't let your child play on the porch when there are exposed outlets. You'd be surprised at how easy it is for them to stick things into outlets, which is incredibly dangerous. House them in watertight casings. If your porch is screened-in, you should ensure they're in compliance with your local building codes.
Closing Words
Childproofing isn't limited to indoors! When you implement a few or all of these methods of toddler-proofing your porch, you'll find you feel more at ease when you're relaxing with the family on a beautiful spring weekend. You won't be worried about your toddler getting into anything that could be dangerous or wandering through an open doorway. If you're still concerned about safety, you can always have a local contactor visit your home to conduct a safety inspection. Enjoy all the perks of being outside this year and get the most out of your porch!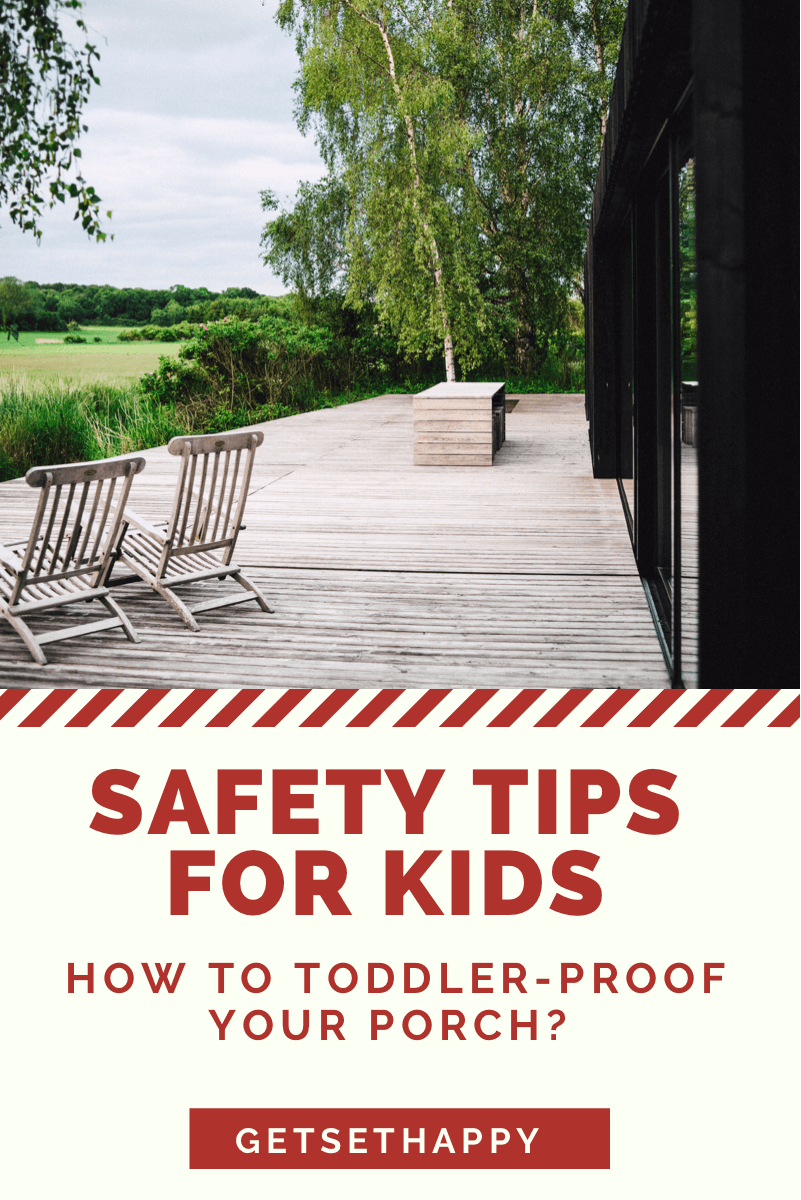 Featured Image: Background photo created by v.ivash – www.freepik.com
Enjoyed What You Read? Share it with your friends