You've found an elegant, gorgeous top and yet it needs a little something extra. How about adding an equally stunning necklace? Whether that is a contemporary piece or an antique necklace; a necklace can really add a lot to a neckline. Now, this is where it can get complicated. Sometimes it seems like finding the perfect necklace to match your top can be nearly impossible. However, one thing that you can wear with any attire as your style statement is name necklace. Occasionally it might even seem like you can't make a good decision when it comes to this matter. Well, no need to worry anymore. Today, I'm going to explore how you can match your necklace to your neckline.
Crew Neck
This has to be the most versatile neckline that I'm sure everyone has donned at some point in their life. It is possibly the go-to neckline.
Since it is the most versatile type of neckline, it makes total sense that pretty much every type of necklace goes with it. However, my favourite matching has to be the crew neck paired with a collar necklace. Just imagine a decorative, chunky collar necklace with your favourite crew neck tee – it looks pretty good right?
Plunge
This isn't perhaps the neckline that you'd choose to wear every day. However, when you do wear a deep-plunge neckline (perhaps at a special event) then pair it with a long-line necklace. This is a gorgeous match as sometimes the plunge neckline can make your upper half look a bit bare, but with the help of a long-line sparkly necklace it your upper-half becomes perfectly balanced.
Off-shoulder
The off-shoulder is a statement neckline, it can look casual, and can also look like a show-stopper piece. You want to match this with something just as edgy…enter the choker. The choker allows you show off those killer collar-bones, it truly is a brilliant pairing!
Button-down
With the button-down shirt neckline there isn't much space to play around with- having said that, a necklace can still work well with this type of neckline.
If you have a longer neck, a choker will match a button-down shirt well. For those of us with shorter necks, how about a short necklace that rests above the last open button? Or even a collar necklace that rests underneath the collar, and just on the top button.
Also check out: Cuban Link Chains
Asymmetrical
Although this is perhaps a on the rarer end of the neckline spectrum, it is certainly still an elegant option. Whether it is an oversized jumper which 'slips' off one shoulder, or a tighter jersey number. The asymmetric neckline is still a favourite amongst many.
Since it is already an attention grabber, the asymmetric neckline goes perfectly with a simpler necklace, such as a delicate pendant necklace, with a little bit of sparkle dangling in the middle. The simple pendant doesn't overwhelm the neckline, but it does draw attention to your elegant collarbone.
Turtleneck
Now the turtleneck is truly a staple. You can have long-sleeve, or even sleeve-less turtlenecks. It is no longer the top that is only seen in the Autumn/Winter months.
The perfect pairing for a turtleneck-necklace has to be a simple, long necklace; possibly even a string of pearls or a string of other gemstones. If you really want to spice it up, then you could even layer different length necklaces. Trust me, layers upon layers pays off in this example.
Sweetheart
A sweetheart necklace emphasises your neck and your collarbones. You need to choose a necklace that will contribute to this, rather than detract.
Choose a necklace that isn't too chunky or edgy; curves and softer circular angles are probably your best bet here. Now the length is important here too, steer clear of a long-line, and opt for a shorter necklace such as a choker or a simple, small drop necklace.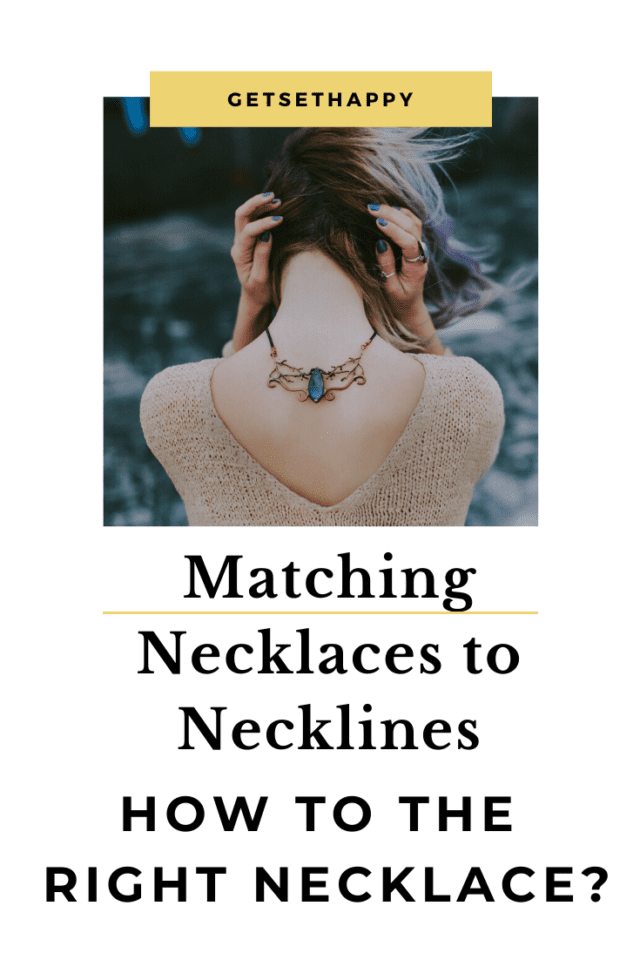 Check Out More Fashion Trends
Featured Image by Wedding photo created by freepic.diller – www.freepik.com