There are very rare places on earth where you get the perfect amalgam of culture, history, cuisine, and nature. Italy is unarguably one such destination where an eclectic mix of historic charm, dramatic scenic landscapes, and irresistible cuisine has been alluring visitors to enjoy la dolce vita – the good life. A trip to Italy offers you countless experiences of life, each unique, diverse and exciting.  Deciding which one to choose totally depends on where your interest lies. Here's a summarized Italy travel guide on what you can look forward to on an Italian holiday.
Where to go in Italy
The Italian Cities – for the antiquity lovers
Four significant cities of Italy – Rome, Florence, Venice, and Milan are spectacular remnants of Italy's Renaissance era. Aptly nicknamed the 'Eternal City', Rome especially appeals to travelers because of its extensive assortment of architectural marvels and sculptures. While in Rome, it is hard to miss the stunning attractions like the Colosseum, Trevi Fountain, and Pantheon. Deeply rooted to art, some of the world's greatest painters and artists have left their mark in these Italian cities. Be it the sprawling fresco works of Michelangelo on Sistine Chapel, Raphael's Madonna and Christ Child or Leonardo Da Vinci's Last Supper, each artwork till date manages to draw gasps of wonders from its visitors. The historic aura exudes from the rustic bridges over the canals of Venice such as Bridges of Sighs and Rialto Bridge. The Duomos and Piazzas at Florence and the Cathedrals of Milan are prominent Italy tourist places that will take you back to an era where art was considered an eminent part of life.
The Italian Lakes – for the nature lover
Nature has been generous on Italy providing it with a beautiful climate and abundant natural beauty. Italy is blessed with gorgeous lakes and spending some time on its shoreline is an ideal way of experiencing Italy's natural splendor. The stillness of clear waters lapping up the shores speckled with sleepy countryside villages, flanked by gentle hills covered in olive groves, cypresses, and lush forests offers you the much-needed solace away from the daily chaos of life.
A tranquil sojourn to Lake Como, Lake Garda, Lake Orta and Lake Maggiore lets you explore neoclassical villas, winding cobbled alleys, manicured gardens and picturesque villages in quiet and serene ambiances. The luxury villa hotels at the Italian Riviera play around with contemporary sophistication and renaissance styled antique décor fitted with the best of luxury amenities and rooms with beautiful lake view – a perfect to enjoy the luxe life in Italy.
Italian coastal towns – for romantic interludes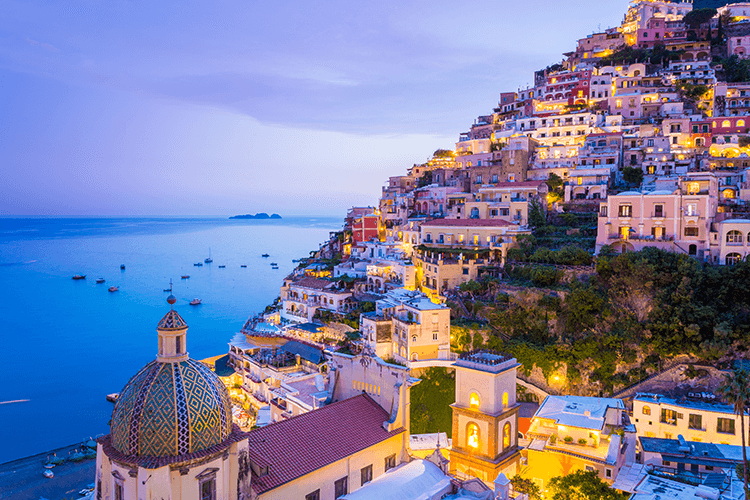 Italy's impressive coastline fringed by cliff-edged mountains teeming with colorful hamlets overlooking the ocean offer postcard-perfect sights worth visiting. The coastal towns of Positano Cinque Terre, Portofino and Amalfi boast of pretty sunshine beaches and impressive narrow alleys lined with Italian cafés, bistros, and souvenir shops. Dotted amid these vibrant houses are subtle hints of Italian history. While strolling around the town, you would come across centuries-old medieval structures, mosaic lined houses, and wind-swept piazzas. The multihued settlement with shades of ancient Roman elements in pleasant Mediterranean climate gives these gorgeous seaside towns an enamoring ambiance.
If you are in Italy for a romantic Italy vacation, then these picturesque cliff-side townships with flower-scented breeze and stunning views of aquamarine waters are perfect romantic destinations. Stroll arm in arm through the scenic alleys, feast in charming, cozy cafes and gaze out to view romantic sunsets on the 'horizon, every moment there will be etched in your heart forever.
'Not to miss' Italian Experiences – Things to do in Italy
Explore the Art and Culture Scene
Though Italy is bursting at its seams with incredible art and architectural marvels, the art scene is ever evolving. While the city of Rome, on the whole, feels like an open-air museum, there are numerous galleries and new age museums such as MAXXI and MACRO that showcases a curated collection of amazing work from popular artists. Undoubtedly Italy's bygone eras are most popular among its visitors, however, the contemporary and modern style in art and architecture has influenced Italy's art scene greatly over the years. Of all the Italian cities, Milan stands out for its contemporary culture. Teeming with Avant-garde art galleries and contemporary fashion houses, Milan's art scene is full of vogue. So while you are busy picking out Italy's popular attractions for your Italy vacation, add few of Italy's art galleries and popular museums into your itinerary to get a rich outlook on Italy's awe-inspiring art and culture.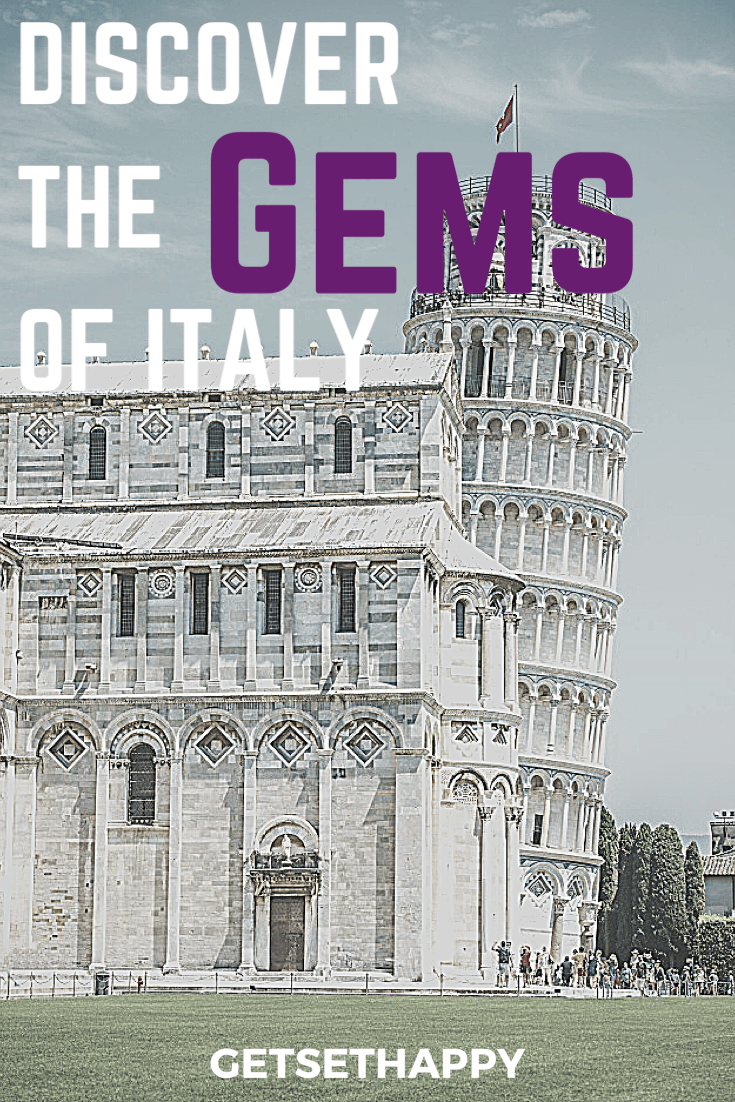 Delve into delectable Italian cuisine

Blending charming grace with a flair of effortless warmth is Italy's trademark. Likewise, this trait reflects impeccably in Italy's food scene. The street stalls of Italy will offer you with the widest assortment of Italian cuisine, right from oven-fresh pizzas, plates of pasta, bruschetta and lasagnas to delicious versions of gelato. The locals blend the freshest organic food produces with simple culinary techniques to create lip-smacking delicacies that have become world famous.
The best way to experience the gracious culture and food scenario of Italy is by mingling with locals. A humble meal at the countryside region amid the open meadows or near the shoreline offers you a medley of aroma and flavors. The seaside townships are particularly renowned for seafood cuisine made from fresh catch straight from the morning fishing boats. Similarly, vineyards of Sicily, Tuscany, and Piedmont offer wine tasting tours along with a light brunch. That's not all, the countryside farms of lemons, olives and cheese factories offer you an insight into how fresh ingredients are produced in their own backyards.  For a refined food experience, fine dining restaurants in Italy are great spots to enjoy Italian dishes with contemporary touches along with the finest sparkling wines of the region. If you are craving for an extensive Italian food experience, then you can sign up for food tours in major cities that will take you around the best food hubs in Italy to sample some mouthwatering culinary delights.
Discover further with Italy walking tours

Opt for walking tours of cities and towns which will offer you an up-close and personal experience of the Italy destinations. Moreover, you will also find out hidden, mesmerizing sights that you might miss on a normal guided tour. In fact, strolling around Italy's offbeat destination is purely exciting. Also, you get to choose from a range of walking tours that suits your interest. Enjoy Rome's rustic beauty at your own pace and flexibility where you can stop and marvel at the creative wonders of the bygone era at your will. The countryside of Italy looks gorgeous during spring; it is the finest time in the year to gear up for guided adventure hikes along the sprawling vineyards and rolling lush mountains. The colorful coastal towns of Italian Riviera are best experienced on walking tours where every turn of your journey offers a new and inspiring sight.
Getting in and around Italy is quite simple and easy. To arrive in Italy, you need to apply for Italy tourist visa and a return flight ticket, and chalk out a plan on how many days you intend to stay, what to see and where to visit in Italy. Within Italy, the most convenient way to travel from one Italy holiday destination to another is via train which has a wide network connecting numerous cities together. Just be sure to have proper, valid travel documents, sufficient funds, travel health insurance, and a suitable itinerary that will cover all important places to visit in Italy, and you are all set to have a wonderful time holidaying in Italy.