Dubai is often termed as the city of superlatives. True indeed, as there is something grand, lavish or record-breaking element about almost every attraction you come across in Dubai. This futuristic emirate is brimming with a hoard of attractions and landmarks that are unique and can't be found anywhere else in the world. If you are wondering which places to visit in Dubai that offers an element of uniqueness, then check out these selections of exceptional attractions you ought to add into your itinerary on your next Dubai visit?
Step into an enchanted landscape at Dubai Gardens Glow
Among the many astounding theme parks in Dubai, one exceptionally stands out to mesmerize you. The Dubai Garden Glow located in Zabeel Park is a unique attraction the lets you wander around an Avatar-inspired landscape. Step into a realm filled with imagination where you get to witness the creative installations from around the world during the day that transforms into an illuminated spectacle at night. All the installations are made out of recycled biodegradable materials and illuminated using energy efficient lighting system. There are three zones in Dubai Garden Glow -Glow Park, Dinosaur Park and Ice Park, each of which offers extraordinary exhibits for its visitors.
Watch Dubai from a whole new perspective at Dubai Frame

The newest addition to Dubai's magnificent landmarks is Dubai Frame – a 150-meter tall picture frame dominating the skyline of the emirate. Boasted as the 'largest picture frame on earth', the iconic attraction doubles as an observatory deck which is located on the bridge that connects the two columns of the frame at the top. An amazing structure made out of glass and metal, Dubai Frame's strategic location lets its visitors enjoy an unparalleled view of Old Dubai and the futuristic Dubai. The attraction is an ideal place to get a panoramic view of Dubai's contrasting worlds blending seamlessly making it one of the breathtaking tourist destinations of the world.

Spend a day at Dubai's Love Lake
Credit : expatwoman.com
While one would admire Dubai as it keeps beating all the odds against it to create extraordinary attractions, it's innovative and imagination is another factor that cannot be ignored. One of the newest attraction that Dubai has come up with is two manmade lakes shaped. It is an interlocked heart set adjacent to Al Qudra's artificial lagoons. Located at the outskirts of Dubai, the lakes look as if someone has carved two hearts and the word 'Love' on a sandy landscape. This new attraction is certainly going to feature on every Dubai honeymoon and romantic holidays as a must-visit attraction.

Enjoy a wintry day amid the desert city at Ski Dubai

If there is one place that can beat Dubai's sultry heat with frosty fun and thrill, Ski Dubai is it! This enormous indoor skiing arena offers a powder white wintry wonderland teeming with ski slopes, chair lifts, and toboggan slides. There is also a colony of penguins stuttering around and a café to chug some hot chocolate. Ski Dubai is open every day of the year. It is the ideal place to show off your skiing skills or simply have a fun day with family and kids making a snowman or enjoying a snow fight.


Go scuba diving with sharks

Dubai offers an array of offbeat adventure experiences and one among them is diving with the sharks. If you are up for it, head to Dubai Aquarium and Underwater Zoo or The Lost Chambers Aquarium which have special diving programs with the predators of the ocean. Gear up for the most challenging adventure of your life. Go for scuba diving amid various species of sharks swimming past you. A real thrill for hardcore adventure seekers! This experience is one of kind that you would remember for a long time.

Conquer your fear with a scenic Skydiving experience

The Palm Dubai is one of the mega feats Dubai achieved. However, the absolute charm of the Islands can only be experienced from a bird's eye view. Dubai offers a spectacular opportunity to witness this stunning island view with a twist of adventure. Palm Dubai is one of the best places for skydiving. The exhilarating adrenaline rushes as you leap out of a plane and plunge down to the land. Along with the incredible scenic views of the Palm Dubai is an experience of a lifetime. Though there are numerous other places in the world for skydive. But a sky diving experience at Palm Dubai is certainly going to be the best breathtaking experience you ever had in your life.

Splash around at Aqua Fun Park
Credit : timeoutdubai.com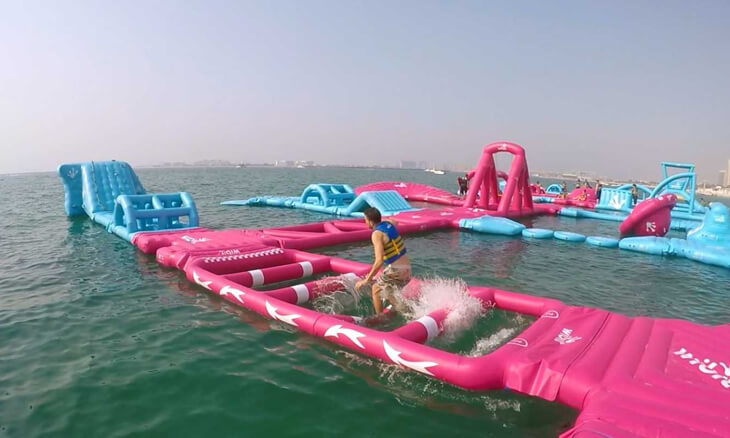 One of the reasons this elegant emirate is popular among family holidaymakers is because there are numerous fun things to do in Dubai. Also, the list keeps growing every year. One of the latest additions to unique things to do in Dubai is the Dubai Aqua Fun Park located offshore from The Beach, JBR. This water park is the largest inflatable water park in the world that offers splashy fun for grownups and kids. It's time to be kids again. Let your inner child out bouncing on water-filled tubes, climbing on monkey bars and sliding and splashing into the water. Equipped with slides, swings, boulders, and over 70 games, this water park sprawls over 77m long and 35m wide shaped in such a way that its aerial view spells 'Dubai'. This entire floating park is a great spot to spend a thrilling time with family and kids.
Enjoy High tea at Burj Khalifa

Burj Khalifa is one Dubai attraction you should not miss on your trip. However, there are plenty of ways to have a memorable moment at the tallest skyscraper in the world. One of the most memorable moments you can experience is enjoying the highest high tea in the world. Spend a late afternoon at At.mosphre – an elegant restaurant and lounge located at the 122 level of Burj Khalifa. The lounge offers you an exquisite high tea where you can enjoy the scenic panoramas of Dubai city. Delve into eclectic savory delicacies, mouthwatering pastries and flavorsome desserts in a charming ambiance. It's an experience worth every penny spent on it.
Closing Words
Dubai is known for clichéd landmarks, luxury living, shopping, and dining. While these experiences are unarguably the best you can experience in the world. It is essential to widen your mind and look beyond to all the uniqueness this emirate has to offer to its guests. So next time you have a Dubai trip planned; go beyond the usual places to visit in Dubai. Opt for these offbeat experiences to make your vacation more exciting and memorable. Also, explore the fun side of Dubai.
This is a Guest Post by Priya. She is an avid travel writer who specializes in adventurous travel writing. Her blogs and articles give deep insight about various tourist places and act as a perfect travel guide for someone who is traveling to a place for the first time. Priya has exemplary research, writing, and editing skills which make her easily match the reader's intellect and interest. She has blogged extensively about her travel experience. She writes about several places like Malaysia, Thailand, Singapore, Europe, Dubai, the USA, Canada, etc.