If looking out for an enthralling adventure trip, then what better place to choose than Spiti Valley. It is popularly known as trekking paradise among travelers across the globe. Located in the north-eastern part of Indian State of Himachal Pradesh is this Middle land between India and Tibet.
This desert terrain has unbound beauty with its ancient monasteries, snow cladded mountains, dense forests, and crystal-clear rivers. The alluring part of this untouched and hidden valley is the route leading here. It is one of the top-rated road trips after Leh-Ladakh.
Having said it, begin my journey towards exploring this unexplored beauty on my own. There are two tough Himalayan routes popular among weary travelers, on one side is the Manali-Leh-Ladakh and other is Shimla-Spiti-Manali. As I had already explored Leh-Ladakh stretch, this time it was the turn to unravel the treacherous terrain of Spiti valley.
And A Solo Road Trip to Spiti Valley Begins…
Since I had decided to fly solo, my planning began a year ago with research of the weather, servicing of my car and of course journey accommodations as required. There are two roads to enter this untouched valley of Spiti, one is from Shimla which takes about 2 days and other through Manali takes about 14-16 hours depending on the road conditions.
I decided to take the later route as it was my first solo trip. Also, I had shortlisted late September for a safe and eventful trip. Begin a female and traveling alone brought in a lot of discouragements as the roads from Shimla-Spiti-Manali were really bad and being alone how would I manage.
With stubborn mind and thorough preparation, spent the last few days prior to my journey picking up the right pair of hiking shoes, portable water purifier, rain gear, high altitude sleeping bag etc. The villages of Spiti are home to the friendliest people in India, so irrespective of traveling solo or in the group and most welcoming for solo travelers traveling without a plan.
After much iterations came the "D -day", I had divided my expedition into two parts. One part is travel from Delhi to Manali and overnight stay in Manali and then next day proceeding towards Spiti Valley. Had borrowed my Dads Ford-Eco sport for my first solo road trip as it was well-serviced and fuelled up. With prepared home-cooked food basket by my mom and loaded car with essentials as well as my luggage's, began my journey of a lifetime.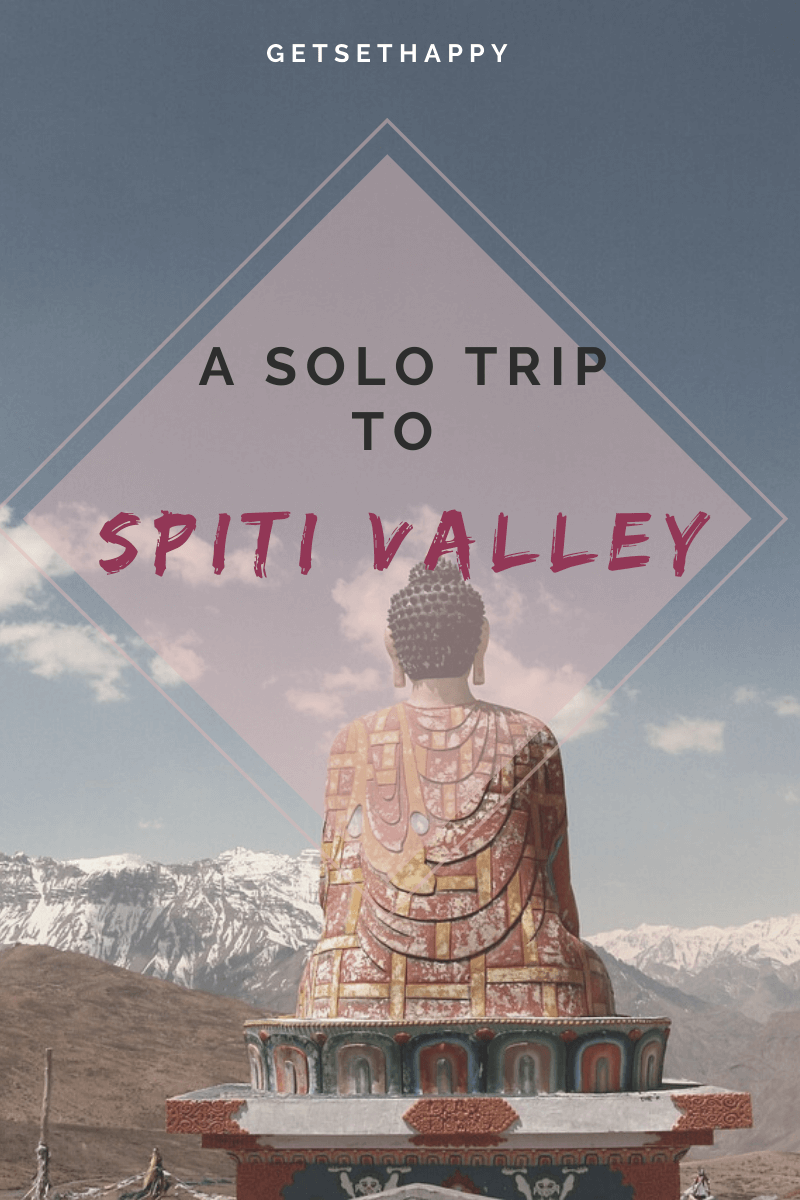 Day 1: Drive from Delhi to Manali
My journey from Delhi began at around 5.00 am in the morning, due to less congestion and great roads I could reach Chandigarh by 9.30 am. Stretched my legs for a while and good sip of coffee, without any pit stop traveled down till Sundernagar so as to reach Manali before nightfall. Had sumptuous lunch at a roadside dhaba, began the remaining journey to Manali. Then came the AUT tunnel which is the longest of its kind which not much lightning, reached Kullu. Post Kullu the drive was more scenic and mesmerizing. With non-guidance by the GPS and local help, finally reached Manali. Planned over-night stay at Manali at one of its hostels.
Day 2: Manali-Kaza (Spiti)
Had to leave early towards Spiti as Rohtang Pass can be crowded if not crossed in the wee hours of the morning. It is just a 5-hour drive to the barren valley of Spiti. Crossed through Rohtang Pass, Kunzum Pass and Lahaul Valley soaking in the award-winning landscapes in my drive. Making stopovers for lunch and few scenic clicks of my expedition, finally reached Spiti. With its social enterprise called Ecosphere, here in Spiti locals have opened their homes to travelers. I had opted for one such homestay in Spiti to soak in the local culture.
Day 3: Spiti Exploration
Used this day at my leisure and settle down with the altitude difference. Went down to the Gui Mummy which is an 8 km climb from NH-22 and spend the evening trying my hand in some Momo making.
Day 4: Spiti-Komik-Langza-Spiti
This day begin my expedition, traveling down to Komik Monastery. Even though women are not allowed into the main prayer room, however, can enjoy mesmerizing views of the village. Then I descended down to Langza which is appealing for history lovers with its rich heritage of fossils. One can enjoy a session of Yak safari here as well. After lunch here drove down back to Spiti valley.
Day 5: Spiti-Ki Monastery-Kibber
This day I decided to drive down to Khibber village making a stopover at the largest monastery of Spiti valley called the Ki Monastery. Tried the fascinating Chichum Jhoola and some village experiences. The home stayed here in Khibber for the night.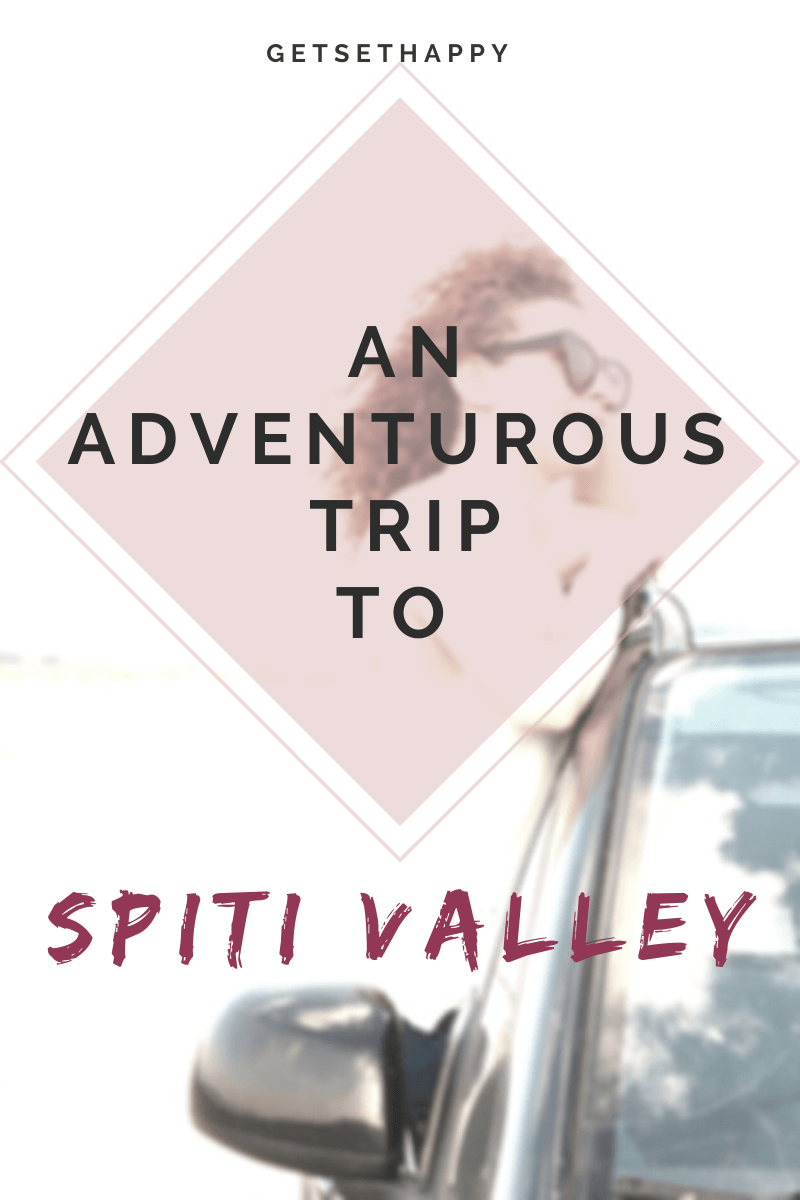 Day 6- Spiti-Tabo Monastery –Dhankar Lake-Spiti
After returning back from Khibber village drove down to Tabo Monastery which is an age-old monastery and one of the UNESCO world heritage sites. From Tabo, I drove down to Dhankar village from where the hike to the stunning Dhankar lake begins. The hike is about sixty minutes from the village and even though a challenging one is worth for the breath-taking views. Overnight stay at a hotel in Spiti valley.
Day 7: Spiti- Chandra Tal Lake
Bidding adieu to this mesmerizing valley proceeded towards the Chandra Tal lake. To reach the lake, passed through the Kunzum La Pass, paying tribute to the local goddess "Kuzum Mata". Finally reached the stunning blue high altitude lake bordered by pristine white mountain ranges making it ideal ground to camp overnight. Camping under the starry sky overlooking the crystal clear water of the lake, what a rejuvenation!!
Day 8: Chandra Tal Lake- Manali- Delhi
Finally, the overwhelming journey came to an end with millions of memories to cherish for life, drove back to Delhi via Manali.
"Wherever you go becomes a part of you somehow." "Travel is fatal to prejudice, bigotry, and narrow-mindedness, and many of our people need it sorely on these accounts. Broad, wholesome, charitable views of men and things cannot be acquired by vegetating in one little corner of the earth all one's lifetime." – Unknown