Are you stressing out about finding the perfect dress from your wardrobe that suits you? Do you still believe that only a personal stylist can help you find the perfect dress? Well, you have to get out of the dark now, because we have done the part for you!
You can become your own stylist by knowing your proportions well. And, if anyone around you has ever mentioned that you have a triangular body shape, then you must check out this guide. A triangular or a pear body shape is among the most unique shapes, and if you own one, you must know how to flatter it best!
Dressing properly means keeping everything proportional and balanced. And for triangle body shapes, the main emphasis is around the upper- body to contrast the bottom half. Do you want to know the reason why, then let's explore what the triangle body shape is all about!
What Is A Triangle Body Shape?
Wider hips than the rest of the body
Small waist
Narrow and lovely shoulders
Feminine curves
As mentioned above, a triangle body shape is a trickier shape to dress. The upper body can make you a little off, because the bottom comparatively looks heavier. The aim here is to lengthen your outline so your bottom looks less heavy.
But you don't have to worry much, because we are diving deep to help you find the right silhouette. You can build up your whole wardrobe to fall in love all again, with this triangle body shape guide!
Dos And Don'ts For The Triangle Body Shape
DON'Ts
Outfits that draws attention to the lower body
Tights with crop tops
Leggings or dresses that accentuate waist or hips too much.
DO's
Know the art of balancing your outfit by drawing main attention to the upper half
Always choose a top or a dress that enhance shoulders and adds volume to the upper part
Fall in love with prints and details, because they can flatter your body like a wonder!
Are you now sure about your body-type? So, check out these tips to define your triangle-shaped body uniquely and effortlessly!
Dress For Triangle Shape Bodies
Try getting extra feminine, and pick up a dress that is not making your bust look huge. With this being said, you can choose a strapless or a backless dress that lets you add volume at the top. If you're a bit conscious regarding exposing your skin, you can even go for a halter neck. This neck type fits perfectly at the top, and lets a person show off the middle area and balances the proportion.
You can even go for dresses with spaghetti straps, because it gives shoulders a wider look. Embellishment tops also help the best to balance your silhouette out. Patterns, ruffles, help to add more bulk at the top, hence you can go for these styles too!
Pants For Triangle Shape Bodies
With a triangle body shape, comes the struggle to find the right pair of paints. You can pick up traditional denim, since it'll draw more attention to your slimmer legs. Such pants visually thin your thighs and hips and create the impression of longer legs. The trick here is you should keep it simple, no pleats, belts, pockets, or loops!
Instead of busy patterns, you must go for darker hues. To counterbalance this, you should go for patterns at the top. Plain pants allow the lower half to appear thinner. If you have a good height, then you can even go for flared or boot cuts. We would suggest you to avoid capris or cargo pants because these will draw all attention to your thighs and hips!
Blazers/Coats For Triangle Shape Bodies
The aim here is to give attention to the top part, and for that details works the best. You should go for a blazer having details around the neckline and collar.  Shoulder pads are not in trend yet, but even they are excellent for styling. Don't choose a blazer of your hip length,  so as to avoid highlighting the widest area of yours.
Pick up a lengthier blazer that gives a lean look. Cropped jackets and long tees inside look great as well. This combination will add breadth to your shoulders and will emphasize sleek midriff well.
Tops For Triangle Shape Bodies
Drop waist and baggy tops are a big no-no for a triangle body shape. Baggy tops will surely add volume but might not give you the desired result. You can choose a top with a deep plunging neck-line that elongates the upper half. Cowl, boat, square, are some more flattering necklines you can go for to create an hourglass outline.
Skirts For Triangle Shape Bodies
A-Line skirts are the best bet for triangle-shaped bodies. They give a sleek look without making your waist look baggy or unshaped. You can even choose pencil skirts as they glide through those pleasing curves well all the way to the hem. Stay away from bias-cuts, and choose a softly pleated or flat fronted tulip skirt. These options will surely help you define your waistline.
Did you get all your answers about how to choose a dress for a triangle shape body? Or are you still wondering about how to dress for your body shape? Discover more styling trends for yourself.
Stay Fashionable!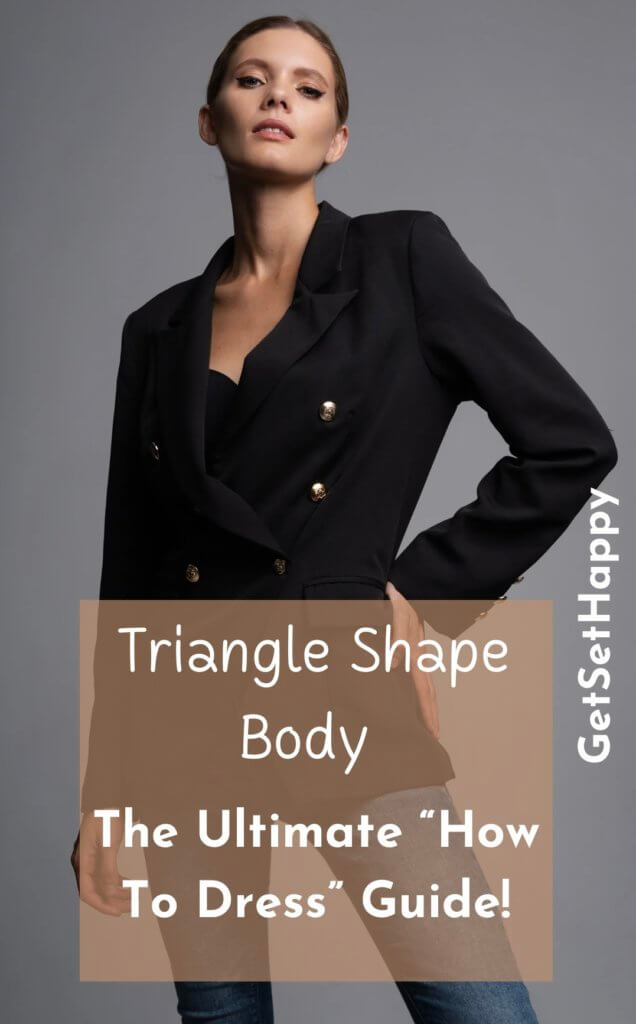 Featured Image by Marcelo Bragion from Pixabay