Attending a wedding is always fun. You get a chance to dress up well, have a good time with your friends and family and enjoy some good food. However, one question that bothers every woman is – What do I wear? Fashion trends keep changing. No matter, how many party-wear dresses you own, you always need to look fresh and up-to-date. For the same reason, I have started my search for trendy wedding dresses for women. Here is what I have found.
7 Trendy Partywear Dresses for Women to Wear to a Wedding
1. Tiered Chintz Print Lehenga Set
While I was searching for some unique party-wear dresses for women. I found some very elegant dresses by Paulmi and Harsh. The first dress that I liked most is a Tiered Chintz Print Lehenga Set in Pink. Pink colour never goes out of fashion. In this particular dress, there are motifs highlighted with moti, cut dana & thread embroidery with a scalloped motif waistband. The fabric used in this lehenga is Organza which makes it super-graceful and noticeable.
2. Layered Pre-draped Saree
Love Love Love. This three-layered pre-draped saree with chintz printed motifs by Paulmi and Harsh. Nothing can beat the elegant look of a saree. And Pre-draped sarees are very much in fashion. while they make you look attractive and royal, they are much easy to manage as compared to a normal heavy saree. This saree is clubbed with a heavy hand-embroidered blouse & cutdana embellished belt. If you are a saree lover, but avoid wearing it because it is not easy to manage it, this one is just right for you.

3. Sharara Saree
Now, this one is another form of a manageable saree. This Sharara Saree by Paulmi and Harsh is really comfortable to wear and easy to manage and this looks stunning. Another thing that grabs my attention is the tan-brown belt on this. Though wearing a belt is completely a choice but it definitely makes you look stylish.
4. Pre-stitched Saree Set With Cape
Yet another style of a draped pre-stitched saree. Though this saree is not too heavy but it is clubbed with a cape, which makes it a unique party wear dress. This style is a blend of Indian and Roman fashion. You are sure to grab the attention of the people around you when you wear this stylish wedding wear dress.
5. Draped Satin Skirt Set
How about this one? A Black skirt with front pleats, paired with a heavy hand-embroidered. While we all want to look great, we don't want to compromise on feeling comfortable. When a skirt is combined with a heavily embroidered dupatta and a cropped blouse, you are sure to look stunning while feeling comfortable.
6. Lightweight Gown
Though gowns have become a little common but they are still amongst the most trendy wedding dresses of the time. They are comfortable, easy to manage, and certainly give you a queen-like look. So, a gown is always the first dress that comes to mind when you think of stylish party wear dresses for women.
7. Salwar Kameez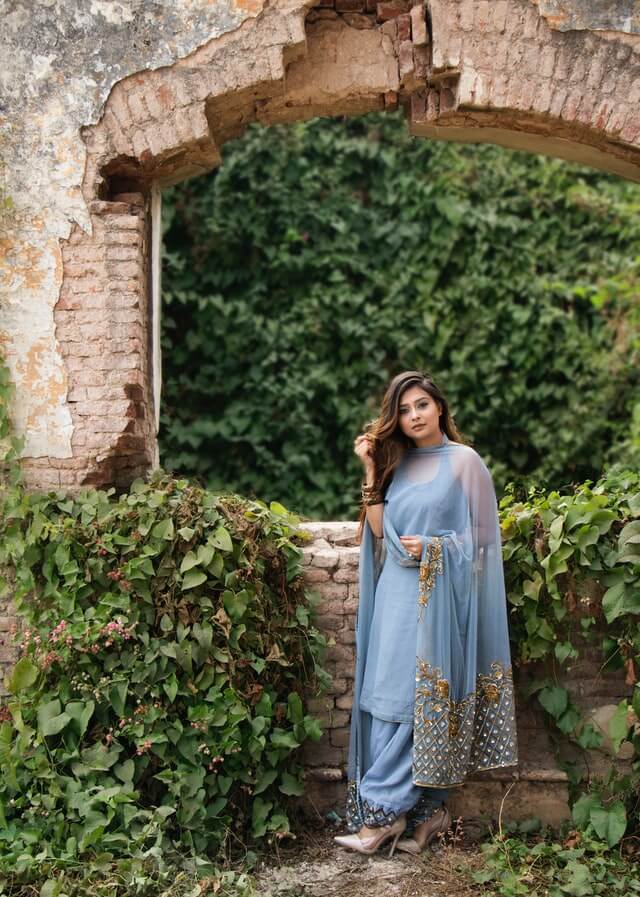 The Salwar Kameez is evergreen and the most comfortable dress to wear to a party. You can find a range of variations in this simple dress. You can club a long kurta heavy with plain salwar, or a short kurta with Patiala salwar or you can also try a plain kurta with heavy dupatta with heavy salwar. Most importantly, salwar kameez can be found in a variety of color combinations and fabrics to choose from.
Here are some bottom-wear suggestions to wear with Kurta
Wrapping Up On Trendy Partywear Dresses for Women
These are some of my suggestions for stylish party wear dresses to wear to a wedding, but for women, choices are endless. We can never get enough :). What is your favorite party wear dress? What are you planning to wear to the next upcoming wedding in your family? Please do share your ideas in the comments so that I can expand my list too.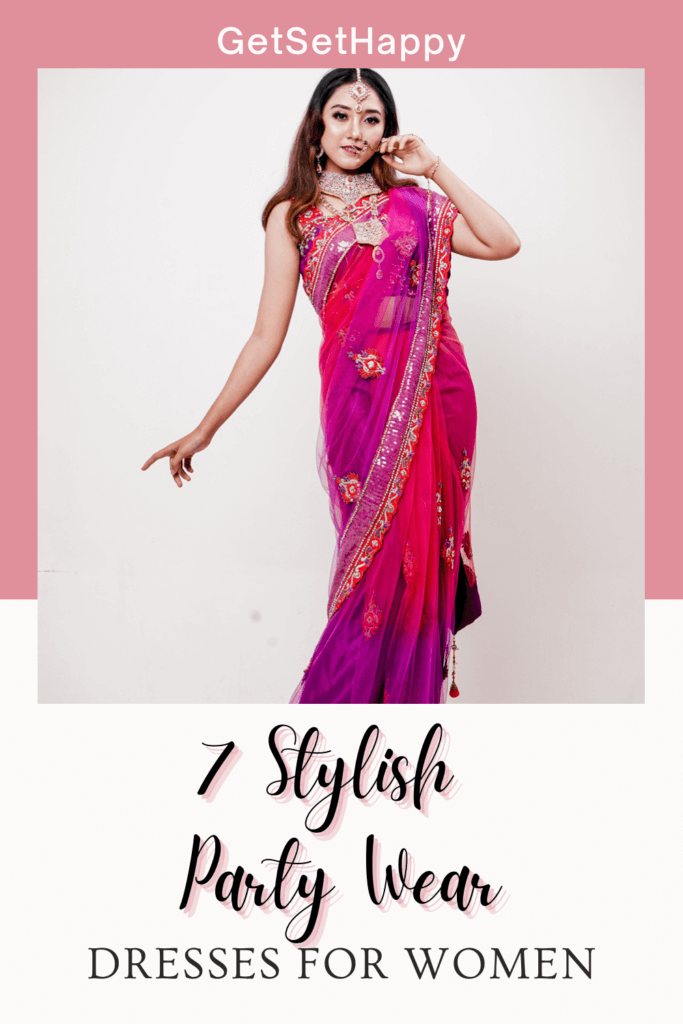 Featured Image: Photo by The Lazy Artist Galler