Goa is very widely considered as the party capital of India. People from all across the globe flood this destination to feel the wild party pulse of Goa. However, this destination is not restricted to the sand sun and wine, there much more peaceful and enticing things to do whilst visit Goa. Be it any season of the year, it is at the peak of liveliness. How? Let's find out!!
10 offbeat things to do in Goa on your trip. These are much more than sun, sand, wine and dine.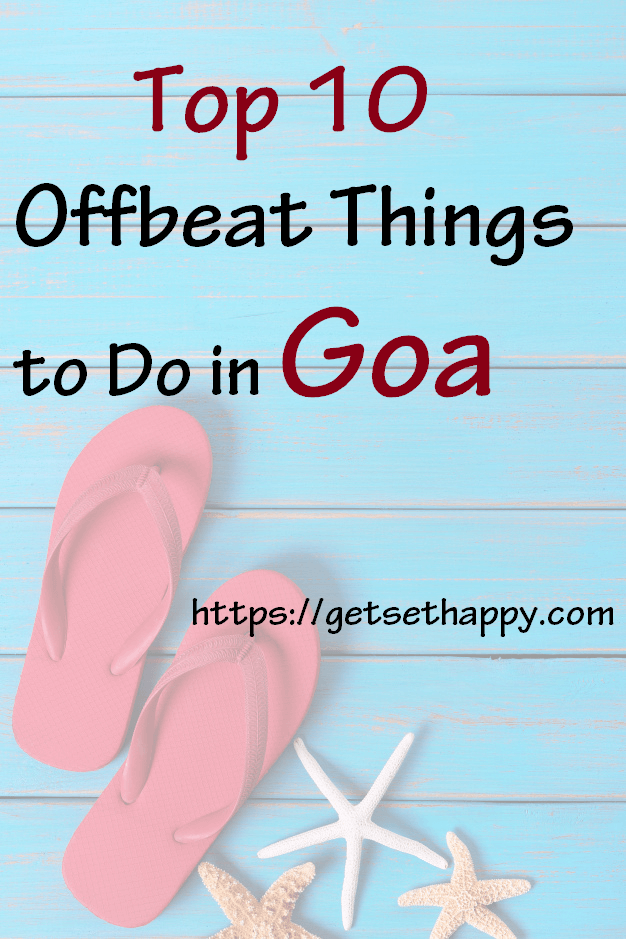 Walk through the spice plantation and be playful with the Elephants:
One of the most popular off-beat destinations in Goa to engage in a walk-through into a trail of fragrance in a visit to the spice plantation. In just mere 10$ one get a knowledge tour of the plantation, sumptuous meal cooked in the spices and have some play time with the elephants. Savoi farms and Shankar Spice farm are two famous spice plantations to head to in Goa.
Goa Tourism Development Corporation runs different river cruises on the Mandovi river. Be it the daytime or the moonlight, it has various range of options to choose from. From the Panaji jetty during daytime runs two cruises namely- one from Mandovi river to Zuari Bay and other from Mandovi to Aldona along with a mineral water spring. these are some of the most Spectacular River Cruises in India. Evening times there are various cruises which ideal way to relive Goan music and dance amidst the moonlight.
Cruises from Aguada, Sinquerim, and Panaji, offer beautiful option Dolphin sighting. From sighting these beautiful friendly creatures, one can also get a chance to take a dip with them in the sea.
Goa also offers the pleasure of experience kayaking trips on the calm backwaters of Zuari, Madovi and Nerul rivers. Alongside fighting the current, one can experience silence untouched beauty of surrounding area.
Two interesting and awe-striking hidden gems of Goa are the Dudhsagar Waterfall and Harvalem (Arvalem) waterfalls. Either trek through the off-beaten path to reach the majestic Dudhsagar falls or head to the unexplored village of Sanquelim in Bicholim, to dive in the enchanting beauty of Harvalem falls. Both of the falls are at the peak of their beauty in and after monsoons. Worth a catch!
Shop till you drop at Flea markets:
If anything Goa is famous for aside its beaches and clubs is its widespread flea markets for some shopping, eating, and cultural fun. Be it the Wednesday flea market in Anjuna, Saturday night market in Aguada, definitely worth a visit to the shop, eat and enjoy the lively spirit of Goa.
Feel the chills in the Devils Canyon:
Another off beaten destination is the Devils canyon located in Mollem Wildlife sanctuary en-route to Dudhsagar waterfalls. Stop at this rock formation canyon to feel the spookiness due to its history and experience gurgling of the waters.
Arvalem, Lamgua and Rivona Caves in Goa are few must check out places while here to relive history and be lost in its mesmerizing beauty of the caves.
Head to the peaceful island of Charao:
The Island of Charao is a quaint little island of North Goa and can be reached by taking the ferry from Pomburpa ferry point. Head here while in Goa to feel the peacefulness and serenity of this sleepy island and of course have a meal of authentic Goan food at LaFayette whose doors are always welcoming for visitors irrespective of time of the day.
Last but not the least surely head to the Grand island for fishing, snorkeling, and scuba diving activities. A sure shot destination for some underwater adventure!!
Goa has definitely something much more to it than its beaches and clubs!! Above mentioned are just 10 Offbeat Things to Do in Goa. Besides, there is much more to explore and experience in this heavenly place.