Stavanger is a city in southwest Norway. It has a great deal of historical significance and has become a tourist attraction. If you end up visiting this city, know that there are a few restaurants you should consider patronizing. These restaurants serve mouth-watering dishes and have attractive atmospheres. Many of them are situated near hotels, hostels, and other buildings that offer lodgings. Check out this list of three notable restaurants in Stavanger. 
1. Fisketorget
Fisketorget is a seafood restaurant in Stavanger that has an ever-changing menu. Its food manager, Karl Erik Pallesen, authorizes the acquisition of items from local fishermen; thus, the restaurant's menu changes based on what has been caught earlier in the day. The fish, oysters, mussels, crab, and shrimp prepared at the location are fresh and have an appealing taste. One dish the restaurant's workers have served is Fish Soup. It consists of fish, shrimp, chive oil, vegetables, and bread chips. Another dish they have offered is Noodle Salad with Shellfish. It has chili mayonnaise, tomatoes, coriander, and cashew nuts. You may arrive at the restaurant when its chefs have their Shrimp Sandwich available. It is comprised of shrimp, pickled red onion, salad, and aioli.
You could also visit the place when the Herring and Potato dish is up for sale. It contains herring, rye bread, egg, and horseradish cream. Note that the restaurant's employees list menu items in both English and Norwegian, and they indicate the allergens present in each dish. The atmosphere of Fisketorget is informal and friendly. Comfort Hotel Square and Clarion Collection Hotel Skagen Brygge are just some of the hotels located near this dining establishment.
2. Døgnvill Burger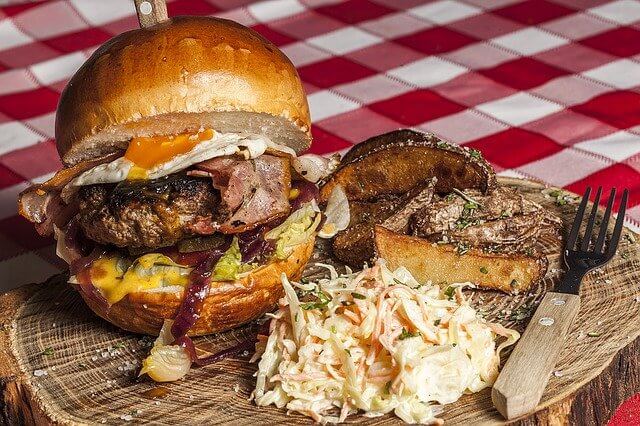 Døgnvill Burger is a Norwegian restaurant that features American cuisine. Its owners sell a diverse array of burgers, fries, and drinks. They utilize beef from grass-fed cows, potatoes from nearby farms, and hamburger buns from a local bakery. Try The Classic burger; it has tomatoes, salad, red onion, and mayonnaise. Savor the Cheddar and Bacon burger, which features English cheddar and dry-salted bacon. There is the Royale with Cheese. It contains Monterey Jack cheese, arugula, pickled cucumber, thyme mayonnaise, ketchup, and mustard.
There is also The Deep South, which has pulled pork, BBQ sauce, jalapeño cheese, and chipotle mayonnaise. Those who cannot consume animal products will enjoy the Vegan Viking. Its veggie patty contains beans, smoked eggplant, portobello mushrooms, peppers, and garlic. The patty is stuffed between vegan cheese, fried green chilies, and tomatoes and served with parsley chips. Døgnvill Burger's climate is very warm and inviting. Its workers play fast-paced music in the background, brightening the mood of the place. Home Again Nygata 16 and Frogner House Nygata 24 are hotels that are less than a mile away from this eatery.
3. Casa Gio
If you find yourself craving Italian cuisine once you land in Stavanger, visit Casa Gio. This restaurant's chefs cook authentic dishes that stem from multiple regions in Italy. The owners make use of seasonal ingredients and locally sourced food products. They also obtain items that are directly imported from Italy. They make the effort to craft the bread and pasta they sell from scratch. It is worth mentioning that they have a weekly menu that changes based on what local ingredients are available at the time. In recent years, they have sold a vast array of salads, including roasted vegetable salad, grilled salad, and mozzarella salad. They have also prepared a multitude of pasta dishes, including vegetable pasta, mushroom ravioli, and seafood spaghetti.
In addition, they have presented to customers a variety of meat dishes, such as stuffed pork, salted beef, and parma ham. Enjoy their selection of desserts, including tiramisu, cannolis, and panna cotta. The workers stock a wide range of Italian wines. They also make espressos, lattes, and cappuccinos. People have described the ambiance of Casa Gio as romantic and cozy. It is a great place to dine with a lover or a close family member. Scandic Stavanger City and City Housing-Pulpit Story-Langgata 4 are a couple of the places near Casa Gio that offer accommodations.
Stavanger has a rich and vibrant food scene. Explore the place and satisfy your taste buds.
Featured Image: Image by Free-Photos from Pixabay