Clothing trends are rapidly evolving because of the high demanding requirements and needs. Traditional clothing has been advanced a way ahead by the fashion designers by giving a touch of western style fusion to ethnic apparels. The bottom wear to pair with the some chic tops, too are evolving with time. The fusion and gulping of the western and traditional wear clothing is what creates exclusive and stylish bottom wear designs.
Bottom wears have evolved so much that they are now taking much more shelf space than before. So, what is it that's trend these days? What are the top in-style bottom wear for girls and women?
In bottom wear, currently, you can see a huge variety of different styles and designs, which are completely mesmerizing and fits into the lifestyle of every woman. From Culottes pants to palazzo pants, harem to slim pants, these stylish bottom wear can be easily clubbed with both traditional and contemporary top wears.
Check out the best collection of stylish and remarkable bottom wear to look stunning and gorgeous every time.
1.) Culottes Pants
These globally-loved pants are pleasing and can go from day to night with ease. Culottes pants look stunning when you wear them with a chic short or crop top. But that's not it, you wear them with a shirt and tuxedo coat and you will rock the boardroom in your workplace too. This stylish pair of pants works well for casual as well as formal wear.
The latest reincarnations from breezy linen to heavy brocade—are the perfect upgrade your wardrobe is hungry for.
2.) Palazzo Pants
Get a contemporary look with these fusion pants: Palazzo Pants, are a fusion of ethnic and western bottom-wear styles. Quite similar to the Culottes pants, with a slight difference of flare right from the waist to the ankle evenly there are quite a number of variants available in Palazzo Pants. Mostly Culottes pants are ankle length whereas palazzos are full length with wider bottoms
Short or long palazzos with block prints in comfortable viscose fabric are very much in trend. These flowy pants can easily be paired with short tops, mid-length or long Kurtis. It gives a modish look for everyday college wear. Since these are super comfortable and stylish, women of all age groups enjoy wearing these pants. Palazzo pants makes amazing combination with both western and ethnic outfits. Try out pleated palazzos or flared palazzos instead of its regular one.
Mostly the palazzo pants are available in a variety of dress material such as chiffon, cotton, silk and crepe fabric to keep it comfortable and relaxing.
3.) Harem Pants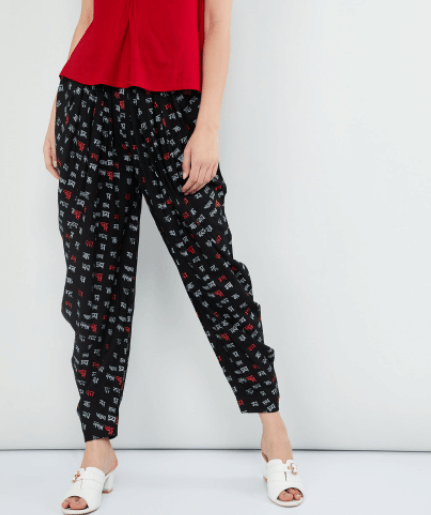 The harem pants are also getting immensely prevalent due to its unique style and design. These pants looks like baggy trousers of 80's, which usually reaches up to the ankle length. It is most liked by fashionable and style icon girls. Just like Culottes pants you can club Harem Pants to get a boho-chic look.
4.) Slim Pants
These stylish slim pants (AKA straight fit pants) are very much in-trend. These pants are the extension of formal pants or leggings. Girls are wearing them with the short or mid-length tops. Whereas, women are setting the trends by wearing this pair of stylish pants with long Kurtis. You can also try to combine with a long multi-slit Kurti (the one with extra slit in the front), to get a bold and confident look.
Mostly, Slim pants come in subtle prints or in plain colours. You can pair them up with light coloured top wear. Wear it anytime, this bottom wear is suitable for every occasion. Just pair it up with right upper and you are good to go!
5.) Patiala Salwar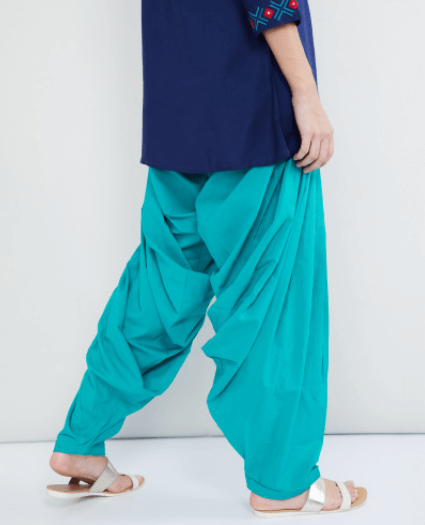 Another bottom wear to rock your style! Patiala salwar is another name for comfort. It is derived from the original "Patiala type salwar" i.e. the salwar with some extra flair, this bottom wear has taken many variations. Patiala salwar not only looks stylish but it is also a saviour especially on those sunny days. It is extremely comfortable and airy. This traditional bottom wear comes straight from Patiala, where a typical Punjabi woman wears it with short Kurti and dupatta. But the urban girl has given it an all-new style. The uptown girls wear a Patiala salwar with a mid-length top or shirt Kurti. To give it a perfect look wear a printed salwar with a plain kurta or vice-versa.
Bottom Line
These bottom wear clothes are not the 5 Top in-style bottom wear for girls and women because of the looks only but all of them makes you feel comfortable as well. Create your own new combinations to beat the boring stuff. Give your jeans a day off by styling your favorite graphic Tee with colourful Palazzo, instead. And for a sporty weekend look, style a pair of draped Culottes Pants with sneakers.
Create some stunning outfits by refreshing your wardrobe to make your everyday look beautiful and extraordinary with one with these amazing bottom wear designs.
Check out more on Latest Fashion Trends