Last month I completed 6 years of blogging- armed with passion, curiosity, and a keyboard. Little did I know that this path would be a rollercoaster ride filled with highs and lows, challenges and triumphs. Today, as I reflect on my six-year blogging journey, I'd like to share the invaluable lessons I've learned along the way. Whether you're an aspiring blogger or a seasoned one, I hope these insights will resonate with you.
6 Lessons I Learned from 6 Years of Blogging.
1. Consistency is Key
The first and most fundamental lesson I've learned is the importance of consistency. When I started blogging, I knew nothing other than writing. But let me tell you, blogging is much more than just writing. SEO, social media marketing, networking with others, building credibility and community and so much more. Building an audience and establishing credibility takes time and effort. Regularly publishing quality content not only keeps your readers engaged but also boosts your blog's visibility on search engines. It's not just about the quantity of posts but also maintaining a consistent quality standard that your audience can rely on.
2. Patience is a Virtue
Blogging is not a get-rich-quick scheme. It's a long-term commitment that requires patience. It took me years to see substantial growth in my blog's traffic and income. There were times when I felt discouraged, but I learned that persistence pays off. Keep honing your skills, adapting to changes, and staying patient; success will come in due time.
3. The Importance of SEO
In the early days of my blogging journey, I underestimated the power of Search Engine Optimization (SEO). As I delved deeper into the world of blogging, I realized that optimizing my content for search engines was essential for reaching a broader audience. Learning the basics of SEO and writing SEO friendly blog posts, significantly boosted my blog's visibility and organic traffic.
You may also like to read: 5 reasons why your business needs SEO?
4. Building a Community Matters
Blogging isn't just about publishing content; it's about building a community around your niche or passion. Engaging with your readers through comments, social media, and email newsletters fosters a sense of belonging. Your readers aren't just passive consumers of your content; they are an integral part of your blog's growth and success.
Also read about building an effective Content Marketing Strategy.
5. Embrace Adaptability
The digital landscape is constantly evolving. What worked in blogging six years ago might not be as effective today. Embracing adaptability and being open to change is crucial. Whether it's adjusting your content strategy, learning new marketing techniques, or staying updated with industry trends, being flexible is key to staying relevant in the blogging world.
6. Monetization Requires Strategy
Many bloggers aspire to monetize their blogs, and I was no different. However, I learned that successful monetization requires a strategic approach. Don't overload your blog with ads or sponsored content; instead, focus on providing value to your audience. Diversify your income streams, such as affiliate marketing, selling digital products, or offering premium content, to build a sustainable income.
Wrapping Up on My Six-Year Blogging Journey
My six-year blogging journey has been a tremendous learning experience. It has taught me not only about writing and content creation but also about perseverance, adaptability, and the importance of building a community. Whether you're just starting or have been blogging for years, remember that the journey is as valuable as the destination. Keep learning, growing, and sharing your unique voice with the world through your blog. Here's to the next six years and beyond!
Are you an aspiring blogger? If you are new to blogging, you may want to explore my blogging resources section.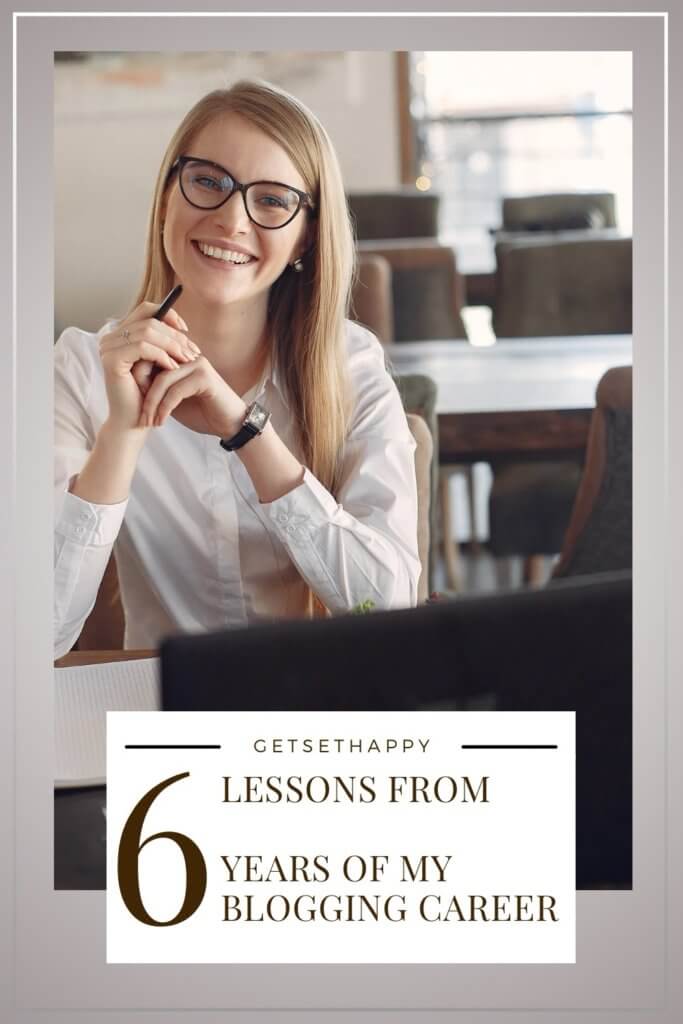 Featured Image by YuliiaKa on Freepik