When it comes to securing yourself and your family's health and well-being, buying a reliable health insurance plan is a wise step in the right direction. While there are several companies offering different group and individual plans, choosing the right one for yourself that suits you is a tedious process. Here is a 8 Things to Consider Before Buying a Health Insurance plans.
1.) Compare the Plans and Premiums
Price is an important component of your selection process. Certain policies may have higher premiums with some additional benefits such as doctors' second opinion, vaccination cover, wellness benefits, etc. However experts suggest paying higher premiums for benefits, you may never use OR for merely availing tax benefits is not sensible.
On the other hand, there are some fixed benefit health insurance plans that come with a lower range of premiums in which buying an insurance plan which includes your spouse or children, can get you higher claim amount at a lower premium. So, you may consider buying a combined insurance plan instead of opting for 2 or more separate policies.
2.) Pre/Post Hospitalization Expenses
Medical expenses incurred after and/or before hospitalization are called Pre/Post hospitalization expenses. During the treatment, some part of the process extends beyond the hospitalization, such as physiotherapy at home, Follow-up visits to the doctor, medicines to be taken. Such expenses are considered as Post-hospitalisation expenses. Find out if the chosen Health Insurance plan includes Post-hospitalisation expenses.
Also, check if there are any room rent caps. A room rent cap is the maximum amount your service provider will pay you for room rent during hospitalization.
3.) No Claim Bonus
Many health insurance plans include a no-claim bonus. It is the discount offered by the service provider, in case, the policyholder has not filed any claim in a particular year. In such a case, either the sum insured is increases or the premium is decreases or sometimes both.
4.) Exclusion Clauses
Go through the exclusion clause mentioned in the brochure that accompanies the policy. A lot of companies exclude certain ailments and expenses from their coverage list. Some of the commonly excluded conditions may be an internal congenital disease, non-allopathic treatment, pregnancy and childbirth-related conditions, and cosmetic, aesthetic and obesity-related treatments. Read the document clearly beforehand.
There may be certain waiting periods, which means some claims are made after a certain waiting period.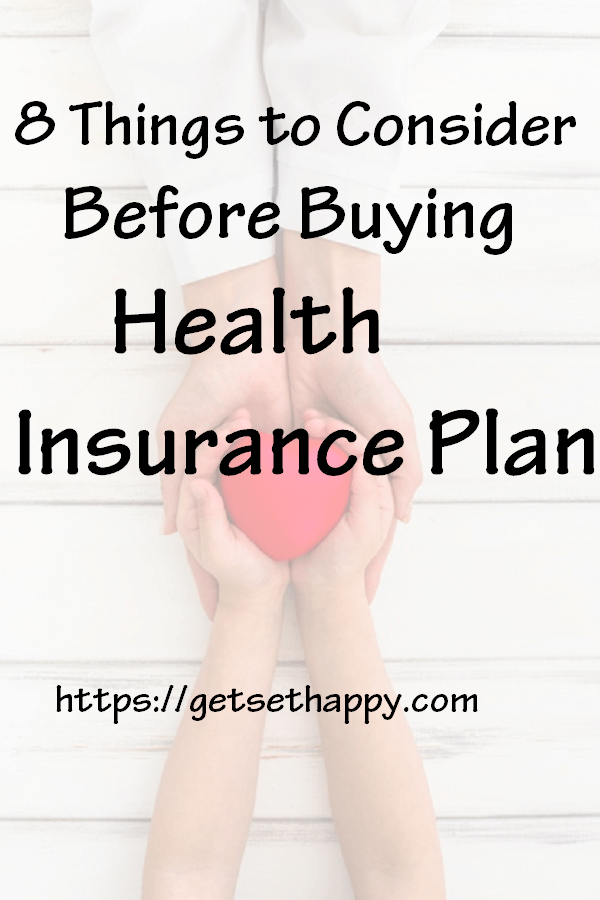 5.) The Efficiency of the Claim Settlement Process
Claim settlement time and claim settlement ratio are a really important factor that must be considered. Claim Settlement Ratio tells you what proportion of insurance claims are paid out by the company. Higher settlement ratio and lesser settlement time generally mean that the insurance provider is doing a good job with genuine claims.
6.) Adequate coverage
Keeping the high cost of quality healthcare in mind; Make sure the plan you are buying provides adequate coverage to you and your family. One should not compromise on the cover just to save money on premium. Instead of simply going for the inexpensive plan, compare the features. By paying a little extra, you may be able to get greater benefits.
7.) Hospital Network
While you are comparing lots of key factors, do not forget to compare the hospital network of the shortlisted Insurance companies. You must be particular about the areas (include nearby areas as well) where you or your family can reach fastest. Mostly, the list is provided in the brochure, but such lists are dynamic and may change anytime. But it still gives you a good idea of the network that the Insurer has in place. Keeping at least 4-5 hospitals in nearby areas could be helpful.
8.) Finally, go through Policy Wordings
Once you have shortlisted a few health insurance plans, Ask your Insurance agent to provide you with the policy wordings of the policy you have selected. Go through the Customer Information Sheet yourself. This is a one-pager that condenses all the key conditions you must be aware of. It is mandatory for health insurance Company to file this document with the Government (IRDA).
This document is also available on the website of the insurance company. You can simply search by typing "health insurance plans name + brochure" on Google.
If there are still any doubts left, ask as many questions you want, until you are satisfied.
Bottom line
So, these are the 8 Things to Consider Before Buying Health Insurance Plans. Buying a reliable policy can certainly lower down your Health Insurance cost to a great extent.
While choosing health insurance plans, you should ideally start by comparing plans from reputed insurance companies. Have a close look at the inclusions and exclusions in the most basic plan being offered by them. In fact, every company offers multiple plans with different premiums and services offered. Compare the different plans by the same company and opt for the one which meets your needs.
Last but not least, do not buy a plan solely on the basis of a premium only; instead go for the simple plans with least conditions and restrictions. After all, it's about your health and peace of mind for your family at the time of need.