As we navigate our working lives, we inevitably think about retirement savings but don't always make it a priority. It is easy to think of saving for retirement as something we can contribute to after we get through "this" or "that" season of life.
Unfortunately, thousands of Americans reach retirement-age each year and have nowhere near what they need to live comfortably while retired.
There is one major retirement mistake that too many people make. Avoiding this one and a few other common mistakes, can keep your retirement fund headed in the right direction.
The One Big Mistake
Recently, the headlines about retirement have had a consistent theme: healthcare is expensive! Reaching retirement does not change this fact. If you have ever assumed that Medicare is free, you too have made the one big mistake.
This information is not new. The number of folks without enough in retirement savings accompanied with growing awareness has catapulted this topic into the headlines.
Healthcare expenses in retirement, even with Medicare, are shockingly expensive. A recent Fidelity report has garnered much attention. The report states that a couple retiring this year (2019) will need an estimated $285,000 for medical expenses in retirement. With inflation, you can imagine (or calculate if you really want to get a number) how big that figure will be by the time you reach 65.
How to avoid the big mistake:
Don't assume that all of your healthcare expenses will be covered by the different parts of Medicare in retirement. Don't get me wrong, Medicare is a very well-run government program that certainly covers a significant amount of your healthcare costs—but it doesn't cover them all.
A great way to start stashing cash away for your healthcare expenses is to open a health savings account (HSA). Having an HSA account offers you the ability to have a triple-tax advantage and keep more of your hard-earned money where it belongs.
The money in your HSA can be built up all the way until you enroll in Medicare and then you can use the fund for a variety of medical expenses.
Lastly, part of this mistake includes the misconception of long-term care. One of the most expensive parts of retirement is the cost of long-term care. The cost of care for assisted living, nursing homes, and even at-home care, is substantial. This is another expense that can be covered by the nest-egg you build up in your HSA.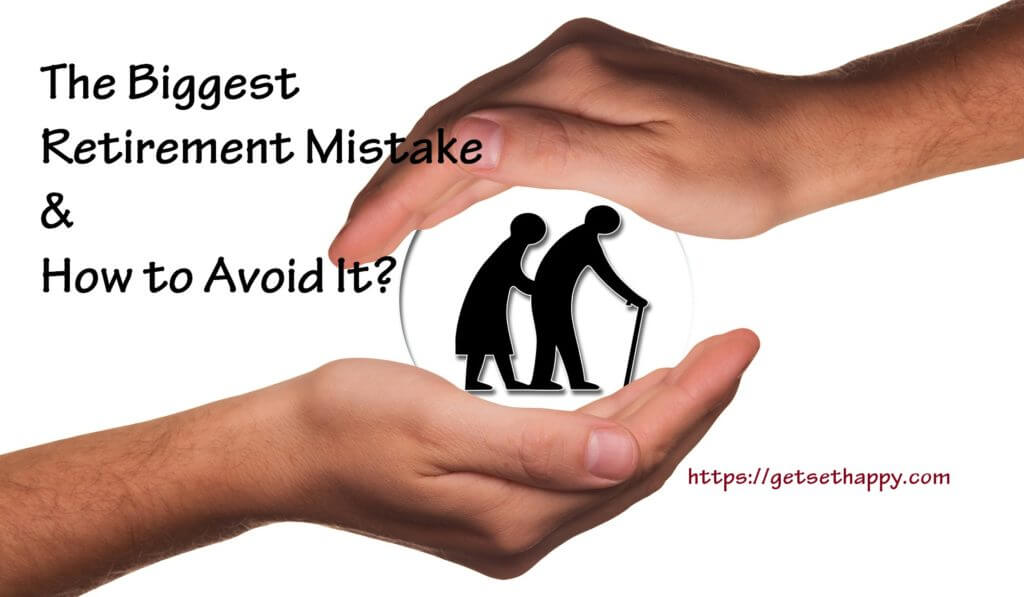 The Other Retirement Mistakes
Now that we've covered the one big mistake you don't want to find yourself making, let's look at two other common retirement mistakes.
Mistake#2: Taking Social Security benefits too early
Many people look forward to the day they can start receiving the Social Security benefits that they've paid into for much of their lives. The thing to remember, Social Security was never meant to sustain your monthly living expenses. Rather, this extra income was meant to act as a supplement to your retirement savings.
Don't get too eager to start receiving these benefits. Taking your Social Security benefits too early will result in less income overall.
How to avoid the social security mistake:
If you are able to delay your Social Security benefits beyond when you are first eligible at 62, you will be better off in the long run. For every year that you delay your benefits up to age 70, you will increase your monthly paycheck.
Mistake #3: Assuming you have more money than time
How long do you think you will live? Most of us would like to be around as long as we can. Unfortunately, when we plan for retirement, we aren't really preparing for the long-term. In fact, in data collected by the Federal Reserve, the average amount Americans have set aside for retirement is $120,000. That might seem like a lot to you now though, it is only a fraction of what is really needed.
How the financial longevity misconception:
You may feel like you've run out of time to save enough for retirement. The good news is, it is never too late. Even if you start today, there are savings tools like IRA, HSA, and 401K accounts that can propel your savings much further even if you don't have much time.
In a world where fewer people are retiring at 65, you don't have to view retirement as a sprint. If you are able to continue working and saving, by all means do so. Retirement will certainly be what you make it – do what you can with what you have now and make the most of retirement when you're ready.
Danielle K Roberts (https://daniellekroberts.com/) is an expert Medicare writer and is also a member of the Forbes Finance Council and writes frequently about Medicare, retirement and personal finance.