Vacations are designed for fun, relaxation, and a break from everyday life. They are an opportunity to get away from work and other responsibilities, and to reset and refresh your mind.
Although vacations should be a break from the norm, they can also come with their own stresses and problems. To ensure you have a vacation that is memorable for all the right reasons, there are a few steps you can take to keep stress at bay.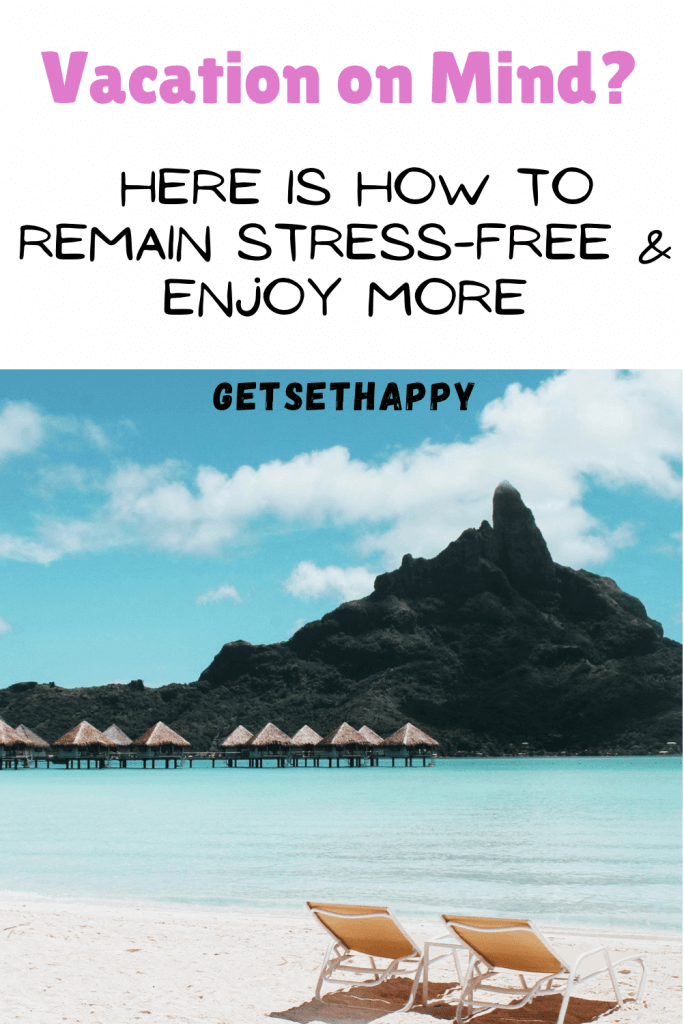 How to Plan for a Stress-free Holiday?
Important Vacation Admin
There are three very important points that you should consider before you book any vacation:
Is your passport still valid?
What level of travel insurance should you get?
These are not exciting questions, but they can make all the difference between a great trip and one that goes horribly wrong.
Passport – If you have less than six months left on your passport, then it is a good idea to renew it before going on vacation. This gives you peace of mind that your passport will be valid for the duration of your trip.
Visa – Some countries will require that you obtain a visa in advance, whereas some will issue you with a visa on arrival. Make sure you know what your country of choice requires when it comes to having a visa. The last thing you want is to arrive and to be turned away!
Travel Insurance – Travel insurance is not always strictly a necessity when it comes to going on vacation, but it can prove essential should something go wrong. Consider the level of protection that you need based on the risks and activities that you are likely to undertake.
Get to the Airport with Confidence
As many as one in seven travelers has reported missing a flight, and this could obviously mean that your vacation does not go ahead at all!
Making sure you get to the airport several hours before your scheduled flight is easy to do and can help ensure you do not miss your flight.
If you do not want to rely on the public transport system to get you there on time, then why not drive yourself? Most airports will allow you to leave your car safely in a designated area, and services such as Parkon.com can take the stress and confusion out of this for you.
Have a Budget
This is another aspect of your trip that is not at all exciting, but is necessary if you want to have peace of mind on vacation.
Plan a budget for yourself that is both reasonable and fair. Knowing how much money you can spend each day can help you to plan your activities and to have a good time, while also being able to return home with some cash still in the bank.
If you have the budget, booking your stay at luxury villas like Mykonos Villas will give you an awesome experience. 
Running out of money on holiday can be a disaster, especially if there are surprise costs. So have a budget in mind and allow yourself some wriggle room.
Wrapping Up
If you have taken out a good travel insurance policy then this will help you to avoid surprise costs should something go wrong, but it is always a good idea to have a safety net of cash just in case. I hope these travel tips for planning for a stress-free vacation help you to plan one for yourself.