The pursuit of space is as old as time. Whether it's a bigger car or house, more space is never a bad thing, and this is especially true in bedrooms.
The trouble is, you can't magically conjure up more space, but there are ways you can make your bedroom look bigger than it is.
This article provides a series of simple visual tricks to make your bedroom look bigger, and none of them requires significant investment.
Let's jump in!
Get a low bed
Your bed is the most significant piece of furniture in your bedroom, so it plays an enormous role in how spacious your bedroom feels.
A low bed is the best for making your bedroom look bigger because it takes up less visual space, increasing the viewing area.
The Julian Bowen Shoreditch is a gorgeous low upholstered bed, or if you like metal beds, check out the Time Living Meridian.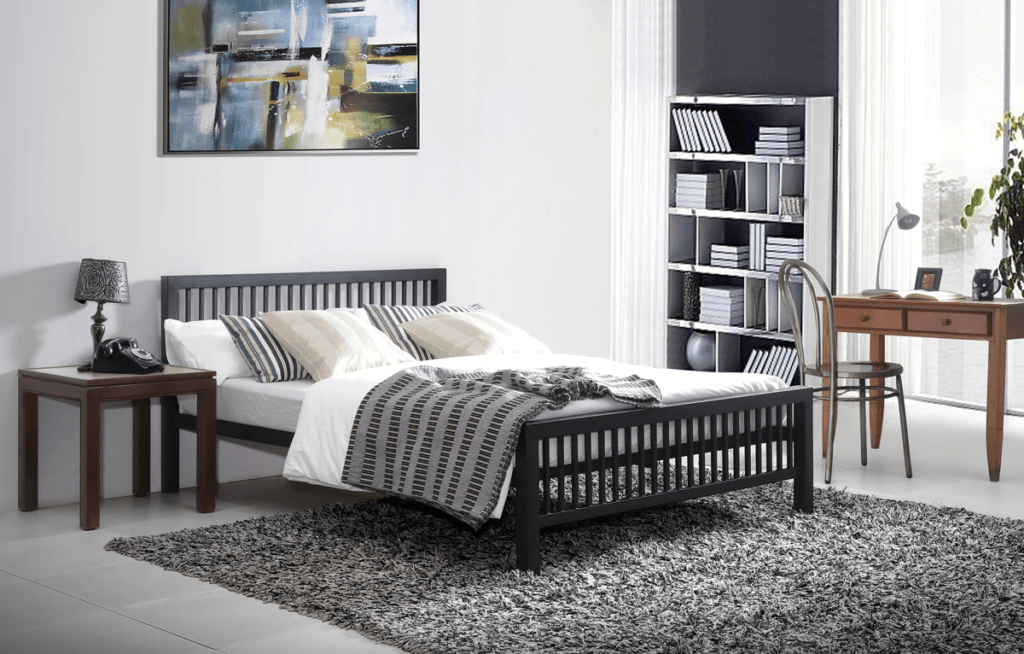 If there is nothing wrong with your existing bed, consider a thinner mattress so that you are positioned lower to the floor when in bed.
Paint all the walls white
Plain white walls might sound boring, but they have minimalist beauty, creating uniformity and increasing the sense of visual space.
Interior designers use plain white because it reflects light and makes surfaces appear larger to our eyes, making spaces look bigger.
You can add class to plain white walls with coving, fancy architraves and textured wallpaper with a subtle, light-catching grain.
Widen your bedroom with colour
You can make your bedroom appear wider by painting the ceiling and wall adjacent to your door in a darker colour than the white walls.
Here's a visual demonstration:
Use lines to stretch the space
One of the oldest tricks in the book to make a bedroom look bigger is to stretch the space with lines. You can use horizontal lines to make your bedroom appear wider and vertical lines to make your bedroom appear taller.
For this, wallpaper is your best friend – choose something subtle but classy to ensure your bedroom maintains a minimalist vibe.
Get a big mirror
A big mirror will significantly affect how spacious your bedroom feels. Place it adjacent to your bed or door for maximum effect, so it's always viewable. This way, you will have a greater sense of space.
A floor-standing mirror is another option, although small bedrooms should stick to walls to free up floor space and reduce clutter.
Install a flush ceiling light
If you have a traditional light shade that hangs from the ceiling, replacing it with a flush-light fitting is a great way to increase the sense of height in your bedroom.
The problem with hanging shades is they move the eye down rather than up, making a bedroom appear less spacious.
Ditch curtains for blinds
Blinds are far superior to curtains when space is a priority. Not only do they take up less space, but they let you play with light by tilting the blinds.
If you have UPVC windows, consider 'perfect fit' blinds that clip to the frame. You can also go for shutters, although these are more expensive.
Choose smaller furniture
When it comes to wardrobes, chests of drawers and dressing tables, there are a few things you can do to save space.
The obvious is picking smaller furniture – measure your bedroom and calculate how much length, width and height you can sacrifice for each piece.
Another trick is to use less furniture. For example, could you turn a chest of drawers into a dresser or ditch that floor-standing mirror for a wardrobe with a mirrored door? Could you replace your desk with a narrower side table?
That's a wrap!
We hope this article has given you some solid ideas to make your bedroom look bigger. If you enjoyed it, check out our favourite small bedroom ideas for 2022.
You may also like to read: Home Decor Hacks: How to Optimally Utilize Small Spaces?
And
Top 6 Interior Design Principles for a Good Bedroom Design.
Featured Image: Pictured: Julian Bowen Shoreditch, Available from Bedstar