When it comes to bedroom design, being spontaneous and using your gut instinct is a beautiful way to individualize your space, but you might find it difficult to bring order to chaos when there is so much to think about.
Enter interior design principles, fundamental pieces of advice passed down by designers to direct and inspire your projects and help you make spaces you love. This article will explore the top six design principles for good bedroom design.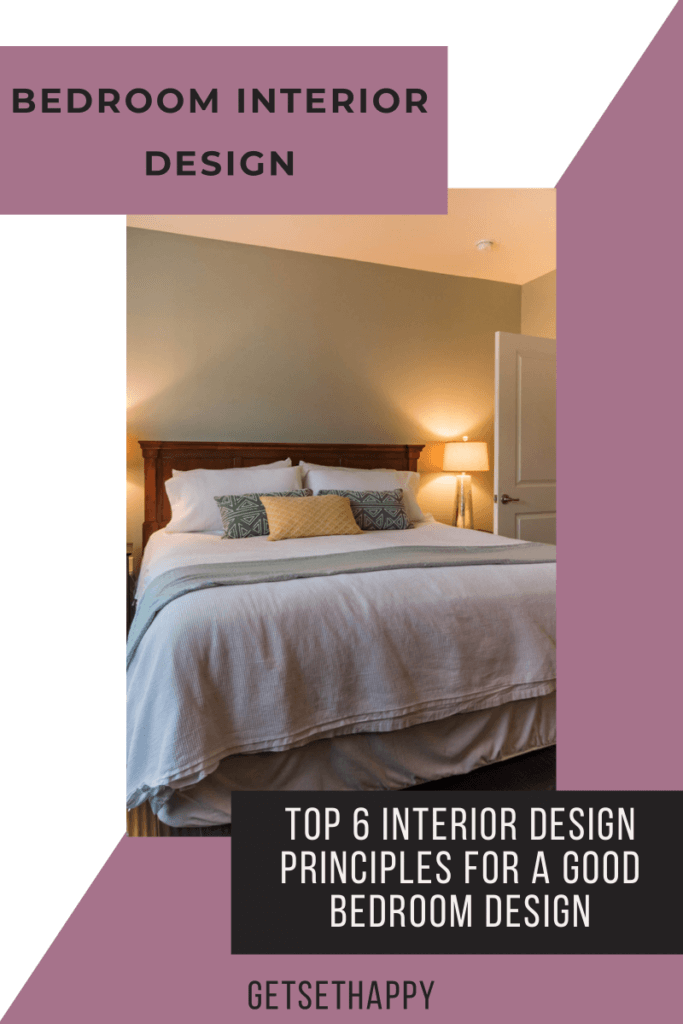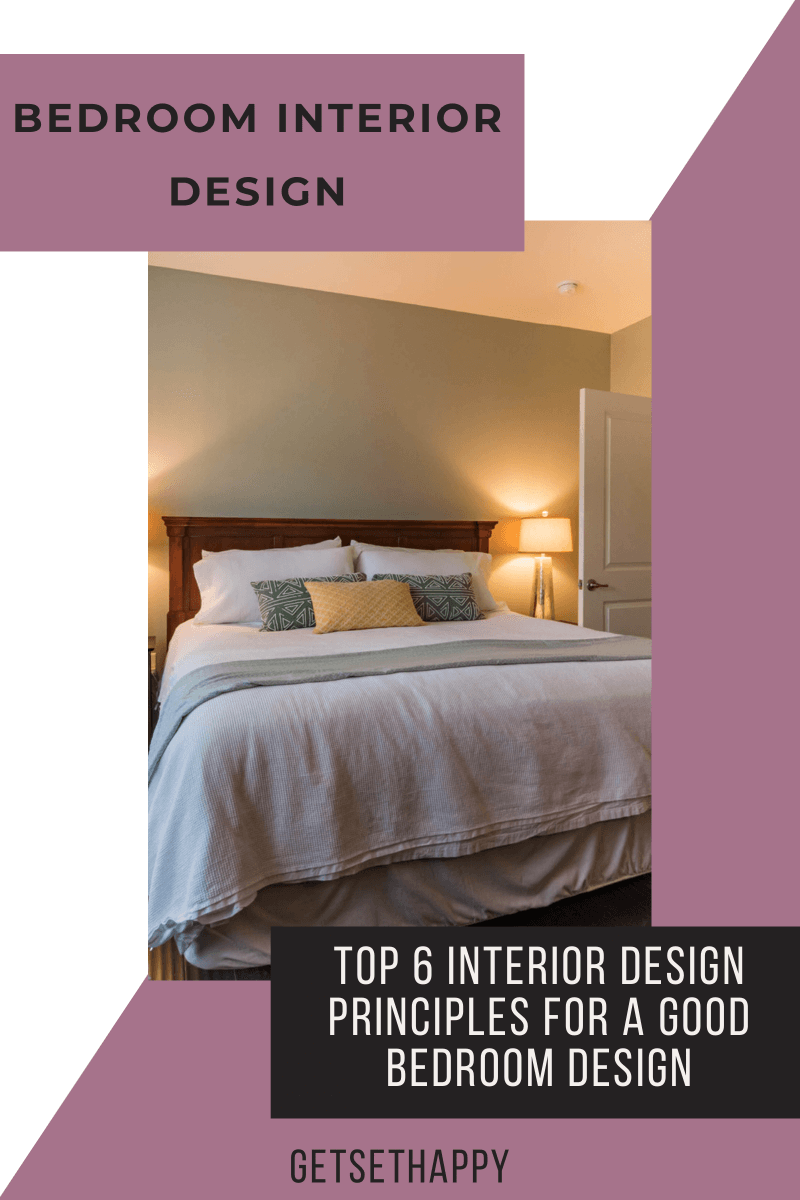 Principle 1 – Proportion
One of the most important bedroom design principles is proportion. Proportion is the understanding of scale and how design elements affect one another. For example, bedside tables taller than a headboard look odd. Likewise, bed frames too large for a bedroom look crammed in.
Another example is two paintings on a wall. One painting is a landscape, and the other is a portrait. They look odd together because they are proportioned differently, irrespective of whether the art itself is complementary.
We are accustomed to proportions because of the human body (an eye is smaller than a face, a foot is larger than a toe). Incorporating proportion into bedroom design is a way to make certain design elements are scaled appropriately.
Principle 2 – Harmony
Harmony is the sense that design elements in space work together aesthetically, like shapes, colors, and textures.
Professional designers use harmony liberally in their work, often sticking to one theme around a house rather than having distinctly themed rooms. The reason is that harmony is linked to consistency on experience.
In bedroom design, look at how elements transition between each other. The repetition of shapes, colours, and textures, as well as continuity, creates harmony. There should be a real sense that everything in your bedroom has a place.
Principle 3 – Balance
Balance is the sense of visual calmness in a room. To achieve balance, you need to consider symmetrical and asymmetrical balance.
Symmetrical balance is when two elements in a room are equally balanced, like two matching bedside tables.
Asymmetrical balance is when two elements are casually balanced, like a bedside table on one side of a bed and a floor lamp on the other.

Both types of balance have a place in bedroom design, so use both to make a bedroom that gives off a real sense of equilibrium.
Principle 4 – Rhythm
Rhythm is the sense of movement within a space, like a rug that leads to a bed or subtle colour changes that move the eye.
For example, bright pillows on beds in a white and grey bedroom will move a person's eye to the bed, subtly creating the focal point.
There are five techniques to create rhythm:
Repetition with continuous patterns and borders
Gradation using size (small to large, large to small)
Transition using shapes to lead the eye through a space
Contrast using opposing elements
Radiation using a centre object and designing around it
Principle 5 – Emphasis
Emphasis involves creating focus in a space using design elements that draw the eye, most often providing visual impact or emphasizing a décor style.
In bedrooms, emphasis could be created with a striking bed frame, an opulent chandelier, a media wall, or colorful artwork.
The great thing about bedroom interior design principles is that it relaxes the senses because there are no competing elements. Once you choose the focal point, you can also work the rest of your design around it and use it as a guide.
Principle 6 – Contrast
Contrast is when two or more design elements have opposing characteristics, like wicker baskets and smooth grey wood or glass and metal tables.
The key with contrast is to ensure opposing design elements are complementary so that harmony (bedroom design principle # 2) is maintained.
Ways to create contrast include using light vs. dark colors, smooth vs. rough textures, and shiny vs. flat materials. Something as simple as bright yellow cushions in a grey bedroom or a shaggy pile rug on a wooden floor can significantly impact.
Closing Words on Bedroom Design Principles.
These basic principles of interior design are simple to implement yet are powerful enough to transform your bedroom into a relaxing and comfortable place to be.
Discover more Home Improvement Ideas here.
Featured Image: Luxury photo created by dit26978 – www.freepik.com