As soon as we hear about the protein powder, the first figure that strikes the mind is of the muscular guy's, working out in the gyms. But protein powder isn't only meant for men who workout hard. Protein powder is a nutritional supplement to meet the body's requirement for protein. It is equally vital for women. A boost of energy that protein powder for women can provide is unmatched. Besides, there are many more ways in which protein helps the woman's body.
Let's take a look at five reasons why protein powder for women is a healthy choice.
1. Protein promotes weight loss.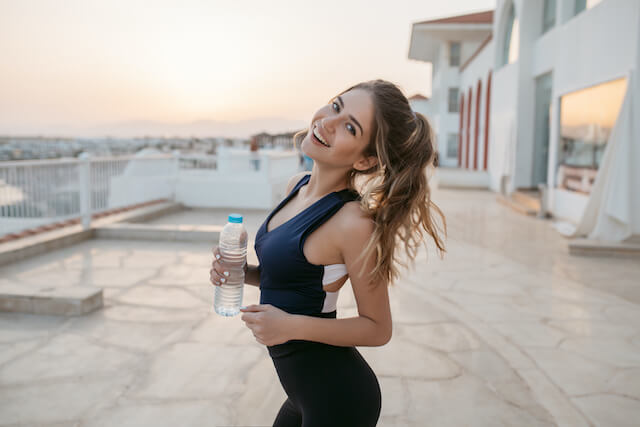 Consuming protein in the right amount helps in the burning of calories and speeds up your metabolism. At the same time, protein can reduce your appetite and cause a natural reduction in calorie intake. Intaking protein powder promotes a feeling of fullness; eventually, you have fewer cravings. So, next time when you are feeling hungry, try a protein-rich snack or go for protein powder for women. It can also be used as part of your everyday diet to meet the daily protein requirement of the body, and supporting your weight loss journey.
2. Protein supports muscle regeneration.
Protein powder for women contains high levels of amino acids, which means it can help you to renew and restore muscle tissues and relieve muscular pain, often following intense workouts or after lots of physical tasks. Even if someone is recovering from an injury, consumption of protein powder could speed up the recovery, while providing a fair amount of energy. 
3. Protein supports bone health.
As we age, bone density is likely to reduce. Several studies indicate the positive effect of consuming high protein on maintaining bone mineral density and preventing osteoporosis. On the contrary, low consumption of protein is often observed in most of the hip fracture cases. Sufficient intake of protein can keep bones healthy and reduce the loss of density due to ageing.
4. Protein promotes healthy hair, nails, and skin.
Nowadays, a lot of women go for keratin hair treatments to get healthy and beautiful hair. But that's only an external dose of protein to the hair. Now, imagine the quality of your hair when you nurture your body by consuming it. Protein is the powerhouse of the amino acids that supports the formation of Keratin– a structural protein in our skin, hair, and nails. So, when you start taking protein powder for women, you are feeding your hair with natural Keratin. Adequate intake of protein is also essential for plump, glowing, and healthy skin.
5. Protein supports stronger immunity.
By now, in the COVID era, we have realized the importance of healthy immunity. Protein plays an important to build and repair body tissues that are important for fighting viral as well as bacterial infections. Our antibodies and immune system cells depend on protein. Low intake of protein may lead to weakness and immunity making your body prone to catch infection easily.
Closing Words on Benefits of Protein Powder for Women
In our bodies, protein plays a critical role – right from cell regeneration to muscle strengthening. It is a part of every single cell in the body, helping them all to repair and generate new ones. Consuming good quality protein powder for women can groom you from inside out and will assist in building a more fit, toned, and energetic body.
Healthy body – healthy mind – beautiful skin & hair. No wonder why so many gorgeous ladies are turning to protein powder for women to meet their dietary needs!
Stay Healthy – Stay Beautiful!
Featured Image by Sasin Tipchai from Pixabay