Thailand has been one of the most sought-after travel destinations in Southeast Asia for people all around the world for a long time. The immaculate beaches, lush green forests, vibrant cities, resplendent temples and oh, so delicious food attract millions of tourists to Thailand every year. While your first holiday may not be possible to cover the entire country (except if you are planning to stay here for months), there are some cities in Thailand that should not be missed.
Each of the cities of Thailand is adorned with a unique feature, be it beautiful temples or perhaps pristine beaches. Here we take a look at 5 most beautiful towns and cities in Thailand that should definitely be a part of your Thai vacation.
Bangkok
The capital of Thailand surely tops the list of the most beautiful cities in Thailand. Bangkok is a vibrant city with super skyscrapers, energetic nightlife and modern lifestyle.
Although Bangkok has adapted to the changing times, it has also preserved its beautiful culture and traditions. While you can spend your nights, club-hopping and exploring the night life, your days can be spent visiting some of the most beautiful temples you would have ever seen. The best amongst these is definitely the Wat Arun which is also called the Temple of Dawn.
Adorned with Chinese porcelain and colourful glass, Wat Arun looks the best during night time. Wat Phra Kaew, Wat Pho, Golden Buddha, etc. are also temples that are worth visiting in Bangkok. Apart from this, the floating market, Grand Palace, Khao San Road (for the best nightlife), Bang Krachao Gardens, Chatuchak Weekend Market, Jim Thompson House, etc. are some of the must visit places in Bangkok. Also, do not forget to pamper yourself with an authentic Thai massage and indulge in some fun shopping when in the capital city of the country.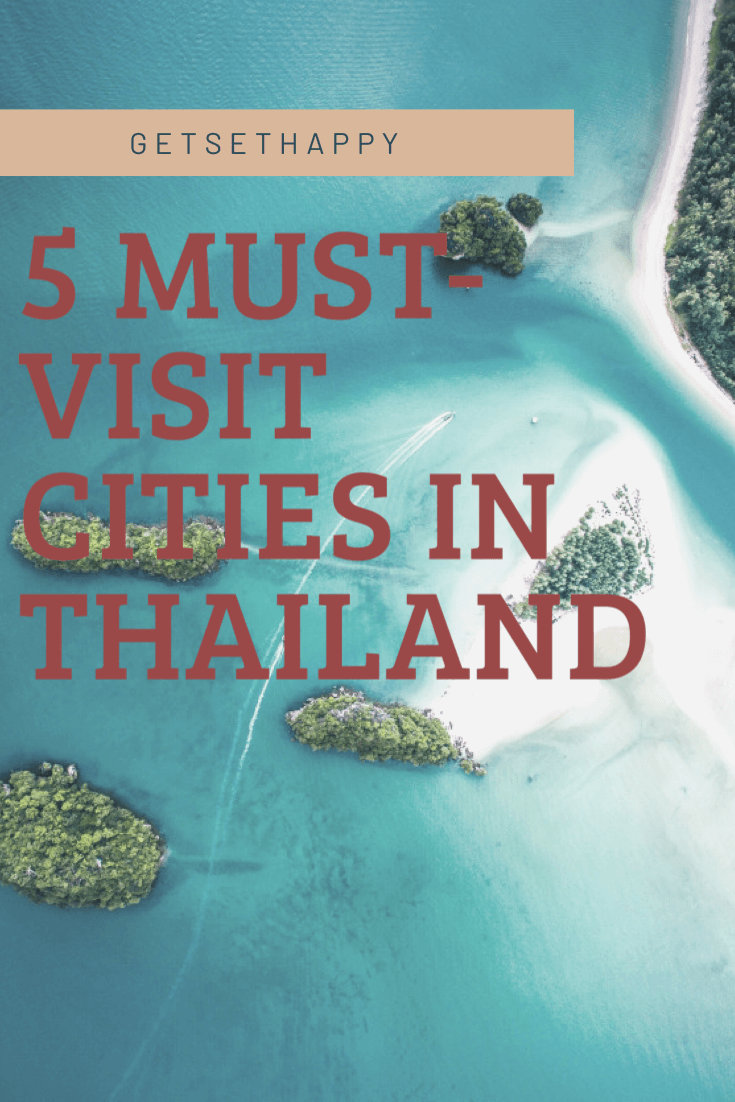 Ayutthaya
Seeped in history and spirituality, Ayutthaya is known to be Thailand's archaeological gem. Once a thriving city, you would find ruins of Buddhist temples, monuments, statues and monasteries in this city today.
The Ayutthaya Historical Park is a UNESCO World Heritage Site and a must visit place if you are interested in history. Expert's advice that one should spend at least two days (or more) in this city if one wants to explore the place thoroughly. Some of the magnificent temples you must check out here include Wat Chaiwatthanaram, Wat Lokaya Sutha, Wat Phra Sri Sanphet, Wat Phra Mahthat, Wat Yai Chai Mang Khon.
Ayutthaya is also a place where you would find massive and unique statues, one of them is the Reclining Buddha which is 42 meters high. If you want to do something different after exploring the historical city, book yourself at the Elephant Stay where you would get to take care of an elephant during your stay.
Phuket
Once you have had a fair dose of modern and historical cities, it is time to explore the islands and beaches of Thailand, aspects that the country is known for.
Head to the largest island of Thailand, Phuket, to explore and enjoy the white sandy beaches, deep blue waters and the host of water adventures available here. Patong Beach is where you should head to if you want to be a part of a bustling and vibrant crowd. Being the longest beach on the island, it is the perfect place to indulge in some fun activities.
On the other hand, if you are looking for some peace and solitude, you would definitely find it on this beach. Apart from the beaches, there are several other places to explore in Phuket. The Phuket Town, Rawai Village, Phuket Aquarium, Hat Nai Yang National Park, etc. are few of the places that would make an interesting visiting in this island. Other than sightseeing and beach hopping, Phuket is a great place for indulging in scuba diving and snorkelling. You would find several courses that would initiate you into these water adventures.
Chiang Mai
Gorgeous temples, pristine landscapes, lush jungles, beautiful national parks and unique tribes are what await you in this northern city of Thailand. Chiang Mai was the capital of the Lanna Kingdom in the past and hence is a place full of history and culture. A must visit place is Doi Suthep which is the highest mountain of Thailand and home to the holy temple of Wat Phra That. Apart from this, there are several old temples and historical buildings in Chiang Mai Old City which is nothing less than a museum.
One place you must not miss when in the city is the White Temple which is known for its unique architecture. The white structure is embellished with skulls and bones and has several futuristic paintings within its walls. Few other attractions of the place include Chiang Main Night Safari, Wiang Kum Kam, Elephant Jungle Sanctuary, Do Inthanon National Park, Bo Sang Handicraft Village, etc.
Another interesting visit here would be the Chiang Dao Cave which not only has a huge cave that runs many kilometres into the mountains but also is home to a unique tribe known as the Long Neck Karen ethnic hill-tribe.
Krabi
Tired of all the sightseeing, temple-hopping and visiting historical landmarks in Thailand? It is time to soak in the natural beauty of the place with a visit to Krabi, a province which is located near the Andaman Coastline.
Being so near the Andaman Sea, Krabi promises you with a natural beauty that you would not find anywhere else. Complete with limestone cliffs, beautiful mangroves, pearl white beaches and emerald seas, the place would definitely mesmerize you. Head to Railay Beach to explore the limestone caves and enjoy some peace and solitude in the secluded beaches of the place.
Dive into the crystal clear waters of the ethereal Thung Teao Forest National Park and wonder at the mysterious phenomenon at the Krabi Shell Cemetery in Susan Hoi. Krabi Town, Wat Tham Sua, Phi Phi Islands, Ao Nang, Ko Lanta Yai, Sala Dan, etc. are some other places that would be a delight to visit in Krabi.
Tips to Travel in Thailand
Whichever city you choose to visit in Thailand, you would undoubtedly have a great time. Here are a few tips that would make your holiday in Thailand easier and stress-free.
Before you plan your Thailand tour, you need to apply for a visa. The Thailand visa requirements are a valid passport, visa application form, recent photograph, return air ticket, proof of financial means and visa fees. If all your documents are in order, you would easily get a visa for your visit to Thailand.
Most of the above-mentioned cities, as well as other popular cities, have an airport, making it easier to reach the place. Even the cities are well connected by trains, bus and cab services. For local traveling, you can also opt for metro and sky train (in Bangkok), tuk-tuks and motorbike taxis.
Thailand is perfect for all kinds of travelers. You would find an ideal accommodation as per your requirement and budget easily. Thailand is home to luxurious resorts, mid-range hotels as well as budget hotels and hostels perfect for backpackers. Couch-surfing is also quite popular in Thailand where you not only get a bed to sleep but also gives you access to a local tour guide./
Food is really inexpensive in Thailand and what's more, it is really delicious too. You can indulge in authentic Thai food at the street markets of every city and town of Thailand.
It is the perfect place to go if you love adventure. Right from jungle trekking to deep-sea diving, you would find a host of thrilling activities wherever you go in the country.
Wrapping Up
Thailand is a country steeped in natural beauty, history and culture and at the same time has adapted to modern times really well. While one visit would not do justice to Thailand, this is a place you must visit at least once in your life. And to start with, our list of the five best cities of Thailand would make sure that you have a memorable holiday in this Land of Smiles.