It's been several months since no movies were released in cinema halls. Thanks to the COVID-19 pandemic situation, which has affected the entertainment industry so badly. But a bigger thanks to OTT platforms like ZEE5 where we can watch all the latest movies, right on our TV screens.
Here is the review of the latest release on ZEE5 – Danny. Varalaxmi Sarathkumar Starrer Danny the latest Tamil movie gets a release, digitally due to the lockdown. Along with Varalaxmi Sarathkumar, Vela Ramamoorthy, Vinoth Kishan, Kawin, Anitha Sampath, and Durai Sudhakar, are playing the key roles. The movie is directed by LC Santhanamoorthy and has music by Sai Bhaskar and Santosh Dhayanidhi.
What is Danny all about?
The movie is a crime thriller, which revolves around a patrol dog "Danny" who helps the cops to dig into crimes quite easily. Although the movie is named after the dog but Varalaxmi Sarathkumar is one who is using her brain for connecting the dots and solve the mysterious murder case.
Varalaxmi Sarathkumar who has already shown her acting talent in several Tamil and Malayalam movies, such as Podaa Podi, Tharai Thappattai, Kasaba, and many more, is acting as the cop. She has totally justified her role once again. Her bold and strong character, adds up to her performance. The different shades in her expressions work really well to charm the audiences. She looks so much in her character that she appears to be a real-life cop and not just an actress wearing a police uniform.
More about the Movie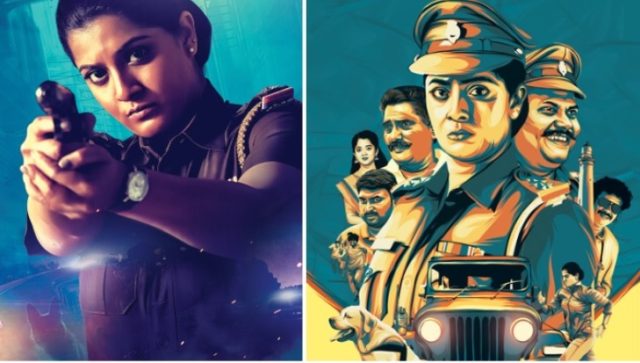 The movie is shot in the rural parts of Thanjavur. In many scenes 'Danny' plays the emotional characters which make you feel connected. The movie covers a lot in a short runtime of an hour and 35 minutes. Although there are a few comedy scenes in the Movie – Danny that may let you down. In fact these scenes were not really required. Overall, an enjoyable movie to watch this weekend.
Another interesting stream in this movie is that the viewers engage themselves to find the missing characters, which grips you to your seat till the end of the movie
Even with its little failings, the movie still has its own highs. With the lows outstripping the highs, for me 'Danny' settles for "not so bad" watch.
Wrapping Up
Danny is a perfect suspense thriller that can send chills to the spine.
Danny has its own highs and lows, but as usual Varalaxmi's strong performance makes it worth watching.
Nevertheless, if you like crime thrillers, you will surely find this movie as another gripping movie on ZEE5. Of course, there are subtitles to help you understand the conversion. But the emotional chunks by Danny will make you feel connected with the characters anyways.
High quality entertainment and not going out (at least for entertainment) is another reason for sitting at home and watching amazing content available on ZEE5.
Featured Image Credit: ZEE5