Many of us have grown up with some type of music like rock, gospel, traditional, country, and the list goes on. Whether at home, at church, or simply within our own communities, music inspires and rejuvenates us and also, make life a little more fun. Lot of times music can help in reducing stress, especially while you are travelling. That's why we decided to go in search of the best apps for different types of music.
Because what's better than listening to music on the radio? There's just something about not knowing what song will come next and then your favorite hits. So although we have the ability to create our own music libraries, people are still very much into radio. And the only thing better is to take the radio with you and listen on the go. We chose our top three apps to share with you for listening to music on-the-go, check it out.
myTuner – Rating: 4.5, Downloads: 5M
myTuner is an awesome app because you will literally never run out of things to listen to! Local stations, FM, AM – even online stations like XM Radio, Slacker Radio, and iHeart Radio – wherever you are, you can listen to your favorite music. It even works in the background of your phone, so you can be more productive while you multitask. The app automatically identifies the songs you're listening to and lets you share them on your favorite social media site, so you can share your epic finds with friends and family.
Keep in mind that, in order for you to be able to tune in to radio stations, you'll need an internet connection. That means that this app isn't super great for offline access. That being said, as long as you have an internet connection, this app is epic for listening to the music you want when you want.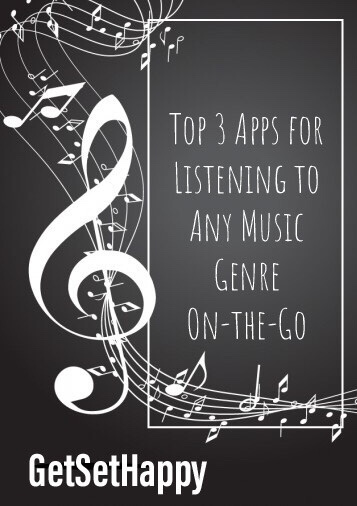 Pros: Listen to your favorite music, including popular online sources like XM Radio
Cons: Internet connection needed. It won't work, if internet connection is lost
Overall: As long as you have an internet connection, you'll have a great time listening to your favorite music whenever you want
Simple Radio – Rating: 4.6, Downloads: 10M
Simple Radio has clear sound and a great selection of music; it's just like seeing the local stations that are available in your car. The app itself makes it easy to continually update your search by city, music genre, and more, so you can always find the genres and titles you're looking for. Once you find a station you like, you can favorite it for quick access again and again.
On the other hand, if you're looking for a live FM station with loads of features, Simple Radio may not be your number one choice. Like the name says, this app is simple – straightforward. If you're looking for a more advanced app, maybe try one of the other two options on this list.
Pros: Easy to use, simple (so it's not confusing), easy search functionality for finding your favorite music
Cons: Very simple with limited features
Overall: If simple and easy is what you're after, then you'll love how convenient Simple Radio makes it for finding your favorite music.
NextRadio – Rating: 4.2, Downloads: 10M
NextRadio is our most recent find and the newest addition to this list. While searching for others like the aforementioned apps, we discovered this little gem. After doing a little bit of digging (and coming across a website where NextRadio was listed as part of the best apps for music), we knew it was a perfect fit.
NextRadio Free Live FM Radio functions similarly to other radio apps like Pandora and Sirius XM; you search music genres by the station – including gospel! You can even use your location to search for local content or change your location to search for music outside of your area. That means far more stations at the tips of your fingers. Favorite the stations you play most frequently (you can bet gospel is at the top of ours!) and easily access all your favorites at the touch of a button.
Unlike Simple Radio, which is quite basic in its features, NextRadio is more comprehensive. If you want something that's not so complex, then maybe Simple Radio is more your speed.
Pros: Listen to live radio, quickly search by genre and location, save your favorite stations
Cons: More complicated features
Overall: If you don't mind the learning curve that comes with navigating slightly more complicated features, then you'll love how many options this app provides in terms of music
Conclusion
If we didn't make it clear enough before, we're huge fans of gospel music. And apps that make it easier to listen to gospel music are a must-have in our book. So, if you've been looking for a way to incorporate more of the gospel spirit into your daily life (or if you simply love to jam out to great music) then you should give these three apps a try!
Make the most out of these amazing apps with a nice pair of wireless headphones
Further, you can check out some of the finest smart Phones with superior sound quality would enhance the experience.
One Plus 10 Pro 5G, which is the latest addition to One Plus phones, is available in two variants One Plus 10 Pro 5G with 12 GB RAM and 256 Storage and One Plus 10 Pro5G with 8 GB RAM and 128 GB Storage.
If you are looking for a budget varient of this amazing phone, then you can try One Plus 10r
Enjoy the enhanced experience of playing some recharging music with these high-end headphones and mobile phones.