Dubai is a wonderful blend of splendid architecture, rich cultural sites, opulent shopping malls, and imposing structures. In recent years, it has become one of the most popular destinations for vacations with innumerable tourist attractions that cater to different age groups. But amidst all the glitz and glamour of Dubai, there are numerous fun things to do in Dubai.
Fun Things to do in Dubai
If you want to take a break from all the high-end Dubai tourist attractions and indulge in something fun, then here are some great ideas to do just that.
Dubai Aquarium and Underwater Zoo
Dubai Aquarium and Underwater Zoo are some of the most incredible attractions in Dubai. Located at the Dubai Mall, it takes you on a mesmerizing journey into ocean life. It is one of the largest indoor aquariums in the world displaying a diverse collection of marine life. The Underwater Zoo brings you up, close and personal with some of the most amazing creatures such as sea horses, jellyfish, piranhas, manta rays, crabs, water rats, and many more. It even houses some deadly creatures such as sharks and a majestic 750 kgs King Croc.
Timings: 10 am to midnight
Location: Dubai Mall, Dubai
Duration: 3-4 hours
Ticket: Starts from AED 145
Wild Wadi Waterpark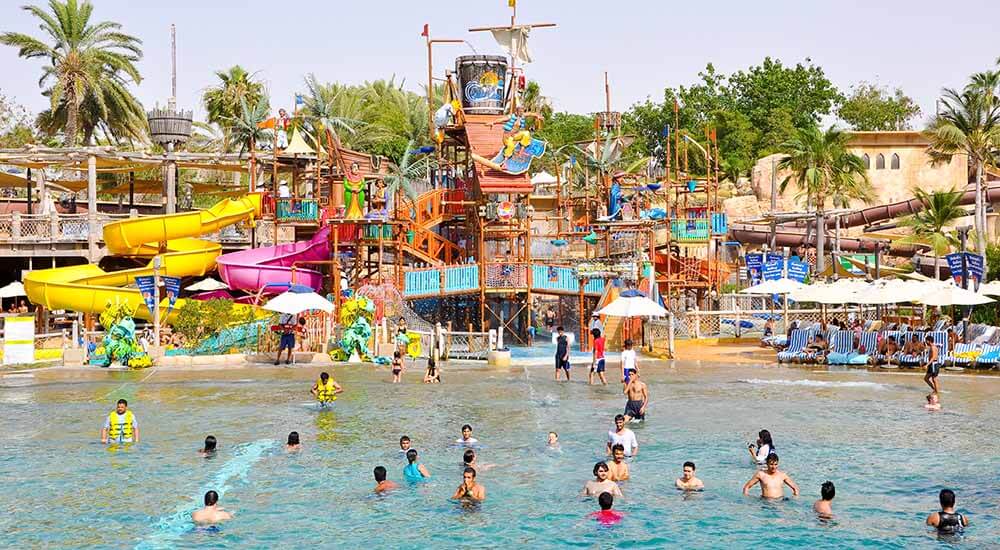 Wild Wadi Waterpark is an outdoor themed waterpark with over 30 rides and attractions. It is based on the tale of Juha, a famous character from the Arabian folklore. The water park gives you a stunning view of the sea, prominent hotels such as Burj Al Arab and the entire city. It offers some of the most exhilarating rides such as aquatic roller coaster, free-fall slides, waterslides, and tornadoes. Juha's Dhow and Lagoon offers an interactive water experience for the whole family, especially kids. Once you get tired, you can relish some delicious food from one of the restaurants here.
Timings: 10 am to 6 pm
Location: Jumeirah Beach Road, Next to Jumeirah Beach Hotel, Dubai
Duration: 2-3 hours
Ticket: Rates are priced according to the height and start at AED 260
Ski Dubai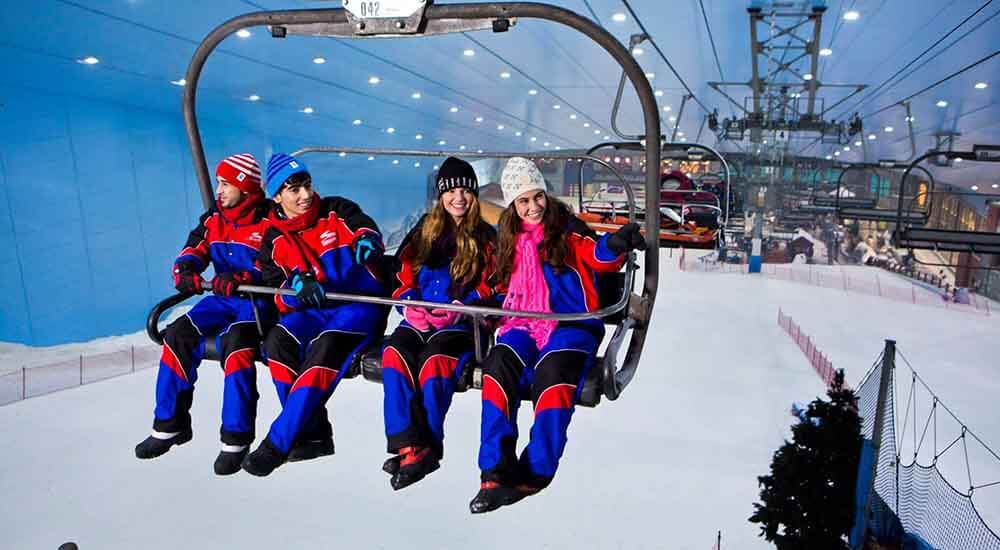 Want a break from the scorching heat of Dubai? Head to Ski Dubai, one of the largest indoor ski slopes and the first one in the Middle East. The ski resort features an 85-meter high mountain, an ice cave, and a snow park full of fun-filled activities. Hop on to the Chair Lift or lean against the T-bar to experience 6000 tonnes of snow right in the middle of the desert. Don't miss meeting the delightful snow penguins from Antarctica. This fascinating experience should surely be part of what to do in the Dubai itinerary.
Timings: Sunday to Wednesday 9 am to 11 pm, Thursday 10 am to midnight, Friday 9 am to midnight and Saturday 9 am to 11 pm
Location: Mall of the Emirates, Sheikh Zayed Road, Dubai
Duration: 3-4 hours
Ticket: AED 190 for Adults and AED 170 for kids. This is the basic package. You will have to pay extra based on other attractions.
IMG Worlds Adventure
IMG Worlds Adventure is one of the largest indoor theme parks in the world. The rides and experiences here are based on all the wonderful characters from Cartoon Network and Marvel Comics. Enjoy amazing rides at the Marvel Zone based on Superman, Spiderman, Hulk, Thor, and other favorite characters from Avengers. Immerse yourselves in charming characters such as Bugs Bunny, Power Puff Girls, and others at Cartoon Network Zone. Visit the Lost Valley zone and take a trip back to the pre-historic period with some hair-raising dinosaur rides. There are many amazing restaurants and shops to sit back and relax once you are done exploring the place.
Timings: Sunday to Wednesday 11 am to 8 pm, Thursday to Saturday 11 am to 10 pm
Location: Sheikh Mohammed Bin Zayed Road, Dubai
Duration: 3-4 hours
Ticket: Entry fee starts at approximately AED 299
Desert Safari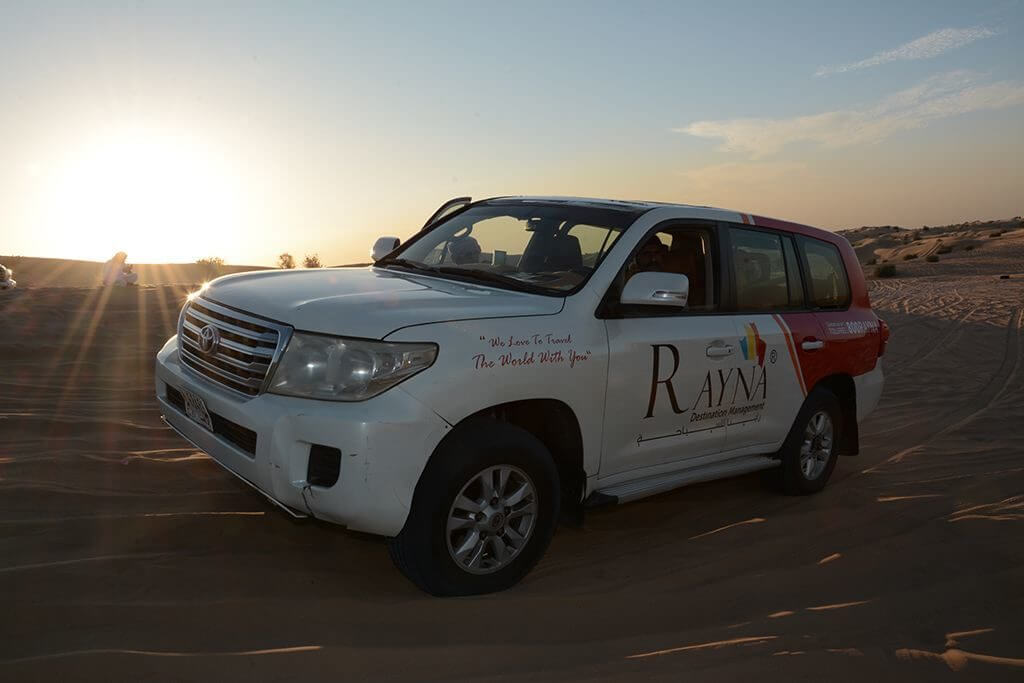 A trip to Dubai is not complete without the desert safari. The most popular is the evening safari where you can spend a few hours most interestingly. Hop on a camel and ride along the golden dunes. Enjoy thrilling activities such as quad biking, sandboarding, and dune bashing. Enjoy the full Bedouin-style experience along with campfire and entertaining performances such as Belly Dancing, Tanura Dancers Show, and Fire Show. Get your hands painted with henna or click pictures in traditional Arabian costumes for a lifetime of memories. Enjoy a delicious BBQ dinner under the stars.
Timings: 4 pm-10 pm
Duration: 5-6 hours
Ticket: Approximately AED 230
Dolphin Dolphinarium

One of the most loved tourist attractions in Dubai, it is one of the most unique places to spend time with the fascinating and friendly mammals. The Dolphin and Seal show is an interactive and fun experience that showcases the endless talent and mental and physical skill these animals possess. From playing ball, dancing, juggling, and diving on command, the antics of these animals will surely bring a smile to your faces. You can also swim with the dolphins. Home to over 20 species of parrots and other exotic birds, the Creek Park Exotic Bird Show is not to be missed. Colorful parrots, macaws, African grey and red hornbills put up a mind-blowing and entertaining show that will surely win your hearts.
Timings: 10 am to 7:30 pm
Location: Riyadh Street, Dubai
Duration: 2-3 hours
Ticket: Starts from AED 88
Bollywood Park
Head to Bollywood Park, the world's first-ever Bollywood theme park, to get a slice of Indian Movie Magic. It is a celebration of Mumbai's iconic movie industry. Divided into 5 zones, you can enjoy live performances, stage shows, and fantastic cinematic rides that you have never experienced before. You can experience the thrill of some of the greatest hits of Bollywood such as Sholay, Lagaan, Krish, Don, and the likes. You can experience everything from action, romance, adventure, drama, and fun under one roof.
Timings: Saturday to Thursday 1 pm to 10 pm, Friday 1 pm to 11 pm
Location: Dubai Parks and Resorts, opposite Palm Jebel Ali, Dubai
Duration: 3-4 hours
Ticket: AED 119
Dubai Creek
Get a glimpse of old Dubai by taking a ride on the traditional wooden boats called 'Abra'. The boat can accommodate around 20 people. They have been part of Dubai's transport and tourism for many years. Enjoy the amazing views of the creek from the boat. Also, don't forget to explore the souks on both sides of the creek, especially the Gold Souk and Spice Souk. The souks are markets full of shops selling traditional footwear, clothes, herbs, spices, and other trinkets which make for great souvenirs to carry back for your loved ones. This boat trip Dubai is one of it's kind experience.
Timings: 5 am to midnight
Location: Between Bur Dubai and Deira, Dubai
Duration: 15-20 minutes
Ticket: AED 1
Tips for First Time Visitors
The following tips will come in handy for first-time visitors to Dubai.
1. The best season to visit Dubai is between October and April
2. Book your hotels and flights well in advance to get the best prices
3. The best way to commute within the city is by cabs, bus, and metro
4. Process your Dubai visa at least a month in advance
5. Dress modestly in public places
6. Always ask permission before clicking pictures of locals, especially women and children
7. Drinking and driving is a punishable offense
8. Refrain from public displays of affection as it is looked down upon in the UAE.
Conclusion
There are many other attractions such as Atlantis Aquaventure Waterpark, Legoland, VR Park, Dubai Ice Rink, and Kidzania. You can include the other attractions in your itinerary according to your time and interest. Your vacation to Dubai should not be only about visiting megastructures and extravagant malls. Add this beautiful place to your bucket list. Explore the fun side of Dubai by visiting the above places and indulging in all the fun activities offered by this magnificent city.