It has become very common for most of us to get knocked down by the everyday circumstances. But that does not stop our life from moving on. Life Goes ON, even if we choose to freeze ourselves into any of the undesired situation. If you are one of those but have the courage to pull yourself out of such circumstances then read on!
Here are some of the ready cool and simple tricks to pull yourself up and change for the better.
–
Get Out
Mental and physical well-being are directly proportional to each other, as you gear up to go out, inhale fresh air and strengthen your body, you are indirectly working on improving your mental state.  Fitness is more about pulling yourself up and strengthening than just having perfect weight. So, when you physically begin to move on, you move on mentally and emotionally as well.
–
Meet New People
Everyone, we come across is not always bad or here to hurt. The world is full of a variety of people and you will be surprised to see, the majority of them are generous, honest and caring. Get out of your old mindset and meet new people. Meeting new people brings new perspectives, which can be then applied to your life to bring positive changes.
–
Be Yourself
Be who you really are in all aspects. May it be your appearance or making choices of work, food, friends or partner. It is good to take advice from your family and close ones but do not forget, no one knows you better than yourself. So, while listening to others, don't let your own voice unheard.
Style your hair the way that suits you the most and wear what you love to wear. Carry yourself, your own way.
–
Avoid the Negativity
It is a common tendency to slip into the hole of negativity when you have recently faced something undesirable. Talking of the past or negative opinions of others on that or any other things can hold us from resuming back to the life, Stay away from the things and people that give off negative vibes, at least till you have emotionally recovered.  
–
Travel
Visit some of your favourite places or explore a new one. Go on a long-awaited trip. This is one of the best was to rejuvenate. Go for a Spiritual Retreat! Meet new people, try new cuisines or discover a new culture. This will give a quick boost to your spirits that lasts for long.
Do something that petrifies you most. If you are fearful of jumping into the pool, learn swimming. If you are afraid of climbing the hill, go for a trek under the guidance of some trained professional. Moving out of your comfort zones will help you become stronger and happier.
–
Join a course, a workshop or learn a new language.
Never stop learning! Try joining some hobby, a course or learn a new language. This will not only distract you from the past but will also benefit you in the long run. Many times, while making our living, we forget to do, what we enjoy doing. According to a Chinese proverb "The best time to plant a tree was 20 years ago. The second best time is now."
 It's easy to believe that life has knocked you down. Your past can seem tormented with bad choices and worthless opportunities and it feels like the end of the game. But once you make a courageous attempt to rise up, life will support you fully to overcome any situation.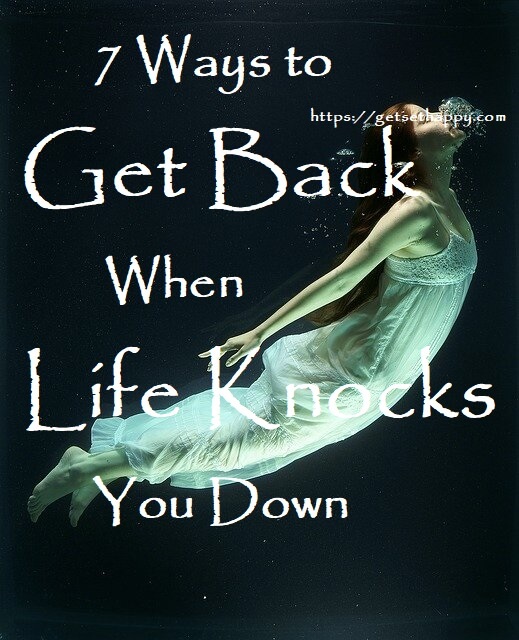 The most authentic thing about us is our capacity to create, to overcome, to endure, to transform, to love and to be greater than our suffering.
    – Ben Okri