We all encounter such times in our lives where we feel as if we are in a rut, when we don't feel happy and content with what we have in life. The challenges that we face everyday has the power to make you feel perennial envy towards others who are smiled upon by karma. And so, we feel stuck or you may hear it or say as being stagnant, moving in loops, or being off balance.
When we stay in one place for too long, it begins to make us feel unhappy. It is always great to be in your comfort zone but for how long? How long will you be able to stick it to? It's not at all okay to stick to it.
Always remember Progress equals Happiness.
Now that we know that it is okay to feel stuck in life, so what do we do to feel unstuck?
When we feel stuck in life, we try to patiently wait for external changes to happen. When those changes don't come to us, it comes from within. While change is scary and painful, it is as important for getting unstuck. With changes, opportunities present itself.
Here are 9 Ways to Get Unstuck in Life and Live Fully
1. Change Your Perspective
When you begin to let go of the past, you begin to view reality in newer ways and feel freer to change your attitude. To gain a new perspective, you can try meditation or spend time by yourself to listen to your inner voice. It is always helpful to open yourself up to new ideas and people and introduce physical activities to your routine. All of this helps you to develop a new perspective on the future and what is possible.
2. Believe in Yourself
Learn to trust that you can reach your expectations and get out of your comfort zone. To do so you can make a list of your positive traits and remind yourself consistently that you are very much capable of it.
The first step in believing in yourself is to recognize your self-doubt. Start paying attention to the ways you react to the situations. This way you will be able to work your way out of self-doubt.
3. Practice Being Hopeful
When you've had a lot of disappointments in life you tend to feel helpless. Or maybe you are experiencing pessimism naturally. This is something you will have to work on to change. You can find a practice such as meditation, prayer, or just reading inspirational books, and make sure to do it regularly. You must remember that hope is not a permanent state, this is something you need to work on every single day.
4. Start with Small Changes
When we begin to accept changes, it stimulates certain areas of the brain which further improves creativity and clarity of the mind. You can begin by making small changes in your daily routine, moving things in the house, or making new friends. Every choice you make matters. Where you might be tempted to skip the little things because they don't matter, however, that's all that matters. Accumulation of small changes will help you to accomplish your goals and you will begin to feel unstuck.
5. Let Go of the Past
Start listening to the stories being played in your mind. Are the stories connected to past events? If yes, then you need to look for an answer from within as to why you are stuck on this particular event. Then check what can be done to live with them, learn to accept, and move forward. You must always remember that the past can't be changed, but you can certainly move forward in order to find inner peace. When you forgive yourself or others, it becomes relatively easy for you to move on.
6. Explore Your Purpose
You need to constantly remind yourself that your life's purpose is not only a job or your responsibilities or your goals. Find your purpose; the only purpose that you need to be seeking what makes you feel alive. Something that you are passionate about and are willing to put a fight for. It could be anything like helping someone to overcome sadness or growing as a human being or whatever you think would define you.
7. Compare Wisely
Comparisons can often make you feel down and create a sense of stagnation, which may not always be valid. You must realize that your pace of progress differs from your friends', neighbours', siblings or even significant others'.
Just because you are not a millionaire by the age of 30, or haven't started your own business, or written your third bestseller yet, doesn't mean that you are not moving forward.
So, mind how you measure your progress and your state of stuck-ness. Your perceptions may differ from reality.
Besides, it's never ever too late to start things over!
8. Find Something you are Passionate about
If you enjoy doing something, you want to do more often and it doesn't feel like an obligation. You always have motivation to keep going despite setbacks, stress or the tiredness you may experience at times. So, look for those passions that thrills you and makes you come alive. The more progress you make in the area of your passion, more will be the confidence to apply the same passion and dedication to all other parts of your life where you are feeling stuck
9. Spend some time on Self-Reflection
Spend some quality time alone. When I say quality time, I mean free from distractions such as mobile phone, television or any other gadgets. Just sit with yourself, connect with nature, write down your thoughts or meditate. You need to figure out why you are stuck—that is, what is the root of your discontent. This will help you to identify the real problem. It is as the saying goes: "Identifying the problem is half of the solution."
Closing Words on Getting Unstuck in Life
Whenever you find yourself feeling stuck, unmotivated, or even lazy, try to do one thing or the other from the above list. It will definitely stir your rut up a little and spark up the excitement for something new.
Loosen up a bit while you go on making grandiose plans to take on the world. If anything 2020 has taught us is that life is unpredictable.
Let go. Live in the moment. Enjoy.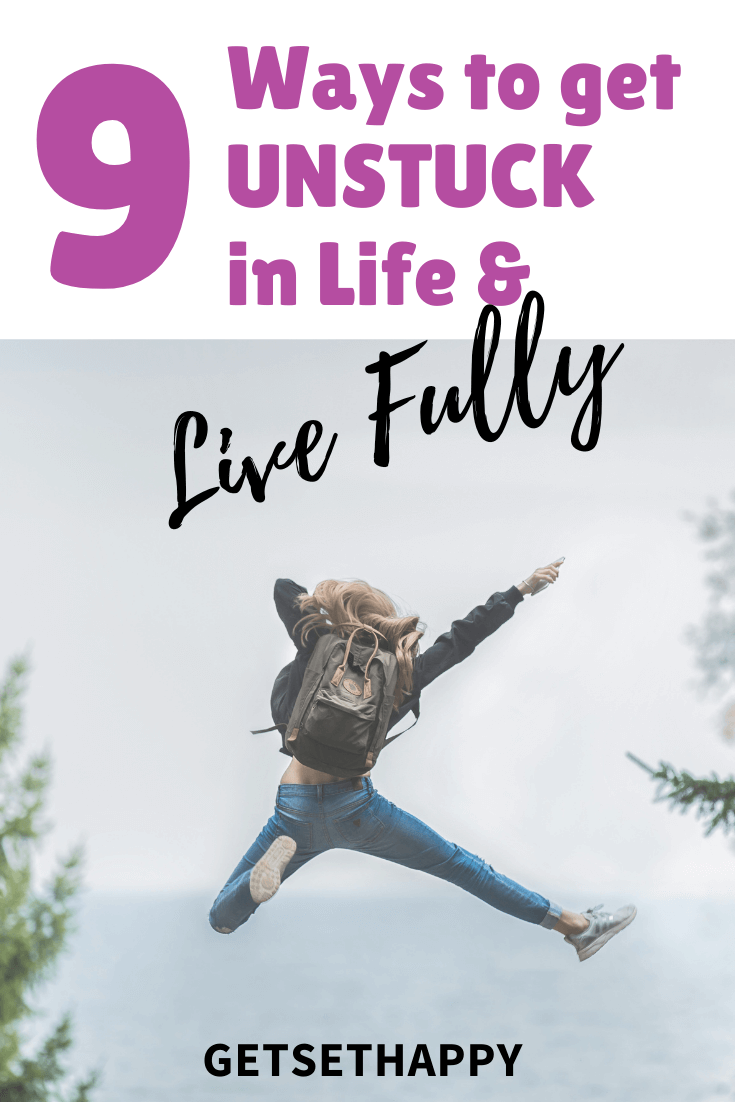 Featured Image by Лечение наркомании from Pixabay