Are you someone who often searches for the answer to the question of how to be more attractive? Well, it's not just you, but several other individuals are on a quest for the same answer.
Attractiveness is something that can bring up more opportunities in your life. Be it a job interview, meeting, presentation, or visiting a new place, the more attractive you are, the more people will find ways to connect to you, and hear your thoughts. However, many individuals fail to understand the true meaning of attractiveness, and just think that being attractive simply means being beautiful for handsome.
Well, it's not, and to be more precise, physical attractiveness is static attractiveness. It stays just for a while. There's something more important than beauty, and that's personality.
In this article, we will walk you through 10 habits of women who look attractive, but that doesn't mean it's all about women. If you are a man reading this article, you can follow it too! 

1. Attractive Women Are Always Confident
Confidence is just not the key to excelling at work, but a great key to excelling in life. You have to be subconsciously confident to look more attractive.
You must never compare yourselves with any random individual and simply focus on being you. Your every part of the body, your thought process, and your way of speaking are what make you unique. Don't change all of it, even a bit, and instead be proud of being so different.
If you are not sure about how to improve body confidence, the first step to it is acceptance. Accept what you are, accept your flaws, and you will truly look the most attractive.
2. They Never Forget Exercising
Everyone talks about fitness as one of the best benefits of working out, but don't you think it's just more than that? Starting out your day with 10-30 minutes of exercising will keep you energetic for almost the entire day.
By exercising your body releases happy hormones, which will keep your mood fresh all day long. You will feel stress-free, and even your face will glow more than ever. Working out not only gives you physical fitness, but also improves mental health. Basically, exercising everyday gives an individual a sense of confidence, check it out here how!
3 Reasons Why Exercise Is Important Even for Business Executives
3. Positive Mindset Is Just The Most
The power of a positive mindset is just so much more than we have ever witnessed. I know being happy all day long is humanly impossible, but having a positive mindset even in stressful situations can ease the stress levels so much more.
Attractive women often don't focus more on negativities, they think positively even in dreadful situations. They even try staying away from negative environment or people who can affect their positivity.
4. Personal Goals Are Always On Priority
Attractive women always have their priorities set on their table. They know the importance of setting personal goals. They often maintain a road map to achieve their goal and keep on learning new skills and are always on a quest for finding new opportunities to explore their limits.

5. They Have The Ability To Say NO
Saying yes to everything and being available to everyone is not what attractive women do the most. You might think that attractive women always take care of people around them, but that's not the reality. They do take care, but when it comes to situations where their presence is taken granted for, they don't hesitate to say NO.
To be more specific, attractive women know well how to say no politely. They never give access of themselves to everyone around them who can put them down.
6. Takes Responsibility For Every Action
Blaming, whining, and complaining, are some of the negative emotions attractive women always stay away from. If they have made any mistake, they own it and start making needful changes from the very next moment. They know how to turn every problem into a challenge.
To come to the point, the only thing that makes women more attractive is having their life in their control. They own their life, their mistakes, their achievements, and carry it all effortlessly.
7. Are Warm and Compassionate
The best quality of attractive women is that even after having everything in control and achieving the best in life, they know how to stay humble to others. They will never make anyone feel around them insecure or inferior. Instead, they will push others to grow and become more attractive. Moreover, in this world full of arrogant people, attractive women are very kind and friendly individuals.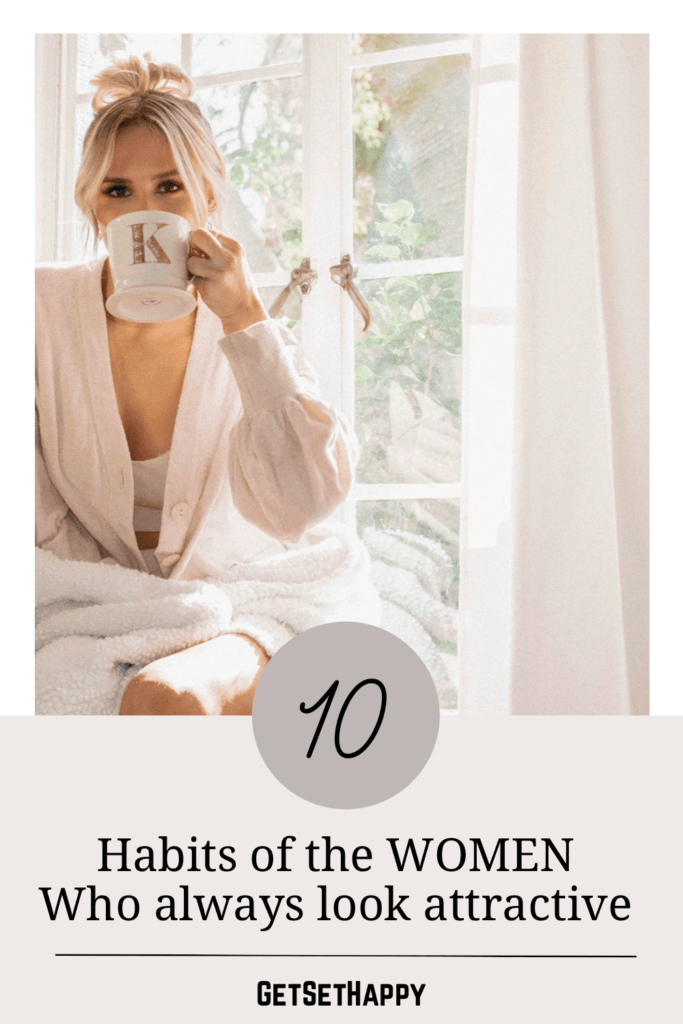 8. Lives Every Moment
Seize the moment – this is the mantra attractive women live by. They are mindful and live their life and present situations to the fullest. They don't wait for the perfect day, instead, they believe in making the present-day perfect. Their attractiveness comes from their relaxed mind.
Here is how to be mindful in your daily life?
9. Never Forgets To Wear A Smile
Apart from personality development, attractive women know the answer to how to improve their looks, and that's the reason why they never fail to smile. They know that taking care of themselves is not just a want, but even a necessity. Hence, they don't miss out on ideas related to self-love for women.
From taking care of their skin, reading a book, going to spa sessions, listening to music, to taking a nap, attractive women do everything that would make them smile and stay happy from inside.
10. Attractive Women Always Stay Authentic
Lastly, attractive women do not just stay true to themselves, but even they are honest and real to the world. What they show to the world, is what they really are. And that's the reason why their attractiveness doubles each passing day and makes them stand unique in the crowd, people appreciate their honesty.
Attractive women are not just attractive by physical means, they are simply attractive inside out. They know that physical appearance is not just everything, hence they focus more on being confident, independent, and knowledgeable. They practice self-care, and beyond everything, they know how to create healthy boundaries for themselves.
Closing Words
The final takeaway of this article is, be yourself, stay true to yourself! It's not the outer beauty but your inner strength that makes you look more attractive.