Singapore! The metropolitan chic tourist destination which attracts people from all over the world. The island in itself has plenty of must-do things from world-class zoos, luxurious hotels to cheap eat outs, however, its real treasure lies in its plethora of islands in its vicinity. From large islands requiring your passport to tiny ones just a ferry ride away, it has it all.
Done with all the activities of Singapore, looking out for some more fun, then what better way than heading for some island hopping.
7 Offbeat Destinations to visit on a trip to Singapore
Sugi Island:
Off-beaten island being located a little further from the Batam Island which acts as an escapade from the hustle-bustle of city life. Stay in its luxurious villas to enjoy the mesmerizing sunset in beachy backdrop in its one and only Telunas Resort
Time from Singapore: 1.5 hours ferry ride
How to reach:
From the Harbourfront Ferry Terminal, catch a Sindo ferry or Batman ferry to Sekupang from where ferries from the resort are to head towards the island/resort.
 Bintan:
One of the Indonesian Island closet to Singapore to be cubed with your trip. Being a developed Island is famous for its range of white sand beaches amidst palm trees alongside its elephant center, Masjid Raya Sultan Mosque, and famous Banyan Tree temple. From just lazing around the beaches or diving into adrenaline rushing adventure activities is what this island has to offer.
Time from Singapore: 50 minutes
How to reach:
Catch a ferry from Tanah Merah or Harbourfront terminal
Batam: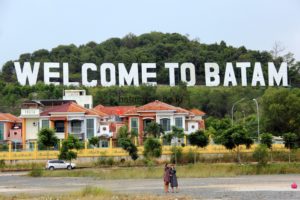 Island just across the water from Singapore is one of the Indonesian Islands is equally developed. From a wide array of adventure activities, historical sites for sunbathing in the pristine beaches it has it all. The top-notch reason why people flock to this destination is to try their hand at diving or snorkeling activity due to its crystal-clear waters.
Time from Singapore: 40 minutes
How to reach:
Catch a ferry from the Harbour-front terminal which departs to Batam Center, Sekupang, and Waterfront City.
 Krabi:
Is one of the most relaxing places to visit in Thailand feasible in your trip to Singapore which has much more to offer than its mesmerizing beaches. Temple visits, jungle exploration, visit the geological wonder at Susan Hoi, heading to the top of the Khao Khanab Nam mountains or simply rejuvenate yourself in the spa are the few named experiences Krabi island has to offer.
Time from Singapore: 1 hour 40 minutes
How to reach:
Regular flights ply to this island.
Lazarus Island:
Looking out sometime in peace, then head to this isolated island of Lazarus. A long stretch of unspoiled sandy beaches, palm trees, and jungle backdrop is what defines this unexplored island.
Time from Singapore: 25 minutes
How to reach:
Catch a ferry from the World trade center or Marina South Pier to St Johns island and walk the concrete walkway to reach this island.
St Johns Island:
This quaint island is known in history as the rehabilitation center of opium addicts, yet its beauty is worth a visit. Swim in the cleanest lagoons or opt for trekking and last complete your visit by stay in its famous chalets
Time from Singapore: 45 minutes
How to reach:
Catch a ferry from Marina South Pier to reach this island.
Pulau Ubin: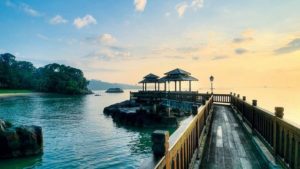 Apart from the all-time famous Sentosa island, is this tiny island as a day trip from Singapore. Head here to engage in riding the bike trails or other adventure activities in this large area of wetlands is what this island is all about.
Time from Singapore: 5 minutes
How to reach:
Catch a small boat from Changi point ferry terminal to reach this island.
So, next time you visit Singapore, don't forget to add these amazing bucket list destinations to  your schedule.
You may also like to read more on 5 Amazing Places to Add to Your Bucket List.