The long-time sweetheart of Mickey-mouse, Minnie mouse, had all of our hearts back then in the 90s. The reason is, her eye-catching red polka-dotted dress with cute low-heeled boots. And till now, polka dot dresses are in trend, even in 2023!
Polka dot dresses had its big fashion revival in 2020, at Couture Week In Paris. it's among the popular classic prints, one can style effortlessly and still look unique. Hardly any other pattern can spread a good mood, as polka dot does. And that's the reason precisely even today it's one of the long-running print hits that literally hits the spot every year.
Polka dots never fail to ace the styling spree, even in spring or summer looks. That's the reason why probably designers will never get enough of the spherical pattern. With this being said, here are some trendy Polka dots dress trends you should try now!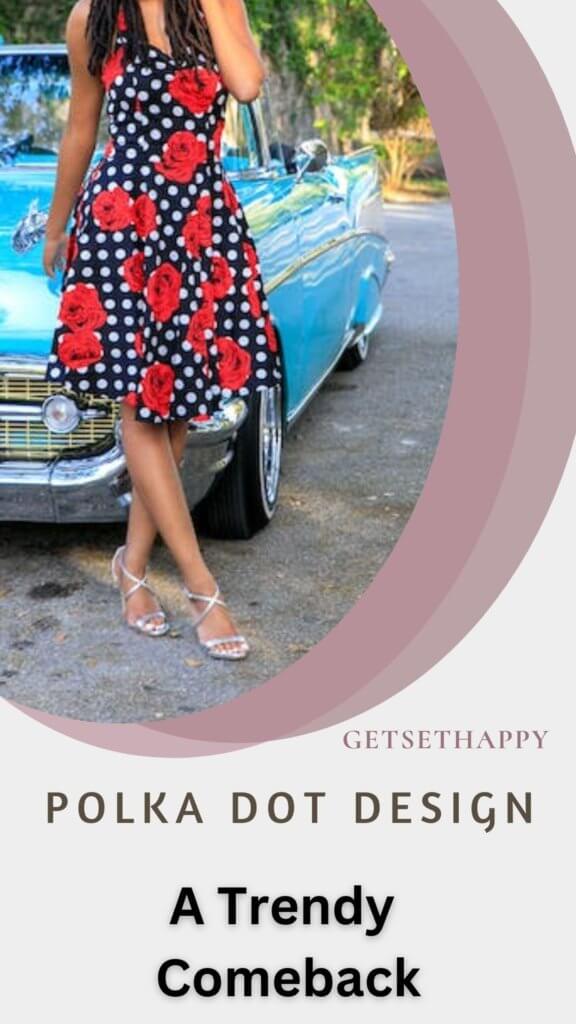 Trendy Polka Dot Dresses You Must Have
For Casual Parties
Are you still struggling out to combine your clothes all according to different seasons? Well, the situation will be a lot different if you have a good pair of polka dot dresses. You can grab some colourful dot dresses and pick up a hat that would complement the best. This type of dress goes well with any kind of footwear like heels, shoes or sandals.
For party wear dresses you even have the option to carry a nude colour wallet to make the outfit look fabulous. However, if you are still not sure which polka dot dress color to choose for parties, go for blue-white, red-yellow, white-black, and grey-tan shades.
The Mainstream Black And White Polka Dot Dress
Accessories blend really well with bright colour polka dot dresses like black-and-white. This combination never goes out of fashion, and that's why it's on our list too. You can even combine these basic colours to more stronger colours. For example, a long black and white polka dot dress with a beige colour belt looks really good. Dress the outfit up with colourful pumps and hoops, to make it look more incredible, fresh and stylish.
Vibrant Tones For Sunny Days
Yet another excellent time to wear a polka dot dress is during sunny days. You can either buy a midi dress, maxi dress, loose dress, or multi-colored polka short dress. Whether you are going to a beach or any random warm place, vibrant polka dots can grab the attention of anyone. Off-shoulder, vibrant polka dress with a straw bag and a hat, is the best combination for summers. You can even opt for a loose dress with a deep V-neckline and a statement necklace to ace your day, like never!
Long Sleeves For Office Hours
Many still don't opt for polka dress for offices, and it's a big mistake one can ever make. You can simply wear a polka dot tee with your regular jeans and a blazer for work. Moreover, long-sleeved dresses are even in trend now. To give a more subtle and feminine look, you can go for a pink and white dress and complement it with heels. We highly recommend softer tones for office hours, hence you can use accessories such as a cream, white, or nude wallet.
Polka Dot Dress With An Attractive Neck Line
Polka dotted wrap dresses with a ruffle trim should be in your wardrobe this year. If you have not dared to wear it yet, it's high time for you to get one. You can pick up a hot red polka dot dress with a deep neckline for your next party. A mini polka dot skirt with a ruffle top will look gorgeous for date nights. And because of polka dots, if you don't wish to wear heels, you can simply opt for a sandal, heel, or shoes. A deep V-neck polka dress is even a good option for beach parties or getaways.
How To Pick A Polka Dot Dress For Your Special Day?
If you want to wear a polka dot dress for an official party or any meetings, we would suggest you to go for neutral tones
Don't complicate the pattern much, and let it do the talking. So basically, if you are wearing your polka dot dress on any casual day, choose one piece. You can even pair it up with a classic vintage earring, or any other garment
Polka dot dresses are best for parties. You can find blouses, pants, skirts, of this print and can ace the day effortlessly.
If you are still not sure which colour polka dress to buy, go for the black and white prints. It's a combination that will never fail to please the audience!
You can combine your favorite dot dress with some good accessories to get that perfect dreamy outfit. So, what are you waiting for? Grab a dress now, and stay tuned to GetSetHappy to explore more such trends!
Signing off
Happy Styl'in!
Featured Image by Tofros.com on Pexels.com