Hi Friends,
This is my third post under the series- "Anti-aging Solutions". In the previous posts we have discussed Hyaluronic Acid VS Retinol -Which one is better? and 10 Best Hyaluronic Acid Serums from the Top Brands. Today, let's take a look at What Retinol is and how to use it to get rid of wrinkles and other signs of aging.
What is Retinol?
Retinol has been a well-known ingredient in anti-aging skin care regimen. It's an over-the-counter version of retinoids (OTC), is derived from vitamin A and is used primarily to treat skin conditions that are more mature than acne.
How to use Retinol Serum?
Retinol, however, is not the same product as stronger prescription retinoids. OTC retinoids like retinaldehyde or retinyl palmate are stronger than retinol. Retinol can have many skin-care benefits, in addition to treating wrinkles. However, there are also side effects.
Are you curious about whether retinol is an excellent addition to your skin-care routine? Find out more about this important ingredient.
Retinol – made from highly concentrated vitamin A, is available as an over-the-counter product. It is mostly available in the form of serum and face creams. This compound has the ability to prevent wrinkles as well as smooth out existing fine lines and wrinkles. Additionally, it also helps to treat other skin concerns such as open pores, acne, and hyperpigmentation. Usually, over-the-counter Retinol come in a concentration of 2%, which is safe enough to apply to the skin. However, do consult a doctor if you have skin conditions such as eczema or other medical allergies before using retinol creams.

Top 10 trusted retinol serums for dry and oily skin

Olay Retinol 24 Night Serum is a very popular product that contains retinol, niacinamide, and amino peptide. It not only has anti-aging benefits but also revitalizes skin with Niacinamide. The serum can penetrate 10 layers of the skin in 24 hours. This retinol serum can adapt to any skin type. For sensitive skin, a patch test is necessary. This serum does not contain any toxic chemicals such as phthalate, sulfate, fragrance/perfumes, artificial dyes, or oil. This serum makes your skin look plump and young with regular use.

If you have a dry skin, this retinol serum is just right for you. Because it is oil-based, the Minimalist Retinol Serum is a great choice. It is also affordable. This serum uses squalane in its base. Squalane oil is an oil that acts as an emollient on the skin. Squalane is a natural oil that mimics the skin's oils, making it an excellent moisturizer. The serum also contains coenzyme Q10 and bakuchiol, as well as vitamin E, which boosts the anti-aging effects. This serum can improve skin health and decrease the signs of aging. It is also recommended if you are searching for anti-aging facial oils. It doesn't contain any perfume or toxic chemicals.

Are you looking for a retinol-based exfoliating cream to remove blemishes? You can go for The Derma Co's retinol-based exfoliating serum, which contains 0.3% retinol, vitamin C and glycerin. Glycerine helps to protect the skin from dryness due to retinol. A combination of vitamin C and retinol boost anti-aging and brightens and evens skin tone.
This serum can help reduce the appearance of acne spots and pigmentation. Retinol is a great ingredient for acne-prone skin because it exfoliates the skin and reduces the formation of pimples. This light serum absorbs quickly without adding oil. It can be used by people with combination or oily skin. It is important to test the product on a small area of sensitive skin before applying.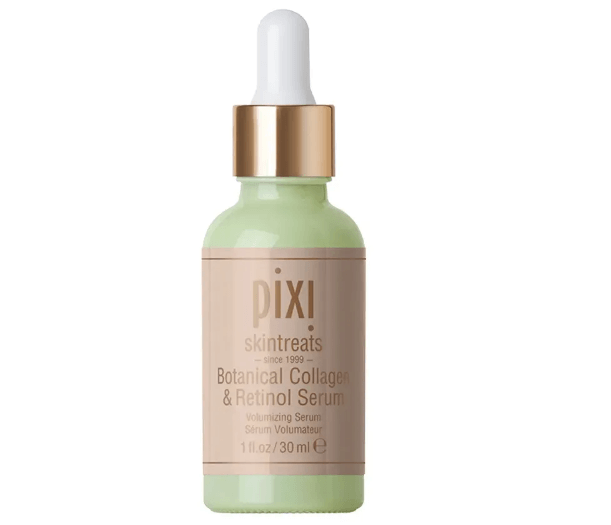 Another good brand offering retinol serum for face is Pixi. This serum is formulated with acacia collagen that will plump and elasticize your skin. Retinol, on the other hand, improves skin texture and quality. It also contains niacinamide and ascorbic acid, which calm the skin. This serum will reduce fine lines and glow your skin. Although the brand claims that it is suitable for all skin types, sensitive skin should be tested. It is also paraben-free and has not been tested on animals.
St. Botanica Retinol Serum is made up of 2.5 percent retinol, vitamin C, Vitamin E, hyaluronic acid, and a variety of botanical extracts. This light serum comes with a gel-based formulation that is ideal for combination and oily skin types too. It improves skin texture and hydration, as well as reduces pigmentation. It also helps to prevent wrinkles. Additionally, this serum is free from silicones, parabens, and mineral oils. For the best results, apply it before bed, and remember to apply an oil-based moisturizer over it. During the day, apply sunscreen with a high SPF for protection.
The Indie Earth Retinol Serum contains Green Tea Extract, Witch Hazel Extract, and Tea Tree Extract along with Retinol and several other herbal extracts. These herbs make retinol more effective in treating fine lines, deep wrinkles, crow feet, and other signs of aging. This retinol serum for face is a great pick for your anti-aging beauty routine.

The Neemli Naturals Retinol Serum is an anti-aging product that's healthy. It contains hyaluronic acid, vitamin C, peptide, and niacinamide, along with retinol. It stimulates collagen production, which helps to firm and lifts your skin. Retinol also exfoliates the skin at the cellular level and helps to clear clogged pores. This serum will give you healthy, glowing skin. This serum is suitable for oily skin, in combination with normal or acne-prone skin. The Neemli Naturals Retinol and Peptide Serum do not contain SLS, parabens, phthalates, phthalates, or animal-based ingredients.
The Revolution Retinol Serum is an oil-based serum that contains 0.5% retinol. This serum also contains rosehip oil, which is rich in oleic, palmitic, and linoleic acids. Rosehip oil helps to even out skin tone and moisturizes. This oil is suitable for beginners because it has a low concentration of retinol. It can be mixed with regular moisturizers or night creams. This retinol serum for face promotes cell turnover and promotes smoother skin. It is also free of fragrance, cruelty-free, and vegan.

E'clat Superior Retinol A+ Serum is a retinol-based serum that contains 0.8% retinol, ferulic acid, and vitamin E. This serum contains retinol, and ferulic acid and helps clear acne. Vitamin E and hyaluronic acid protect the skin from further damage. This product has a lower level of retinol. This is another good choice for beginners. The skin will appear smoother, firmer, and more radiant over time.
WOW Skin Science Retinol Face Serum is helpful in reviving dull and acne-prone aging skin. This Retinol Face Serum is infused with potent retinol and other natural actives that are helpful in reducing pigmentation, and fighting signs of aging brought on by free radicals while brightening and nourishing the skin.
Wrapping Up on Retinol Serums for Dry and Oily skin
With increasing pollution, stress and poor lifestyle, skin ages faster than usual. Including a good quality Retinol Serum in your anti-aging skin care regimen is a great way to express your love to your skin and stay youthful for years to come. But make sure to follow a healthy lifestyle for overall great health.
Stay tuned for the next post on
Best Anti-Aging Night Creams for Youthful Skin