When going to a gym, you should get the most out of it. Most people are busy hustling and exhausted, so it's best to maximize workouts. Before and after a workout, it is just as important as the 30 minutes you'll spend exercising. Pre and post-workout rituals help you get stronger, recover faster, and enjoy every workout.
7 Things To Do Before and After Gym Workouts for Better Results
1. Get Enough Sleep
Getting enough sleep is the key to good health. Experts recommend a non-distracted sleep of around 7-9 hours. This will improve focus, stamina, and energy levels, thus getting better results from the workout. Exercising helps you sleep better.
You may also like to read: Why Sleep Is So Important to Your Health?
2. Take Rest
It's essential to take a day's rest after a tough workout. Your muscles need to recover from an intense workout. However, if you still feel like exercising, do some yoga, swimming, or walking. These are great ways to stay active while allowing your muscles to recover. However, if you are feeling sore, take a total rest day. The key to good fitness is listening to your body.
3. Hydrate
Water plays a crucial role in a fitness routine. When you're sweating, you should ensure your body is well hydrated because it is losing water. Being hydrated keeps your energy levels where they are supposed to be. The body cannot function properly without water, so sip it before, during, and after working out. Although your water needs may vary, have plenty of water to quench your thirst.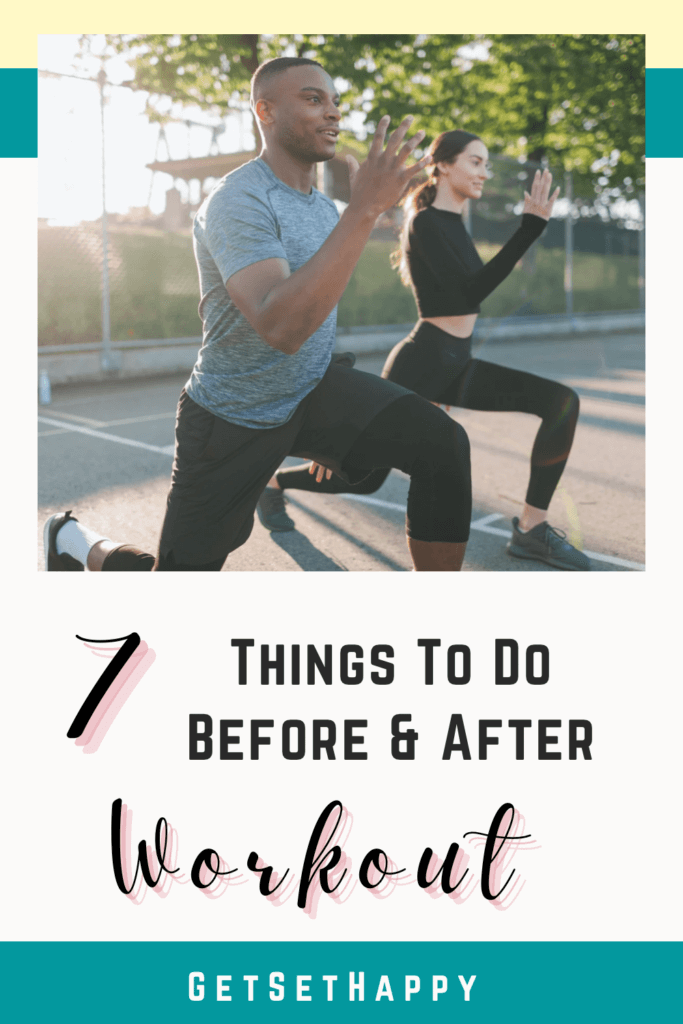 4. Eating Healthy Meals
Your digestive tendencies should determine when to eat a pre-workout meal or snack. There's no hard-and-fast rule, but eating an hour before exercising provides adequate energy. Some people may have an upset stomach after eating too close to a workout. Regardless of the time, include carbs and protein in your meal, and don't forget fruits and carbohydrates since they are sources of energy. You can also take a pre-workout supplement to boost your energy. Some supplements help curb fatigue and enhance concentration during a workout.
5. Use a Form Roller
Foam rolling helps your body recover from workout soreness by increasing blood flow to the aching muscles. Regular foam rolling, if done well, speeds up recovery and reduces toxins by stimulating the lymphatic system. If you are new to foam rolling, check Muay Thai gyms in San Diego for moves to relieve muscle tension.
6. Practice Self-Care
A post-workout recovery strategy helps rebuild, repair, and strengthen the body. You can take a warm bath to relax sore muscles or go out to reduce stress. Self-care should be a part of the fitness routine to replenish and nourish the body. Caring for your body will keep you motivated and energized for the next day's workout.
Here are 25 Science-Backed Self-care Ideas to Boost Your Well-Being
7. Stretch Out
Many people ignore or rush through stretching, but it improves joint mobility and resets the body after a workout. Stretching also prevents post-workout soreness and injuries. Since muscles stretch better when they are warm, do stretching immediately after a workout.
Exercising should be as effective and beneficial as possible, whether you are working out to lose weight, improve mental stability, or improve overall well-being. So, be hydrated, eat healthily, stretch out, and get enough rest and sleep. In addition, make sure you are recovering correctly.
Featured Image: Gym couple photo created by artursafronovvvv – www.freepik.com