If you do not belong to India or China, then you may not know much about yoga, the types of it, its benefits and its importance in daily life. Yoga, though belongs to India, has made a mark all over the world, and the West is taking on to it for its innumerable benefits. In fact, it can even cure some of the most complex medical conditions apart from the common belief of making a better person spiritually.
Yoga Isn't a Religion
Yoga has nothing to do with religion. It is NOT a religion, but it is just an art of living that enables one to stay healthy, both mentally and physically.
Practicing yoga connects the three aspects of a human being – Mind, Body and Spirit. It effectively results in a balanced development of all three if practiced regularly as desired.
Yoga is better than other forms of physical exercise of fitness that aim at the physical aspects only. Yoga aims at your spiritual or astral being, thereby making you a complete person.
The most significant benefit of practicing yoga is that it will help you to control your mind.
You will be able to make better decisions in your life, as your mind, body and soul will be well connected and in the 'pink of their health' so to speak. Yoga helps in managing stress, depression and anxiety, and it will keep you relaxed and flexible while improving your body tone and muscle strength. It will also help in improving your respiratory and metabolic health, boost your energy levels, and make you a more confident person.
It promotes self-healing, ensures perfect equilibrium and harmony. It will remove negative blocks from your mind as well as toxins from your body to enhance personal power and awareness. If you practice yoga regularly, it will also help you to lose weight, improve immunity and recharge your body with cosmic energy!
What is the Importance of Yoga in Daily Life?
If you want to make a list of the importance of yoga, it will be quite a long one. There are several aspects of yoga that have different purposes and benefits. You will come across different types of yoga asanas such as:
Hatha Yoga
Ashtanga Yoga
Iyengar Yoga
Bikram Yoga
Yin Yoga
Kundalini Yoga and more.

More Benefits of Yoga
Depending on what you like and the problems that you want to tackle, you can choose any of these yoga types. It will help you in different ways such as: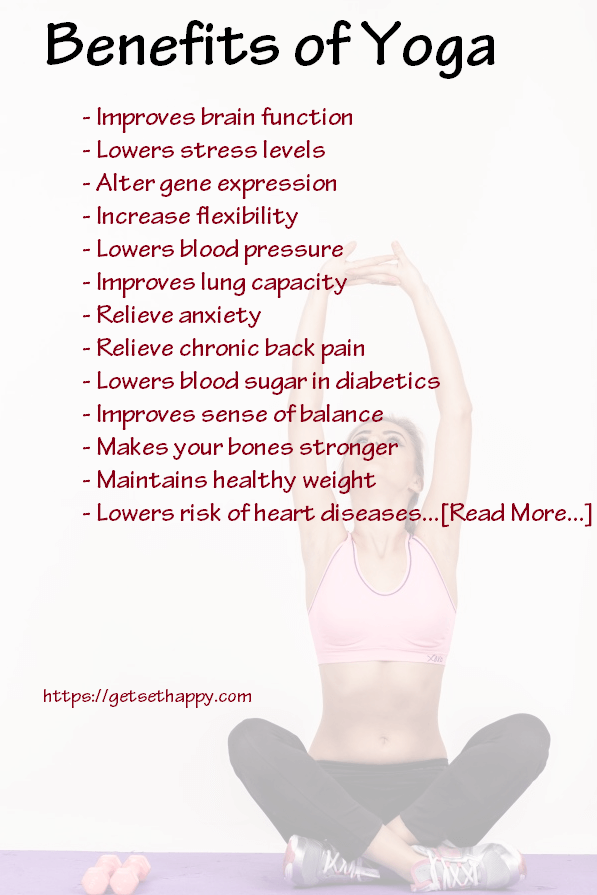 Improving brain function
Altering gene expression
Increasing flexibility
Lowering blood pressure
Improving lung capacity
Relieving anxiety
Relieving chronic back pain
Lowering blood sugar in diabetics
Improving sense of balance
Making your bones stronger
Maintaining healthy weight and
Lowering risk of heart diseases
In addition to the above, there are many more benefits of yoga, such as:
It will improve your blood circulation which will facilitate in better and proper transportation of oxygen and nutrients in your body. It will also result in a glowing skin and healthier organs!
Can improve your posture as you will learn how to control your balance and take the right stance. This will not only help you to look healthy, but you will also look more confident.
In addition to that, yoga will also uplift your mood instantly, leaving refreshing energy in your body. Since you will have a lower blood pressure, it will help your body to calm down more easily.
Bottom Line
Now you know the importance of Yoga in everyday life. Yoga is one thing that will not harm your body in any ways but will certainly help it in ways more than one. You can even keep premature aging at bay if you practice yoga on a regular basis. So, try it for a few days first and see the differences it can bring in your mental and physical health.